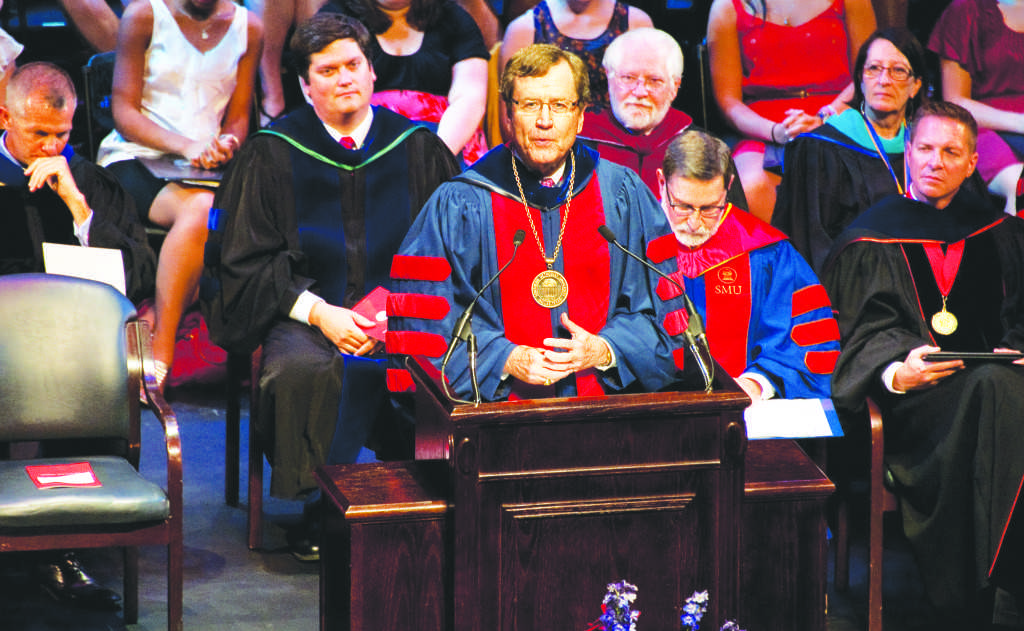 Dallas Hall will host Opening Convocation Sunday, welcoming all first-year and transfer students with a tradition that's 99 years old.
"There is nothing better than a warm welcome to make someone feel at home in a new environment," said Tom Fomby, professor and chief marshal.
Students will line up on the west side of Dallas Hall at 4:45 p.m. for the Rotunda Passage.
New students take the first steps in their SMU careers through Dallas Hall – the first building ever built on campus.
Per tradition, they will be guided through the building by faculty dressed in full academic regalia.
Undergraduates generally avoid stepping on the university seal because it's said that any student that does will not graduate. If all goes according to plan, graduating seniors will finally step on the seal during the recessional of Baccalaureate.
Gillian McCombs, dean and director of Central University Libraries, is the 2013 Convocation speaker.
McCombs said her speech will focus on the concept of time and will explore how individuals and cultures around the world think about it.
"For the entering students the basic message is that this is your time – enjoy it, use it well," McCombs said.
"At the same time, it is everyone else's time – your roommate's, the faculty's, your parents' – so be kind and understanding."
McCombs' speech and the presentation of the new class of students by Wes Waggoner, dean of undergraduate admission, will take place in McFarlin Auditorium beginning at 5:30 p.m.
Opening Convocation is the first of five major academic ceremonies each year at SMU including December graduation, Honors Day Convocation, Baccalaureate and May commencement.
"I think the Convocation gives students a sense of belonging and gets [them interested in] fully engaging with everything to do with SMU," Fomby said. "It's a tradition worth remembering and, following the Opening Convocation, [students can look forward to] a full engagement of the life of the mind."