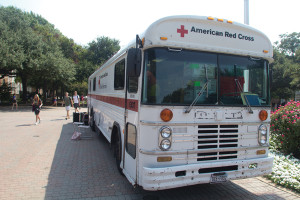 SMU's Alpha Kappa Alpha Sorority hosted its semesterly blood drive at the flag pole from 11 a.m. to 4 p.m. Wednesday.
Alpha Kappa Alpha, or the AKAs, invited the American Red Cross to help in its event.
"It is important to give blood because every time you give blood, you save the lives of at least three people. Donating blood is also the only way to obtain blood," Senior and AKA Deionna Hill said.
Held on the anniversary of 9/11, the blood drive drew a larger crowd than initially expected.
"We set a goal of collecting a minimum of 25 pints of blood," Hill said. "Yesterday, we collected 32 pints from 43 people, which means that 96 lives can be saved."
"Events such as Sept. 11 only make us want to do what we can in our SMU community and beyond to help save, change, and impact the lives of others," AKA member Kyra McCarty said.
This was the third year AKA held the blood drive in partnership with the American Red Cross. McCarty said the event "has become sort of a tradition for [the Kappa
Mu] chapter."
"The blood drive coordinators always look forward to working with us based on the results of our drives," McCarty added. "We feel that it's important to give back and serve our community, and these blood drives are definitely a great and effective way of doing so."
Hill said that the blood drive Wednesday was "the most successful" of the three years.
"People even waited outside the truck for as long as 20 minutes to give blood because we were overwhelmed by the amount of people who wanted to donate," Hill said. "I'm really thankful for the SMU community because, obviously, without their support and generosity, we wouldn't be able to help save those 96 lives."
Alpha Kappa Alpha Sorority, Incorporated was founded in 1908 and is the first international service-based sisterhood for African American women.