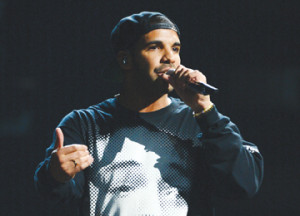 The Toronto-born rapper recently spoke in Billboard Magazine on his desire to become and surpass his hero.
Don't ignore Drake's aspiration to become Kanye West, but please consider the fact that he's deluding himself.
Kanye West exists alone.
His lengths to produce then commoditize forward-thinking sounds based in rap are peerless.
The model didn't exist before him.
Put it this way – one could think metal wasn't fully metal until Judas Priest spit out the blues, added leather and twin guitars.
But we probably wouldn't be talking about them if they hadn't discovered the first Black Sabbath album.
First is first, and in a paradigm shift first is everything.
If society recognizes Kanye as the vanguard of a new pop music, or as "God" as he might prefer, Drake is easily his Lucifer.
Practically speaking, he's the brightest phenomenon of the Kanye era.
Kanye himself said as much at this year's OVO Fest.
Fine, but Drake feels as if he'll out-God Kanye at his own game.
"Paradise Lost" and Dante's "Inferno" say otherwise.
Creators aren't beaten by products, they profit of them.
As successful as Drake is, he's a testament to Kanye's influence.
One cannot help but remember Drake naming himself the new Jay-Z in 2010.
The comparison is more sound – both rappers came of age under the shadows of one or several vanguards to emerge number one.
Funny how Drake wants to abdicate the throne now.
Maybe he doesn't like sharing the sandbox with a certain someone.