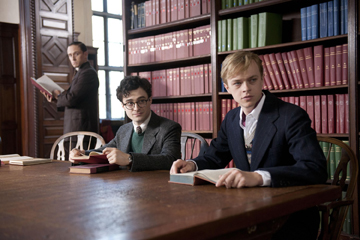 On paper, "Kill Your Darlings" should have been a very, very boring movie.
The source material is thick; the real life subjects are unknown, at least outside of the hyper-academic world, and the time period in which it's set isn't exactly the most compelling to young moviegoers.
However, good filmmaking is good filmmaking and "Kill Your Darlings," John Krokidas' first directorial effort, is anything but boring.
In fact, it's rather thrilling.
Allen Ginsberg, the legendary poet who helped form the Beat Generation — a collection of forward thinkers in the 1950s who helped shift the literary paradigm amid WWII's dust — is the center of the film.
Daniel Radcliffe tackles the character in arguably his best showing since his "Harry Potter" days.
Radcliffe creates a Ginsberg that, despite his lofty ideals, seems exceptionally accessible and relateable to audiences.
Ginsberg, a New Jersey dreamer and son of a poet, is completely taken by the energy of his new college, Columbia University, and with it, New York City.
Manhattan is alive, kinetic, and Ginsberg desperately wants to be part of the pace.
It's there where he meets Lucien Carr, another big influence on the Beat Generation, and the two strike up a frienship that eventually turns into a romance.
However, Carr has his fair share of skeletons in his closet and is spellbound by the older, more academic, David Kammerer, played slyly by Michael C. Hall.
Kammerer is clearly still clutching to his youth in his relationship with Carr and as Ginsberg becomes more of a figure in Carr's life, Kammerer turns envious.
Cataclysmically, Kammerer's dead body is found on the banks of a New York river and Carr is the lone suspect.
Ginsberg suddenly finds himself in a precarious situation and holds Carr's futue by the point of his pen.
Krokidas took a risk when he decided to take a more Noir-like approach to telling the story and, more or less, the risk paid off.
The movie carries with it the shadowy intrigue of classic Noir's and the zippy scenes of New York's famous jazz clubs and speakeasys offer a compelling contrast.
While Radcliffe continues to impress post-Potter, the real star of this movie is Dane DeHaan as Carr. Many may recognize DeHaan from his leading role in the found-footage superhero phenom "Chronicle."
DeHaan is a powerful actor who carries most of movie's intrigue on his shoulders.
It's as if he's meant to be from the 1950s and "Kill Your Darlings" was his chance to return home.
"Kill Your Darlings" is a fine first effort from Krokidas and, despite it's period piece feel, is just as good of a coming-of-age story as it is a history lesson.
Lengthy poems and complicated syntax aside, "Kill Your Darlings" is about a young man finding love, losing it and discovering a passion in the process — what more could you want from a movie?