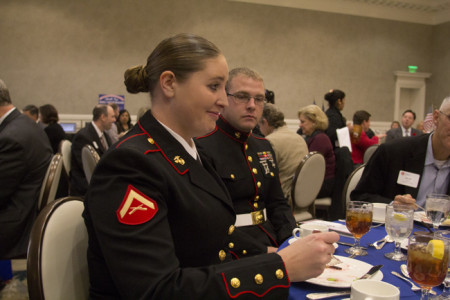 SMU military veterans were honored Thursday at a luncheon in The Martha Proctor Mack Grand Ballroom in SMU's Umphrey Lee Center. The second annual luncheon was hosted by SMU's Office of the Provost and co-hosted by Central University Libraries, Division of Student Affairs and the Maguire Center for Ethics and Public Relations. Miguel Howe, a retired U.S. Army colonel and director of the Military Service Initiative at the George W. Bush Institute, was chosen as the special keynote speaker.
As director of the Military Service Initiative, Howe is responsible for leading the Bush Institute's work to honor the service and sacrifice of post-9/11 veterans, service members and their families. The Initiative works to unite the efforts of non-profits, businesses, universities, individual citizens and communities to empower all post-9/11 veterans to continue to serve as national assets after they retire.
During the event, SMU representatives collected toys for Toys for Tots and care package items to support active duty U.S. military service members.
Chief Richard A. Shafer of SMU's Police Department introduced SMU's Color Guard for the Presentation of Colors. The Color Guard consisted of SMU Police members and Highland Park public safety officers.
Paul W. Ludden, SMU's provost and vice president for academic affairs, greeted the military veterans, their family members and guests.
"You are our heroes. You have selflessly and nobly served. We thank you for answering the call of duty. You, our armed forces, are the most respected in the world," Ludden said.
Veterans, members of the SMU community, faculty, staff and volunteers enjoyed lunch and guest presentations from SMU's Chief Information Officer Joe Gargiulo, President of U.S. MilVets of SMU Brandon Montgomery and Vice President of Cox Veterans in Business Blake Helm.
As the keynote speaker Colonel Howe took the stage, he addressed the veterans as a "vast, untapped natural resource and treasure." Academic research validates that veterans enhance the organization and general effectiveness of any organization relative to their peers who have not served in uniform. These veterans are social entrepreneurs, ready to serve in a different way with a renewed sense of purpose. Howe talked about a conversation he overheard between the CEOs of USAA, 7-Eleven and Boone Pickens.
"They said hiring veterans was not just the right thing to do for their companies, but it was the smart thing to do," Howe said.
Howe encouraged people to support veterans with their transition and integration so they can continue to lead and serve in new meaningful ways.