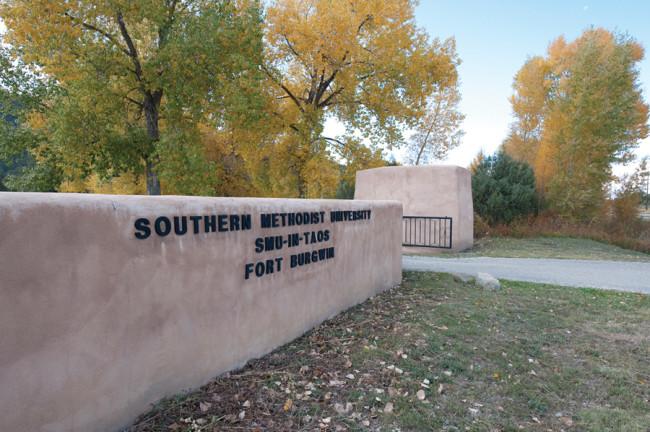 Mindful of its mission to expand, SMU began acquiring land in northern New Mexico in 1964. SMU-in-Taos began nearly 10 years later with the reconstruction of a pre-Civil War Fort Burgwin and 13th-century Native American pueblo.
The first SMU-in-Taos classes, taught in the summer of 1973, focused on archaeology. Over time, the Taos program expanded its academic focus into
Southwest Studies and similar areas of art and science.

Then an anthropology professor, SMU-in-Taos Executive Director Mike Adler began teaching classes at the campus in 1991. On his early excursions, he recalled no cell phone tower or cable TV.
"Just imagine being up in the mountains without all that," he said. "Now we have all that, Wi-Fi and Internet."
Through generous donations, SMU-in-Taos has grown into a campus treasure. Situated in the Sangre de Cristo Mountains, the 423-acre campus now boasts 27 buildings and a number of year-round courses across 30 different disciplines.
A recent $2.5 million donation by Carolyn and David Miller promises to expand the campus even more. The money will partially-fund a $4 million campus center expected to be complete by May 2015.
"The reason we have a campus center is students," Adler said. "Often, when we've taken surveys, asked for feedback, they've said, 'We don't have a place to hang out. We need a place that's ours.' …[The center will be] much like Hughes-Trigg."
The proposed 3,630-square-foot facility will include an informal relaxation space, seminar classrooms, a fitness center, courtyard and media room. Senior Julia Olson, who has traveled to Taos twice as a "casita" resident assistant, is optimistic the new building will help the Taos campus better rival SMU in Dallas.
"While the facilities are comfortable and have kept up with technological improvements, some classrooms are better suited to lectures than others," Olson said. "Having a facility that allows more students to congregate at the
same time will be a perfect addition."
Olson said Taos forces students to break away from their traditional routines and build a unique sense of community. She attributes the strong bond formed among students to the rustic, mountain setting.
Adler agrees the New Mexico setting is a major draw for the 350 students that travel to the campus throughout the year. He sees the proposed "Great Room" that can accommodate up to 100 people and the attached outdoor spaces as the most important features of the new building.
"This campus center provides a great, flexible space for the campus community to come together," he said. "The Miller's gift is an extraordinary one for our beautiful branch campus in New Mexico."
The Miller's gift will be supplemented by donations from 20 anonymous donors. Their donation to SMU-in-Taos counts toward SMU's Unbridled campaign which has raised more than $820 million toward campus improvements.
To learn more about SMU-in-Taos, visit the program's office in the Laura Lee Blanton Building or smu.edu/taos. The Taos office hosts a open house info session every Wednesday this month, from noon to 5 p.m.