A 100 mph serve cracked off freshman Anna Kate Anderson's racquet and into play. Her opponent left the return short and Anderson crisply hit a winner. Considering she was down 9-3 in a ten-point tiebreak that would decide the match, the odds were not in her favor.
She won the next two points though, getting a nervous clap from her older brother Jack while he muttered, "C'mon AK, c'mon."
Anderson looked poised for an improbable comeback until the next point ended in her missing wide right. Just like that the match was over.
"It's OK, AK," said Jack. "Shake it off. You played well."
Anderson groaned in apparent disagreement, grabbed her Powerade and traipsed off to find her coach.
Despite Anderson's loss at Dallas' Northwood Club on a recent Saturday, the SMU women's tennis team is highly competitive nationally, and Anderson is part of its top 15 freshman recruiting class.
"We're a young team with 4 freshman," says Anderson. "We're just going to get better as time goes on."
The men's basketball team has been the center of attention in SMU sports this winter, due to Larry Brown's quick turnaround of the program. But, his team isn't the only nationally competitive squad on the Hilltop. Women's tennis is arguably the most on-the-rise team on campus, men's lacrosse looks poised to win its conference, and men's golf hides a relatively unknown superstar athlete.
"Basketball is doing great right now, but other teams are playing just as well," said women's tennis coach Mark Roberts. "Some better."
Here are their stories.
Rising stars on the court
Two 4-star recruits, a 5-star recruit, and an international player (who happens to be Maria Sharapova's cousin) make up the freshmen class of SMU's women's tennis team. The squad was nationally ranked at the beginning of the season, but has since dropped from rankings due to a difficult schedule and several players suffering from injuries.
Still, Roberts sees significant potential in the freshman-heavy lineup. Although it's a building process, he believes the young talent will mature and become highly competitive against some of the top schools in the country.
"One of the good things about a young team is that you bring them all in at once," said Roberts. "You get to develop them together, and that's exciting."
Anderson, the freshman 5-star recruit, could have chosen practically any school in the country, but deciding on SMU was easy. Her brother, Jack, is a junior here at SMU and attends many of her matches.
"Seeing my brother in the stands motivates me to play better," she said.
Her teammates call her "AK", and she's glad to have found a home among them. As a junior player, she viewed tennis as strictly an individual sport but now uses her teammates to create a competitive advantage.
"We've all gotten very close and it helps us compete," said Anderson.
Another freshman, Macie Elliott, hopes the new tennis center will draw more support for the team. Currently under construction just south of Mockingbird Lane, the new facilities will feature six outdoor and six indoor courts. The outdoor courts are all being built in one line so fans can watch Elliott and her teammates with unobstructed views. The indoor facility will house a small fitness center for year-round tennis training, VIP seating, and a club level that overlooks both the outdoor and indoor courts.
"They're supposed to be some of the nicest in the country," she said. "It's SMU, so it's gonna look amazing."
"Keep raising the bar"
At SMU, lacrosse is still a club sport, but head coach Karl Lynch wants to give his players the NCAA experience. Lynch recruits players like any NCAA coach, he holds practice in Ford Stadium, and his players are expected to act like NCAA athletes.
"You give [the players] expectations," said Lynch. "Then you just keep raising the bar."
Senior captain Cole Sisto believes his coach's strategies have been working, and has seen the program grow during his time at SMU. The team is 4-0 this season, and Sisto thinks they are poised to beat their rival Texas and win the Lone Star Alliance conference.
"UT, at least the last couple years, has had the edge on us," said Sisto. "I think the tables have turned this year, and we're a force to be reckoned with."
Sisto, despite being in his last season, wants to help develop the freshmen-heavy roster and create the right mindset to build the team for the future. For him, SMU lacrosse is as serious as it gets in Texas, and each of his 26 freshmen should adopt that mentality.
"Everyone has to buy in and drink the same Kool-Aid," said Sisto.
In the long term, Lynch wants to vault his program beyond its status of a club team. He wants to be part of the NCAA. The coaching staff reached out to the athletic department about the process, and found there are many obstacles in the way.
"It's a really long process," said Lynch. "And dollar signs seem to be the key."
In order to take his team to the next level, he plans to stick to the same coaching plan.
"We want to continue to add, each year, to the structure and level of competition," said Lynch. "We'll get a better quality kid, and then we'll win more games."
Diamonds in the rough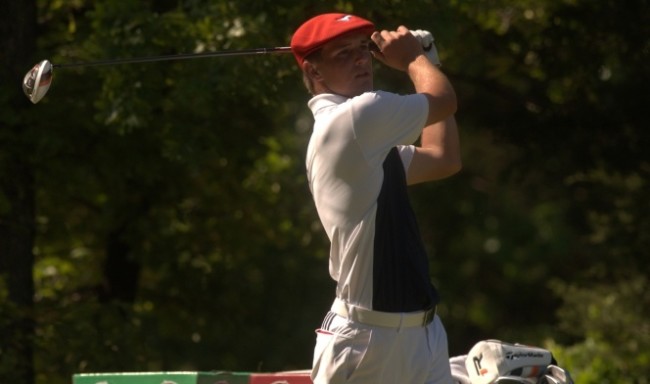 The men's golf team may not garner much attention on the Hilltop, simply because there is no space for 18 holes behind Dallas Hall. The team practices at various country clubs in Dallas, and most of its tournaments are a plane flight away. However, assistant coach Jason Enloe sees no problem with his team's anonymity.
"We don't mind being behind football or basketball in terms of popularity," he said.
Currently ranked No. 32 in the country, men's golf is fighting a close battle with men's basketball for the title of highest ranked team on campus. Enloe thinks this season could bring about even more success.
"If we have a good spring, we'll climb up the rankings even more," he said.
Sophomore Bryson DeChambeau is one of the main forces of the booming program. He is listed at No. 17 on the World Amateur Golf Ranking, and one of 30 collegiate golfers in contention for The Ben Hogan Award. He thinks he has a shot at the prestigious award, which goes to the nation's most outstanding collegiate golfer.
"I'm hopeful to win a couple tournaments and make a run at the national championship, which would put me in good contention for the award," he said.
Even with the apparent talent on the team, coach Enloe doesn't think his players have lived up to their potentials. Despite being one of the top players in the country, DeChambeau hasn't won a tournament as a Mustang.
Sophomore golfer Ryan Burgess thinks he and his teammates get in their own heads, resulting in poor performance.
"Some people are afraid to hit a bad shot, some people are afraid to hit a good shot," he said.
Maybe the best way to improve mental health is to take a vacation, and that's basically what the golf team does when it travels. This spring, the team will travel to Puerto Rico and Cabo for tournaments. Each trip means five days at a resort playing golf everyday with free food.
"We aren't eating at McDonald's, that's for sure," said DeChambeau.
Assuming the current players mature and new recruits add firepower, Enloe thinks the team could reach new heights.
"A national championship or top five finish is not out of the question," he said.