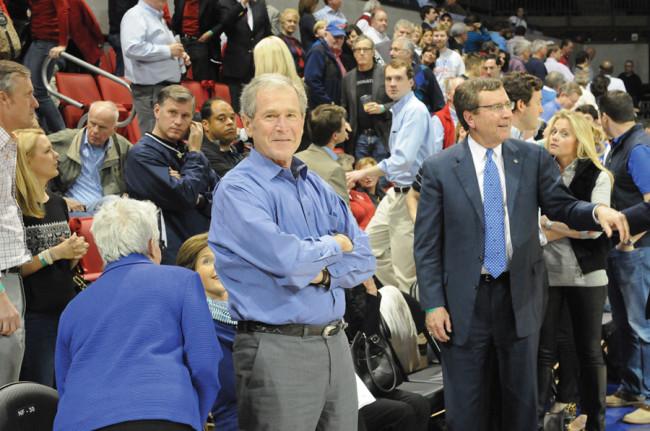 Margaret Spellings, president of the George W. Bush Institute, addressed a packed auditorium at the institute Wednesday.
Any of you who are veterans or actively serving in our military, please stand, she asked those in the audience.
Nearly every member of the audience rose from their red velvet seats, greeted with a long round of applause as onlookers honored their service.
Spellings and the veterans were joined by former President George W. Bush, Second Lady Jill Biden, and other leaders from the military and the public, private and non-profit sectors for a leadership summit on the importance of aiding post-9/11 veterans in the often-difficult transition from military service.
"I intend to salute these men and women for the rest of my life," said former President Bush in his address at the conference, poignantly titled "Empowering Our Nation's Warriors."
The conference focused on the unique needs of transitioning veterans and how Americans have a vital role in the process. Martha Raddatz, Chief Global Affairs Correspondent for ABC News, also moderated a discussion on opening up jobs for vets in need of work.
There are approximately 2.5 million post-9/11 veterans, and a million more veterans will be completing their military service in the next five years. Many of these veterans are disabled and simply in need of someone that cares.
"America cared about my recovery," said military veteran Lt. Col. Justin Constantine, who was shot by an enemy sniper while on duty in Iraq.
Bush revealed in his address that the institute was working closely with Syracuse University on a comprehensive study of the sometimes traumatic post-service experience that military vets go through. According to the study, which will be entirely released in April 2014, 84 percent of veterans say that the American public is unaware of the issues they face; and 71 percent of civilians say they don't understand the problems veterans struggle with.
Many vets face issues reintegrating to society. There is a "public misunderstanding" when it comes to Post-Traumatic Stress Disorder, which Bush referred to as PTS. According to Bush, PTS is an injury rather than a disorder, which can be treated and is not an obstacle to a successful life.
Veterans "are dealing with wounds both seen and unseen," said Biden.
Biden and First Lady Michelle Obama co-founded Joining Forces, which is an organization dedicated to supporting and honoring military families. Biden, who also teaches English full-time at a community college in Virginia, is the author of the children's book "Don't Forget, God Bless Our Troops", which focuses on military family's trying experiences.
These vets are "our most sacred obligation," she said.
According to Bush, there are a just a few things he misses about being the president of the United States. Of course, there was Air Force One.
"In eight years, they never lost my baggage," he joked.
On a more serious note, however, the former Commander in Chief made it clear that celebrating the service of military veterans is something he will continue to do even after his presidency.
"They are the 1 percent that kept the 99 percent safe," he said.
Two panel discussions and a networking lunch followed the opening remarks.
See the full event at www.bushcenter.org.