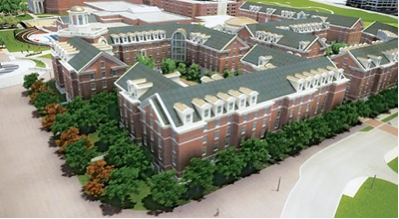 Walking into her room in Virginia-Snider each day holds a high level of comfort and hominess for second year Virginia-Snider resident Jasmine Richardson. She looks at her residence hall as a place to find "peace and quiet." Jasmine, a Hunt Scholar, credits this feeling to the other honors and scholarship students living around her. Virginia-Snider has a reputation for being filled with bright students who care about their education.
However, next year, that will all be changing. Virginia-Snider, which has been the University Honors Program residence hall, and Smith and Perkins, which have always housed the Hilltop Scholars, will become part of the all-inclusive residential commons system.
The new residential commons system will no longer allow students to be separated by groups. Programs such as the University Honors Program and Hilltop Scholars Program, now Hilltop New Century Scholars, have always offered living options for their students to foster a sense of community, but this will not be the case any longer.
The director of the University Honors Program, Dr. David Doyle, sees the benefit in this change.
"Rather than sequestering people off, they'll be randomly connected instead of separated from each other," he said. "It'll take down the walls that separate students. It'll transform the campus."
In the face of this new method of integration, the scholars programs are losing that which made them most unique: the physical community that brought them together and made both programs feel as if they were truly a unit.
This loss has caused some negative reactions among the students in the Honors and Hilltop communities. Richardson is worried how it will affect people like her coming in next year.
"I'm a bit of a chameleon in that I adapt to the situation around me which is why I liked being surrounded by people focused on their academics," she says.
Ironically, however, both Dr. Doyle and the new co-director of the Hilltop New Century Scholars Program, Dr. Marta Harvell, think the new change may be due in part to the success that has come from students in programs like University Honors and Hilltop Scholars living together. Because these two communities have had such success, the whole school will be integrated into a similar system.
"Based on the success of communities like the Honors and Hilltops, it seems like they're trying to make all the communities function as such. Hopefully it'll spread the academic interest that's been so present between these two communities," Doyle said.
One issue facing the scholars' programs, though, is how they will continue to make the members feel like a community without living together.
Harvell thinks this change may help programs such as the Hilltop New Century Scholars Program grow and flourish because of the different ways they'll gather. The key differences will be the number of classes they're offering the Hilltop New Century students and will help tie classroom experiences in with experiences outside in their community.
"The community will be fostered differently. The activities will be different and the program will be more academic. We're hoping to have more classes for the students to take together. Both were easy to foster community when they were living together, but now we'll work to make the community happen." Harvell says.
According to the two directors, though, the only pushback to the changes has been from past students. Some do not seem open to the changes at first because of the nostalgia they hold for their old living situation. Once the purpose is explained, though, they see it as a benefit for the rest of the school.
Others, like former Virginia-Snider resident Jared McCluskey, see the new residential commons system as a way to bridge the gap between all groups of people. By mixing all the students, it will make each commons have more of a variety to it instead of a certain type of person.
"I felt like I couldn't meet enough different people in the honors dorm," McCluskey said.
A rising sophomore and New Century Scholars Program student, Jeremiah Jensen, says he saw people on his floor form strong bonds with each other in a way that might not happen with the new commons. His prediction for the reform: it will take awhile for change to take root.
"I don't think it'll change that much in the first year because something this big will take some time to take root. It'll help tone down some of the partying but some of the sophomores will try to carry on the identities of the current residence halls," he said.
Many in and around the Honors and Hilltop scholars programs are thrilled to see this change, though, because they think it will help the whole university become more conscious of academics.
"The vision behind all of this is, if a university is going to turn out really great students, we can't have this 9-5 mentality where your job is done after you leave the classroom," Doyle said. "The residential commons will break the boundary between being in class and being at your dorm and not learning. I think this will turn out better people."