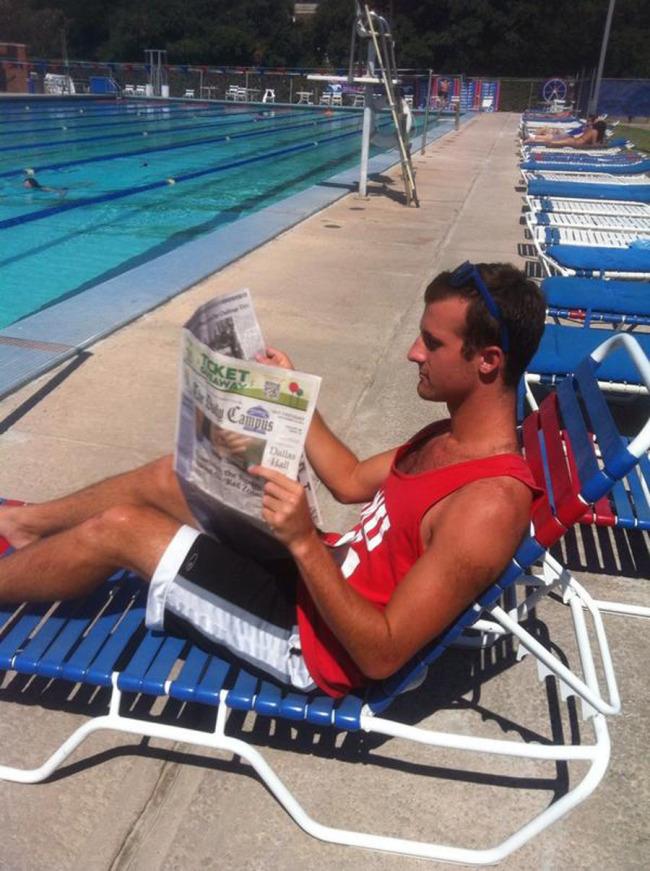 SMU student Sarah Hurley loves a good read with her lunch. That's why she always picks up a copy of SMU's newspaper The Daily Campus. Hurley is a junior English major and reads the student paper so she can keep up with the news and events that happen on campus. Her favorite sections are student life and the opinion page.
Unfortunately, Hurley is not the typical SMU student. A majority of the students interviewed for this story do not regularly read The Daily Campus. Many of them think that the paper is uninteresting and lacks appeal. They say it could be improved by adding elements like cartoons, more hard news, and even a column for graduate students.
The Daily Campus' print edition is published on Mondays, Wednesdays and Fridays. About 3,000 copies are distributed to racks across campus. But it's not clear how many of them are read, or even picked up. For instance, early in the morning on Wednesday, Oct. 22, racks were checked in several heavily-trafficked areas. A rack in Hughes-Trigg held 100 copies; a rack in Clements Hall had 74; and a rack in Fincher had 101.
By Thursday night the Hughes Trigg rack still had 56 copies left, Clements had 46, and Fincher had 48. That means that only about 45 percent of copies overall were picked up from the three racks. The remaining papers would be sent to the Dallas recycling plant, said Daily Campus officials, to make room for Friday's edition.
Although the print edition of The Daily Campus may be struggling, The Daily Campus online is starting to get noticed. The number of monthly page visits have increased by almost 12,000 to 67,000 over the past year, according to the paper's online analytics. Many universities are going through the same shift from print to digital.
Arizona State University went to an "all digital" format in August by completely cutting out the print edition of their paper. The University of Houston also cut back on its print newspaper by putting out a weekly edition instead of printing four days a week. The Daily Campus printed 4,500 for about 9,000 students in the late 1990s. Now they print 3,000 for about 10,000 students. The campus newspaper went to three days a week in Fall 2010, from four days a week.
Executive Director of SMU Student Media Jay Miller is excited to see where The Daily Campus online is headed. Miller said that the the print edition paper might change to a once-a-week edition, possibly by Spring 2016, and that it would be filled with hard news and entertainment. Miller said that better and unique content on the website are key to increasing readership.
"We're seeing unprecedented numbers of web traffic this year," said Miller. "There's no other news outlet that covers the entire SMU campus like The Daily Campus."
The Daily Campus is run by the nonprofit Student Media Company, Inc., which is independent from the university and receives no funding from it.
Of the 15 SMU students who were interviewed for this story, only one said that they read the print edition of The Daily Campus on a regular basis. The other 14 students said that they will read an article every now and then if they happen to see a story on social media or hear about it through word-of-mouth.
The print version of The Daily Campus is still a first choice by some students, however. Finance sophomore Paul Brown is one of the few students who prefers print over online.
"Print is easier to get because I can just grab it and go on impulse instead of having to make a conscious decision to go online and read something," Brown said.
Some incoming first-years say they didn't know anything about The Daily Campus when they arrived at SMU this fall. First-year advertising major Marisol Leiva said the interview for this story was the first time that she heard about a campus newspaper.
Senior human rights major Lisa Walters said that major controversies and issues that are happening on campus will drive SMU students to read the paper. Walters believes that The Daily Campus doesn't have enough hard news and needs to be the main source of social change on campus.
"More hard news, less soft news," Walters said. "We need more columns and less fashion."

The Daily Campus Managing Editor Christina Cox said editors try to balance out material between hard and soft news. Cox understands that softer news like lifestyle features and profiles may attract more readers, but putting out hard news is still a priority for the writers and staff. Releasing ground-breaking news via the SMU Live blog has also helped The Daily Campus focus on more time-sensitive and impactful events.
"We got out the June Jones' resignation story in less than five minutes and have been on top of the Ebola outbreak in Dallas since the beginning," Cox said.
The Daily Campus can be found on Facebook, Twitter and Instagram but many students said that they would read The Daily Campus frequently if there was more online user interactivity.
"There should be a bigger focus on the digital aspect," said senior theatre studies major Kaysy Ostrom. "Also a creativity or cartoon section would be great."
According to the online campus profile of SMU last year, about 30 percent of the student population are graduate students. Some of the graduate students say they don't see themselves represented in The Daily Campus as much as they would like.
Piano performance graduate student Artem Arutyunyan would like to see a graduate related column and maybe a radio show produced by The Daily Campus.
"I listen to a lot of NPR so I would like to see more new and diverse content especially among the arts," he said. "All I know from reading the paper is that we like to tear down buildings."
Graduate student Barry Shapiro is pursuing a MBA. "If you want more readers than you really need to think about expanding your market base," he said.
Student Senate's Chief-Of-Staff Chase Harker is a junior management science major. Harker tries to read The Daily Campus every day in order to be connected with the student body.
"A lot of our conversations at the Student Senate start from a Daily Campus article," Hawker said. "We look through most of the complaints that are written in The Daily Campus and try to work with the students to get these issues resolved."
Hawker mainly reads the online version and articles that are shared and posted on Facebook. Harker uses The Daily Campus as an avenue to students on campus that do not trust going to the senate.
"Students don't trust us," he said. "We wish the senate was as well-known and respected as The Daily Campus, but right now it's not."