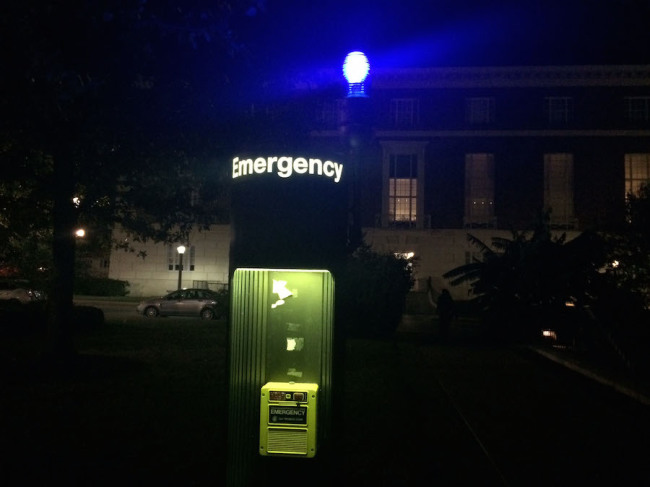 It is Thursday at 10 p.m. as junior Tyler Coffin pulls into Airline Parking Center. She drives through the garage and scans her surroundings as she strategically picks a parking spot near the east staircase. Coffin does not choose this spot because she's lazy; she picks this spot because she's scared. She knows SMU's campus is generally safe, but the risk of an assault or attack becomes more feasible when she is alone at night.
The emergency blue light phones placed strategically throughout SMU's campus are meant to ease these fears. According to a map created by the SMU Police Department, there are over 55 blue emergency phones in operation in the exterior areas of campus, parking garages and parking lots. These lights are monitored by SMU PD and are maintained by the SMU Management and Facilities Office.
SMU Police Chief Shafer said that the blue light phones are used by students, but stated the department does not keep track of the number of calls they receive.
"Most people call on [their] cell phones," Shafer said.
When an emergency blue light phone is activated, it will contact the SMU Police Department and an officer will dispatch to its location. According to the SMU PD website, the telephones are made to facilitate reporting to the police department while on campus. This is why the phones are located in several, different locations across campus, at varying distances.
Students may use their cellphones to report crimes or suspicious activity to the police, but the blue lights remain on campus because of their durability, reliability and safety.
The emergency phones that are on campus are regularly tested once a month by the SMU Police Department and submit work orders for those in need of repair. In these work orders are reports for replacement lights and any other physical hazards.
However, when Chief Shafer was asked about the placement of the blue lights, he said he did not know the answer and redirected the question to Kent Best, executive director of news and communications.
"The phones are placed in areas that allow for easy access from a variety of locations on campus and in coordination with SMU Police recommendations," said Best.
This discrepancy in information brings something into question for the SMU community: do the blue lights truly make an impact on this campus?
For SMU students, they do make a difference, despite if they are used are not.
Senior Lauren Shamoon believes the emergency lights are necessary because they provide a sense of security and act as a warning to those who may want to commit a crime.
"Even if they don't provide a lot of light, they are a threat to anyone who wants to feel like they have the power to attack," Shamoon said.
She is not alone in this thought. Several other students were questioned about their use of the blue emergency lights on campus. All said they had never used the blue lights, but believe that they are needed because of the peace of mind they provide.
A few other students felt like more lights need to be added to the campus to make it a safer place for those to walk around at night.
In an opinion piece titled "Dear SMU, please light your campus" in The Daily Campus Wednesday, sophomore Olivia Nguyen voiced her concerns about walking home from work late at night because of the lack of light from Hughes-Trigg Student Center to the new Residential Commons Complex.
"This ten-minute journey always makes me go through a roller coaster of emotions," Nguyen wrote. "Students should not be fearful walking alone at night around a small campus like SMU."
In an attempt to illuminate areas of darkness on campus, SMU hosts an "Annual Lighting Walk" for student leaders and campus officials to review lighting and identify areas of concern. This year's Annual Light Walk took place Tuesday at 7 p.m.
There are no laws or codes to govern what the emergency blue lights look like or where they are placed on campus. Because of this, there is a discrepancy in distances of the blue light phones in different areas of campus. Some places, like the parking centers, have at least two emergency phones on each level. Other areas of campus are not as well equipped.
The biggest gaps in blue lights are around Ford Stadium and Westcott Field, Fondren Science Center, the Law Quad and, ironically enough, the Boulevard from Perkins Chapel to Umphrey Lee Center. From Hughes-Trigg to sorority row, the blue light phones are 0.20 miles apart, and from Perkins Chapel to Umphrey Lee, the blue light phones are over a quarter-mile apart.
Another large discrepancy is along fraternity row. There are only two blue emergency blue light phones along this area of campus, and both are between the Sigma Alpha Epsilon and Lambda Chi Alpha houses.
The phones are placed in these locations per recommendations by the SMU Police Department, but students believe that major areas of campus are not provided with the same level of security.
"I would say parts of Dallas Hall area, definitely Rosedale, Greek Row, the outskirts of campus aren't very well lit, until up by the flagpole area," Shamoon said.
Coffin was not even sure where the closest one to her was.
"We just need more of them overall," she said.