By: Kaylah Burton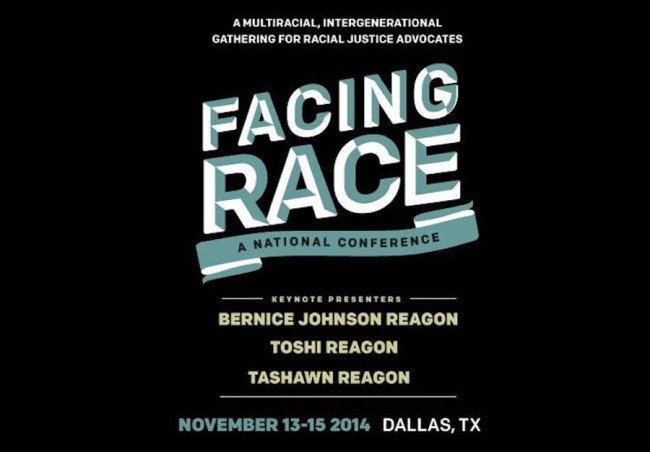 Facing Race 2014, a multi-racial gathering for racial justice advocates took place Nov. 13-16 at Dallas' Hilton Anatole. Not only was the conference the largest conference on racial justice, gathering over 1,600 activists, organizers and artists, it was the first gathering of its kind held in the South.
The conference held over 60 sessions on topics ranging from health equity to immigration reform and reproductive health justice. The conference focused on strategy in the areas of organizing and advocacy to research and policy, with a large part of the conference dedicated to conversations around racial justice and arts, culture and media.
SMU students were among the group of world changers engaging in important conversations about race. Thirty students from campus attended the conference through the backing of the Meadows Arts + Urbanism Initiative, in hopes that SMU students will take the tools and strategy from Facing Race 2014 and bring them to the SMU community to start making change and beginning important dialogues about race on campus.
The intersection of media and race was the topic of a conference lecture Saturday that focused on the poor representation of African-Americans in popular TV led by Arisha Hatch, Dream Hampton, Victoria Rowell, Issa Rae and Emir Lewis, all entertainment industry and cultural leaders fighting collectively for an end to the plethora of inaccurate and insulting images of black people on television.
Prefacing the discussion was a video, which in just two minutes time, showed a multitude of images of black women in popular television, news, and advertising. Many of these images portrayed black women as over sexualized, criminal or unintelligent.
"These images do have real repercussions, Media directly effects the kind of care we get when we enter an emergency room, it affects the kind of sentences that we get when we are in front of a judge –all of these things are directly related to the images that we see in the media," said Dream Hampton, writer, award winning director and social justice organizer.
Hampton concluded that the problem is not only misrepresentation but underrepresentation.
"The problem is the dearth of representation, we don't have any real variety of images," Hampton said.
One concentration of the discussion was the representation of black women in some of network television's most popular and highest-grossing programming including Bravo's "The Real Housewives of Atlanta" and VH1's "Love and Basketball."
The panel unanimously agreed that due to the dearth of representation, the plethora of negative images of black people that the world sees through television, news and advertising usually become the most prominent images and perpetuate stereotypes about blacks that affect how others see the real black community as a whole.
Emir Lewis, award-winning film editor, pointed out problems with reality TV with respect to the filming, budgeting and process.
"The biggest problem with reality TV is the name of it – it's the farthest thing from reality," Lewis said.
Lewis shed light on the process of creating reality TV which differs greatly from the process of creating a feature film or scripted television series with a low-budget and fast editing process that takes less than half of the time that a scripted show editor would take to develop character arcs, review footage, and give characters a voice.
One of the largest problems with reality TV is "frankenbyte" editing, which is used to create dramatic situations by rearranging the sequence of events and dialogue during the editing process.
While writers like Shonda Rhimes are challenging these negative stereotypes of black women in shows like "Grey's Anatomy," "Scandal" and "How to Get Away With Murder," television shows on major networks with black women cast as multi-layered and complex protagonist are still very rare.
Members of the audience brought their own solutions to bringing more multi-layered representation of black people in the media ranging from small everyday steps to organizing for action by the million.
Individuals can take small, strategic action against racist and sexist media in their everyday life. Jennifer Pozner, founder and executive director of Women in Media and News and author of the book "Reality Bites Back: The Troubling Truth about Reality TV" has monitored reality TV for 14 years and found that everyone can fight poor presentation through active critical media literacy and banishing "mindless entertainment."
Rashad Robinson, executive director of Color Of Change, the nation's largest online civil rights organization, suggested that the solution lies in shifting cultural presence to cultural power.
"Part of shifting presence to power is taking the fact that people know these problems exist and building the type of campaigns that build more power for the community. For instance, bringing more people into this conversation, finding ways to hold those in power accountable whether it's through their advertisers, through their bottom lines and forcing them to have to change their behaviors," Robinson said. "Once we start getting people in power to change their behaviors, over time they can see that their behaviors lead to better outcomes then we start to change their attitudes as well."
Robinson believes that this culture shift isn't only in the hands of major network executives; the greatest changes can happen through the organizing of community.
Claire Daigle, sophomore dance major agrees.
"SMU is one of the best examples of a place that needs more social justice," Daigle said. "I think there's not a lot of knowledge in the student body about social justice and that's part of what continues to perpetuate problems when it comes to racial, economic and socio-economic inequality in general at SMU. Anything that members of the student body can do to increase knowledge of social justice issues at SMU is absolutely necessary."