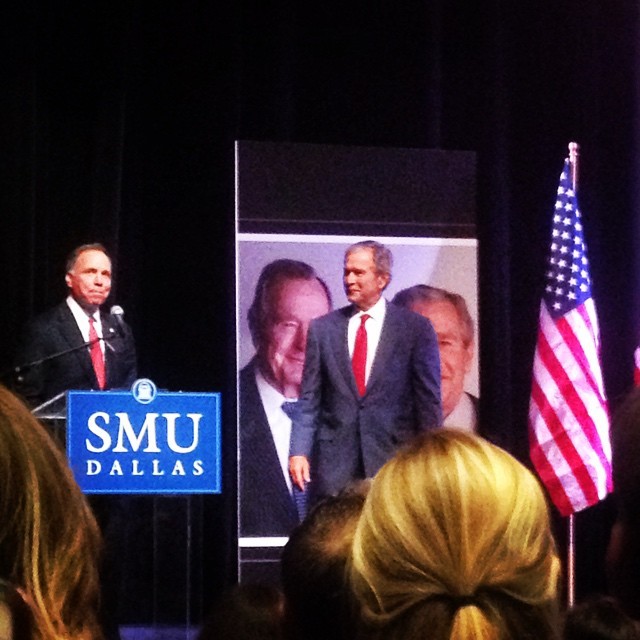 Tuesday afternoon, select students and members of the greater Dallas community gathered to hear a man talk about his father.
But, it wasn't just any man. George W. Bush sat down with Jeffery Engel, director of the SMU Center for Presidential History and Dedman professor, to speak about his latest book, "41: A Portrait of My Father."
"He never became something other than my father," he said. "He had different titles but he never stopped being my father."
Hamming it up for the audience, Bush, joined by wife Laura seated in the audience, answered questions about his father's political and familial impact. Many responses were followed by laughter, others by rounds of clapping.
"It definitely met my expectations! He was so candid and personable," Lexy Damianos, a senior President's Scholar, said. "It really felt like observing a conversation."
Covering everything from baseball and his parents' discipline tactics to the political relationships his father has developed since leaving office in 1993, Bush spoke about anecdotes that are featured in the book. Speaking about his father's time with Vladimir Putin and the death of his sister, Robin, in 1953, Bush tackled difficult subjects while focusing on George H.W. Bush's strength and humility.
"As usual, I was very impressed with his candid narrative style way of speaking," Monica Finnegan said. "Hearing about diplomacy with Putin and other international figures from a personal standpoint was incredible. Former President Bush is a funny guy and he was not afraid to contradict our moderator, I might add."
Engel was not afraid to push buttons. His last question about the future of the Bush family's presidential legacy, the 43rd president gave a few hints about what the 2016 race may hold for his brother Jeb.
"Laura and I have asked him and told him to think about four things: does he want to be president… does he fear success… does he fear failure… and is it OK for his family," he said.
Each member of the audience left with a signed copy of the book, while Bush left the stage with two pairs of SMU socks, a nod to his father's fashionable sock collection.