The SMU community gathered together in the Perkins Chapel Wednesday afternoon to celebrate the life of Dr. Peter Gifford.
Gifford, who was the former department chair and associate professor of applied physiology and wellness, was honored and remembered for his love of his life, positivity and joy.
"It was really so beautiful to hear all the great things about him and to remember what an amazing man he was," said Renee Moore, associate director of facilities and web communications at Simmons.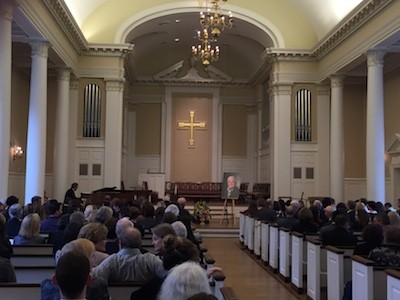 Family members, friends, faculty, staff and students crowded the inside of the small chapel. The service began with an emotional performance by Peter's daughter, Lauren, who sang one of his favorite songs, "Everything I Own" by Bread. As she struggled to sing through her tears, the crowd joined in and sang along.
More tears ensued as friends and family members spoke of Gifford's life and the positivity he always extended unto others. He lived by the motto, "make today a great day."
"I remember going into class, maybe an early class or a time I just didn't feel like going, and seeing this man smile just put all of my troubles and worries aside," said Chris Scott, an SMU alumnus. "It was incredible to see a man so proud of life."