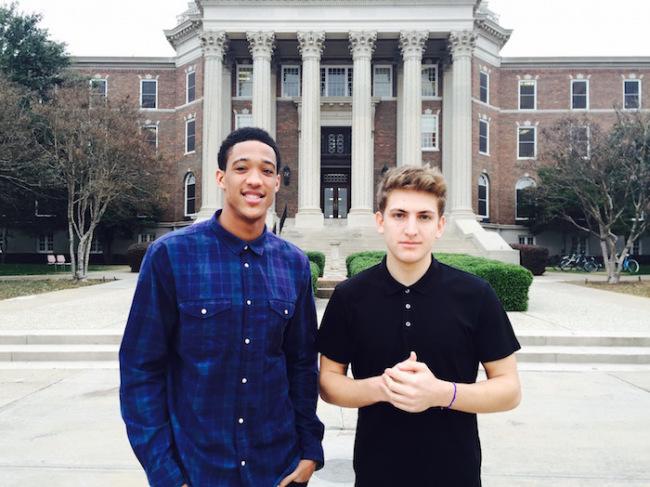 Hunter Rice was not always religious – that changed when he got to SMU. Walking around a campus where he didn't know anyone, he started to realize that one connection seemed to bring him the most comfort: Judaism.
Everywhere you look at SMU, there they are: Greek letters – from ΔΓ to ΣΑΕ to ΚΑΨ and more. And soon a new set of letters will join them. ΑΕΠ.
Alpha Epsilon Pi is a predominantly Jewish fraternity with over 150 chapters in America, Canada, the United Kingdom, France and Israel. The fraternity's mission is to provide the opportunity for Jewish men to join an organization whose purpose is not specifically religious, but rather social and cultural in nature.
Rice thought it was important for Jewish men on campus to join in on that opportunity. So in March he, along with co-founders Oscar Schechter and Ari Colton, worked with headquarters to establish a new chapter at SMU. The fraternity currently has 11 active members and is in the process of recruiting 18 additional men.
"I think it's important to bring a community here for Jewish guys to enter a place where they felt comfortable and surrounded by other guys they could relate to," he said. "We were all willing to take on this experiment and see if it would work."
As of now the fraternity is recognized by both AEPi and SMU as a "colony," which means they are awaiting official recognition. They hope to meet the requirements and become a legitimate chapter within the next year.
Of the 6,661 students at SMU that reported a religious preference, 128 affiliated with Judaism – only about 2 percent of the population. Rice noticed among many of his friends that the lack of Jewish presence on campus nearly deterred them from attending the university.
"We hope to change that for sure," he said. "We want to influence people ten years down the line and be a part of their decision making process when they're applying to college."
AEPi member Malachi Haimes, an economics major from the Dallas suburb of Allen, said they do so through recruitment events that are meant to be casual and fun. They host cookouts, take trips to Top Golf and watch sporting events together.
"It's really like a friendship making process," Haimes said. "We're not trying to force them to do anything. It's just relaxed."
Rice, a junior Business Management major, said the long-term goal of the organization is to attract more prospective students in order to foster a stronger Jewish culture.
Jewish Studies professor Shira Lander is enthusiastic about that culture growing on campus.
"It's emerging into its own," Lander said. "I think it's a very energetic and robust culture and I see that not just amongst the undergrads but among the graduate students as well."
In her time as an undergraduate at Yale University, Lander belonged to a Jewish organization called Hillel, an experience that she said added tremendously to her college experience.
Hillel is an organization for undergraduate and graduate Jewish students. Senior member of SMU's chapter Heather Solov said the group provides students with a blend of social and cultural program.
"It's really meant to serve as a home away from home for Jewish students," Solov said. "We host Shabbat dinners, outings to places like Dave and Busters, holiday celebrations, and classes and discussions on a wide variety of topics."
Professor Lander is excited that now another outlet for Jewish students has come to campus.
"Any institutional contribution to Jewish life at SMU is going to improve the life at SMU generally," Lander said. "I think anytime there's active, vibrant student activity with positive goals it enriches the campus community all around."
Haimes, a junior, said the organization has acted as a support group for him.
"I really like the guys," he said. "Once I met them and started hanging out with them I noticed they were really genuine, which is what I look for when I'm making friendships."
Rice stressed the strong bond that creates between the members of the fraternity.
"It's important for us to stick together, especially with what's going on in the world right now," he said. "There's a lot of hate out there and it's important to have each others backs and be there to support each other."