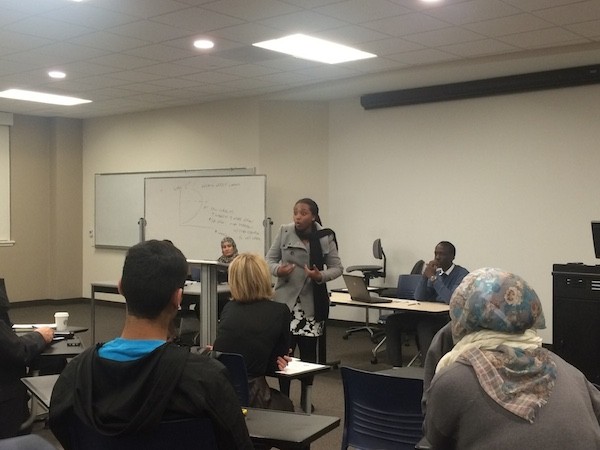 Check out the Meadows event website, and you'll surely find something that you'll want to go to. When I saw that a group of people from Rwanda would be on SMU's campus to discuss genocide, I knew that I had to go and I was not the only one to think that.
Nearly 50 members of the SMU community gathered in an Umphrey Lee lecture hall last Wednesday night to see the SMU debate team take on the national debate team of Rwanda, iDebate.
When people discuss Rwanda, the 1994 Genocide is the first thing that is brought up, and that is what was debated, more specifically what the United States' role should be regarding genocide. SMU argued that the United States should take the lead when dealing with genocide and iDebate argued that the U.S. should not lead.
SMU graduate and debate member Basma Raza argued that the United States has the military resources to take the lead against genocide, noting how the U.S. has handled the current ISIS situation.
"ISIS was successful because they waited for the U.S. to leave Iraq," Raza said in her argument. "However, 85 percent of ISIS bombings were from the United States."
Although the United States' role regarding ISIS has caused controversy, Raza strengthened her argument by referencing World War II.
"Look at what the United States did to Nazi Germany. We went in and stopped that genocide," she said.
To close her argument, Raza used an emotional approach by quoting Holocaust survivor Elie Wiesel.
"Wiesel said that 'What hurts the victim most is not the cruelty of the oppressor but the silence of the bystander,'" she said.
iDebate member Bryan Manzi began his argument by stating the United States lacks timeliness.
"The U.S. doesn't help until after it is too late, and when they finally do something, they make things worse," Manzi said.
Manzi's tactics worked as he hoped by making the students and guest judges, all U.S. citizens, see things from a different perspective.
"Western countries don't help out of love," he said. "They just don't understand. You need Africa to understand African culture."
To strengthen his argument, Manzi showed the audience what the United States really is.
"The United States has no particular culture, just people from various countries. People would be lost and confused if they came to Rwanda," he said.
Manzi ended his argument by saying how the United States should have a presence in the fight against genocide, but should not be in charge.
"The U.S. needs to focus on itself instead of on other countries," he said. "They are $17 trillion in debt."
It might have been because of the emotion iDebate members had while speaking, or it might have been because of the facts that they put on the table, but the judges voted in favor of Rwanda, 2-1. The audience vote was heavily in favor of Rwanda, with iDebate receiving 88 percent of the votes.
iDebate has been on a three-month U.S. tour, visiting 17 of the country's best schools, such as Yale University and Pepperdine University. Ben Voth, director of the SMU debate team, saw that iDebate was making a U.S. tour, and he acted quickly to ensure the team would come to the Hilltop.
"I put in a bid months ago for them to come to SMU, so it's just fabulous for us to have that dialogue, and it's really cool that we're one of the last stops for them," Voth said.
iDebate member Bryan Manzi is grateful to tour the United States and sees it as the perfect opportunity to spread the word about Rwanda.
"I get to tell people not only the bad side of Rwanda, but also the surprising side of Rwanda," he said. "We get to talk about things that people in Western countries don't get to hear. We have democracy and we have freedom, it's a whole different country than what you see on TV."
SMU debate member Basma Raza believed the debate will give the SMU community a perfect chance to live up to its motto.
"Since SMU promotes 'World Changers Shaped Here,' having the Rwanda debate team gives us a chance to open our eyes," she said.
After the debate, iDebate members presented gifts to the SMU debate team and to the judges as a symbol of thanks for the hospitality. Some of the gifts were hand-made baskets. iDebate member Kassy Irebe explained the significance behind giving the baskets as gifts.
"We could have given you something shiny like a medal, but that would show that we have accomplished everything," Irebe said. "These baskets mean that we still have a long way to go."
Although the debate teams had different opinions during the debate, both teams believed the same idea about what needs to be done.
"Regardless of race, culture and religion, the biggest thing we should value is human life," Raza said. "If people are killing groups of people, the world should take a stand because human lives matter, no matter what."
It is not surprising that the Rwandan team won the debate. The SMU team could have every detail about genocide in front of them, but first-hand experience will always be an advantage.
The group that gathered in Umphrey Lee walked away with fuel to end genocide because of the passion the iDebate team had. It was clear that they were speaking from the heart and not from a piece of paper.
From this story, you would think that these Rwanda debaters have college degrees and years of debating experience, but what if I told you that these individuals were only 14 years old?