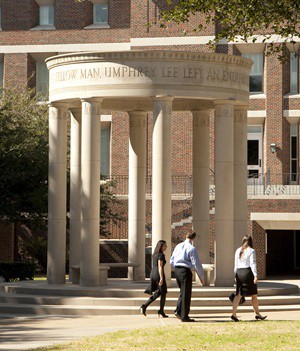 When Lucas Williams, an SMU law student, stepped foot onto the Dedman Law campus for the first time, little did he know he'd one day be representing a client involved in a whirlwind of neglect, drug-addicted parents and foster care.
The client, a one-year-old child that can barely talk or combine words to create a simple sentence, depends on Williams to represent his best interest throughout the long legal journey ahead of him. The child was removed from his home by child protective services and it is up to the courts to determine where he will grow up.
"While they may not be bad people, they're just not good parents," said Williams.
You'll encounter student attorneys like Williams in the basement of Storey Hall, tirelessly pouring over various cases. And they do it all for free. Operated by the Dedman School of Law, the purpose of the Clinical Program is to not only train students, but to help people who can't afford their own counsel.
There are nine legal clinics in total, focused on an assortment of legal practices that serve the community: consumer advocacy, criminal justice, civil law, small business and trademark, child advocacy, and consumer advocacy. Each clinic is run by student-attorneys and guided by seasoned lawyers who also serve as professors of the law school. The law school was among the country's first to sponsor a community legal clinic, reinforcing one of its core commitments: public service.
In 2015, three additional clinics will be added, bringing it to 12 clinics in total. These clinics include the Judge Elmo B. Hunter Legal Center for Victims of Crimes Against Women — made possible by Ray L. and Nancy Hunter, and expected to open early 2015, the VanSickle Family Law Clinic — expected to open fall of 2015, and the Patent Clinic.
Excited about the expansion, Diane Sumoski, a licensed attorney who also serves as director of the W. W. Caruth, Jr. Child Advocacy clinic, hopes the new clinics can interact with each other and share knowledge, especially because the practices they represent are interrelated with child advocacy.
In the Child Advocacy clinic, students work full-time for Dallas children, and serve as their guardian/attorney ad litem, which is a guardian appointed by the courts to represent the interests of infants, the unborn or incompetent persons in legal action. The children they represent are involved in some of the most severe cases of child neglect and abuse, and it's the students responsibility to provide critical assistance to better their lives in any situation. Under the supervision of Sumoski, law students assist more than 12 Dallas County children a year.
Sumoski also adds the student's passion invigorates her, and it makes her excited to continue to practice law. "They're going above and beyond, and it's so fun to see the great job they do, " she said.
Officials with several of the other legal clinics were contacted but were unable to comment on their work due to busy end-of-the-year schedules.
Ashley Leonard, a student attorney for the Child Advocacy Clinic, gained interest in child defense after being exposed to a family law course. She then turned to the clinic to help represent the many children in Dallas County without a voice, an estimated 1,098 children, based on the number of confirmed child abuse and neglect cases in 2013.
"The children need a voice in the court room, and it's important to me to make sure that voice is heard, " said Leonard.
Like the other clinics, the Child Advocacy Clinic is appointed an array of cases by the county of Dallas, all to be assigned to the clinic's student attorneys for a semester. In some situations, cases can last from 12 to 18 months, which results in one to four students leading the representation of the child. These cases serve the dual purpose of giving law students the opportunity for hands-on experience, and further complements what they learn in the classroom.
"It's been really great to get actual experience in court before a judge and with the numerous legal aspects, such as witnesses and evidence, " said Danielle Westgard, a student attorney for the Child Advocacy Clinic.
To qualify for graduation at the Dedman School of Law, law students must complete a minimum of 30 hours of law-related public service, and the service must be uncompensated, or "pro bono." Serving as a student attorney at one of these clinics counts towards that requirement.
Law students who are interested in becoming a student attorney can apply to do so each semester. With a varied amount of spots open, applicants must be picked through a lottery system. Each clinic varies in required prerequisites, and students with more hours under their belt are generally chosen over those with fewer. However, each clinic's application process differs among the rest. The only constant is that applicants must have completed their first two years of law school. Once selected, they are then granted permission to practice law via a student attorney license from the State Bar of Texas.
The Clinical Program will continue to evolve over the years, encompassing innovation in legal practice and changing perspectives. But for now, students are grateful for the one semester they're allowed to spend there.
"It's simple," says Williams. "You want these
children to have a better life than before you first met them."