10) The Babadook
In her directorial debut, Jennifer Kent delivers one of the most genuinely terrifying films in recent memory. "The Babadook" tells the story of a widowed mother and her troubled son (played with a haunting realism by Essie Davis and Noah Wiseman) who find themselves terrorized by a supernatural creature unleashed from a seemingly innocuous children's picture book. Eschewing the cliche tropes that so often plague the genre, the film elevates what could have been another run-of-the-mill haunted house movie by delving into the deteriorating psychological state of the two central characters with an expertly crafted narrative that explores the destructive effects of insomnia and ultimately fear itself.
9) Interstellar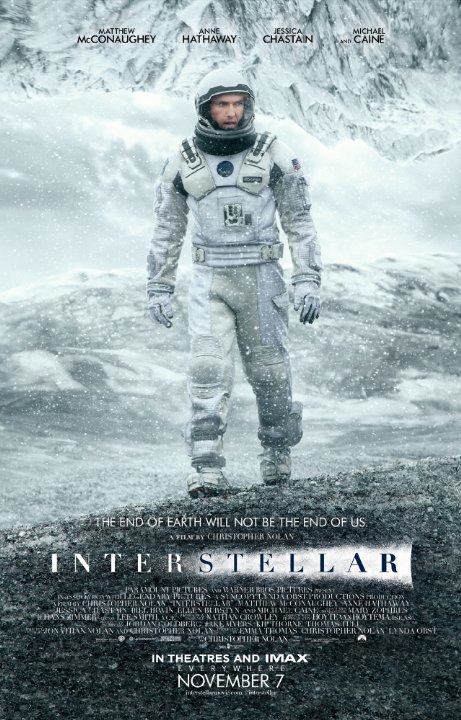 Though not without its faults, the simple ambition Christopher Nolan's epic space opera make it too good an experience to pass up. Transcending time and space, Interstellar's depth and emotion are matched by its spectacle (even if the former two occasionally exceed the viable realm for suspension of disbelief). The film follows Cooper, a pilot-turned-farmer-turned-pilot-again, as he embarks on a journey from a bleak dustbowl earth to the farthest reaches of other galaxies in a quest for humanity's salvation. Helmed by Matthew McConaughey and boasting an all-star cast, "Interstellar" succeeds as a character study, with the mission to save earth taking a backseat to Cooper's personal battle to make it home to the daughter he loves before time separates them forever.
8) American Sniper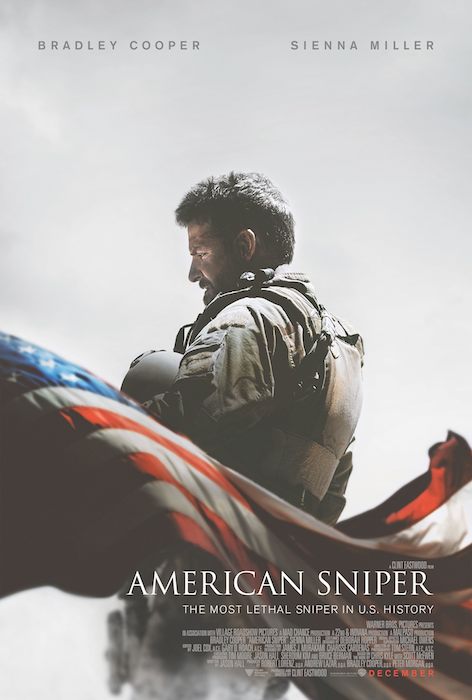 American Sniper is an acting tour-de-force, with a pretty decent movie added in to boot. The story is Navy Seal Chris Kyle's; played by a bulked-up Bradley Cooper (in one of his best performances to date) with a southern accent and unassuming demeanor that let him disappear seamlessly into his role as the deadliest sniper in US military history. However, "American Sniper" is not a war movie. There is plenty of action (and a subplot about Kyle's sharpshooting nemesis which ultimately works to the film's detriment) but more than anything, director Clint Eastwood has told a story about love and the effects of war on a soldier's relationships. The scenes of Kyle and his wife Taya (Sienna Miller): their meeting, their wedding, his phone calls from Iraq, and his time home between tours, are the best and truest that the film has to offer. Cooper and Miller's chemistry alone is enough to justify the price of admission but the story of this legendary American make the film a must-see.
7) The Lego Movie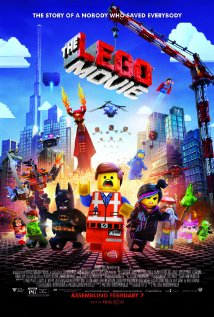 In a year wrought with political turmoil and extensive tragedies, "The Lego Movie" offers an escape to the safe recesses of one's childhood when "Everything Was Awesome". With an all-star voice cast including Chris Pratt, Will Ferrell, Liam Neeson and Morgan Freeman, "The Lego Movie" is clever, humorous, heartwarming and wholesome. It ranks, not only as one of the best animated movie of this year, but one of the best movies in general.
6) Whiplash
After sweeping the awards at this year's Sundance, "Whiplash" has lost some steam leading up to the bigger awards ceremonies but that has done little to abate the raw power of the film itself. In his second film, new-coming director Damien Chazelle delivers an honest and sometimes disturbing depiction of a talented young drummer and his manic but brilliant instructor who is willing to push his students to any length in the pursuit of perfection: "There are no two words in the English language more harmful than good job." With undeniably strong performances by Miles Teller as the student Andrew, and J.K. Simmons as the intense and volatile instructor Terrence Fletcher (for which he won the Golden Globe and will ultimately take the Best Supporting Oscar) "Whiplash" is inspiring, unsettling and altogether unforgettable.
5) Nightcrawler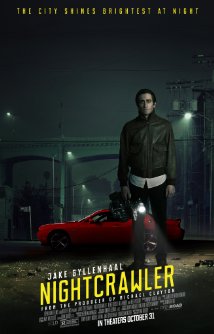 In his directorial debut, Dan Gilroy has crafted a thrilling neo-noir showcase of the violence that rules the night in Los Angeles and the freelance videographers who seek to document it for profit. Jake Gyllenhaal finds his best role in years, continuing his career's upward trajectory as Lou Bloom, a sociopath who is both charismatic and creepy, speaking the cliche adages of a late-night "self made millionaire" while going to any lengths to get footage of the night's most horrific crimes and accidents. Gyllenhaal lost substantial weight for the role and his gaunt face is juxtaposed by his bulging eyes: piercing, alert, and filled with an unhealthy hunger. The film gives a relentlessly energetic indictment of local news television's soulless pursuit of ratings through fear-mongering and the sensational commercialization of graphic tragedy.
4) Gone Girl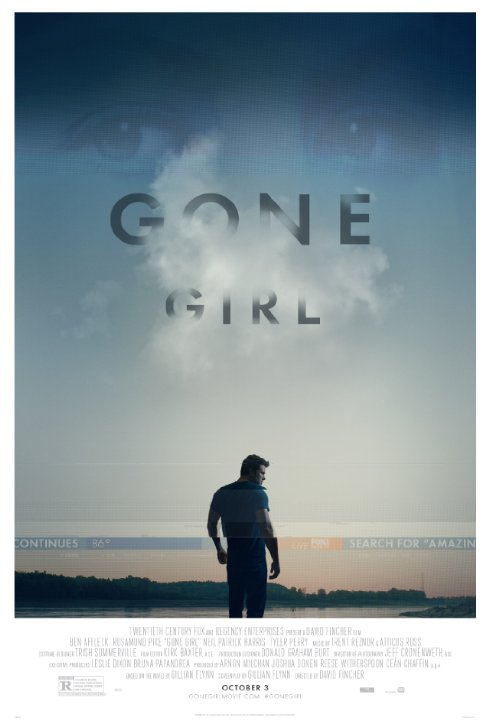 Another critique of America's new media culture, "Gone Girl" is a perfect slow-burn thriller with plenty to say. Based on the best-selling Gillian Flynn novel and directed with effortless skill David Fincher, this atmospheric character study unfolds with a suspenseful mystery of a missing wife and her possibly culpable husband. Ben Affleck gives a strong performance as the husband forced into the public eye while simultaneously seeking to uncover the truth behind his wife's disappearance. It is Rosamund Pike however, who steals the show with one of the strongest performances I've ever seen and works as the cornerstone that allows the movie to succeed in its examination of marriage, public discourse and the depths of human depravity.
3) Guardians of the Galaxy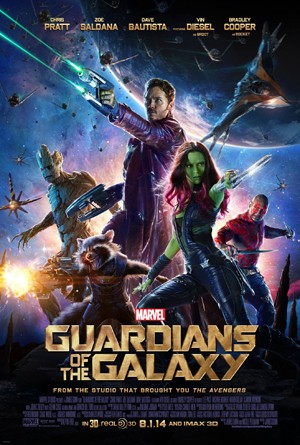 "Guardians of the Galaxy" answers the question: What would you get if you were to pour "Star Wars," the Marvel Comic Universe and plenty of 80s nostalgia in a blender? Add in the likes of Chris Pratt, Bradley Cooper, Vin Diesel and Zoe Saldana and you might end up with a film that resembles this James Gunn directed entry. "Guardians" pulls together an unlikely team of misfits, mercenaries, and intergalactic badasses and places the fate of the universe in their hands. Irreverent, self-referential, and laugh-out-loud funny, this box office smash marks one of the strongest films in the Marvel cannon, and certainly the best soundtrack.
2) The Grand Budapest Hotel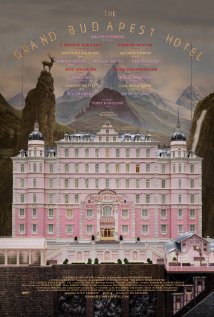 "The Grand Budapest Hotel" marks the pinnacle of Wes Anderson's work, applying his quirky brand of filmmaking to a mystery thriller with rich atmosphere, story, and compelling performances. This latest Anderson production begins in the decadent but fading Grand Budapest Hotel and follows the misadventures of the preeminently genteel concierge, Monsieur Gustav H. (Ralph Fiennes) and his favorite lobby boy (Tony Revolori). When a former hotel guest, who happens to also be one of Gustav's mistresses (yes, his service is that good) dies, he is bequeathed in her will with a very expensive painting. Madam D's family desire to keep the painting and soon accuse Gustav of stealing it, thus setting him on a cross-country race to prove his innocence, meeting along the way an eccentric cast of cast of characters that you would expect to meet in a Wes Anderson film, if only you could guess what was coming next.
1) Birdman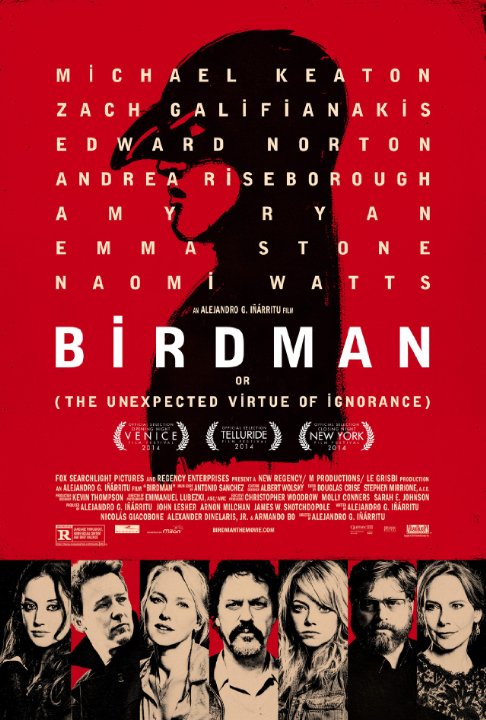 "Birdman" offers a surrealistic look at a former comic book actor's attempt to reassert his relevance and prove his artistic integrity by adapting, directing, and starring in a Broadway production. The story is not entirely fiction, however. The film stars Michael Keaton who once really did star of the biggest comic book franchises of all time and really did choose to walk away. But as was the case with the character he is portraying, Riggan Thomson, Keaton's step away from the Batman franchise was a step into obscurity. His performance here has been hailed as the comeback of the century, while the self-referential nature of the story establishes Birdman as one of the most meta of all movies. And although Keaton's performance, as well as those by Edward Norton, Zack Galifianakis, and Emma Stone have all received universal acclaim, there is much more to Birdman than simply its casting. The film is also a cinematographic masterpiece, filmed in the historic Saint James Theater as if entirely in one take, and resulting in an experience that cannot be done justice by any description. The film is expertly constructed on every level, but its heart and soul is its scathing critique of modern Hollywood, delivered with a joyous black comedy that establishes the film as the most impressive and entertaining film of the year.
Honorable mentions: "Boyhood," "Selma," "Life Itself," "Captain America: The Winter Soldier," and "Dawn of the Planet of the Apes"