The weather outside is frightful, but hopefully this article is delightful. Happy cold and miserable Friday, SMU; here are some stories about famous people.
1. Will Smith's new movie "Focus" came out last Friday, and despite excitement from its trailers, the film did not do as well as expected, especially compared to his previous films.
"Focus" earned $19 million this weekend, even less than Smith's box office flop, "After Earth," which opened with $26.5 million. Were people disheartened by his last film? Have we as movie viewers lost faith in Will Smith? Hopefully the bad weather was the deterrent from seeing the film because "Focus" looks like an exciting action flick and a darn good time.
The movie still came in at number one, followed by "Kingsman: The Secret Service," "The Spongebob Movie: Sponge Out of Water," "Fifty Shades of Grey," and at number five was another movie making its debut, "The Lazarus Effect."
2. I've mentioned the roast of Justin Bieber before, but now we have a little more information.
The taping will happen on March 14, rather than the expected March 1 (Bieber's 21st birthday), and will air March 30.
I don't know who all will be there to talk trash on Bieber, but I do know who won't be. Despite Bieber's numerous attempts to persuade Seth Rogen to roast him, Rogen has yet to respond, so it doesn't look likely. Comedy Central also invited Selena Gomez to the scene. You know an ex-girlfriend could provide the best material, but alas, she declined the offer. Thanks a lot, Selena.
3. All we hear about in the entertainment world is the Kardashians, so I'm sorry to tell you that I am putting another story about them in the media.
Kris Jenner just paid E! more than $100 million for her and her daughters to stay on the network for four more years. Really?! More than a hundred million?! Their entire lives revolve around this network it seems. Well congrats on four more years, ladies.
4. "Dancing With the Stars" premieres Monday March 16, a warm welcome as we return from spring break. This will kick off the show's 20th season with an interesting cast: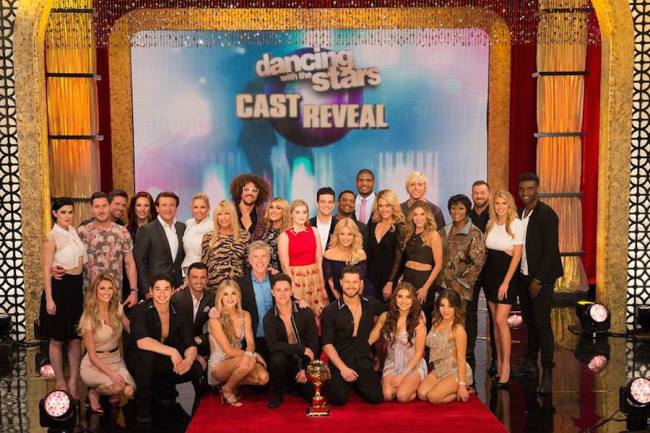 Rumor Willis, daughter of Demi Moore and Bruce Willis; Suzanne Somers; Nastia Lukin, who will probably win because she's a gymnast and has all the grace in the world already; Robert Herjavec from the show "Shark Tank;" Willow Shields who plays Prim in "The Hunger Games;" Micheal Sam, the obligatory male athlete on the show and the first openly gay player drafted into the NFL; Redfoo from LMFAO; Charlotte McKinney, the model famous for the Carl's Jr. bikini ad; Riker Lynch from Glee; singer Patti Labelle; and Sergeant Noah Galloway, a war veteran and father of three who lost his left arm and leg in Iraq in 2005 and has since recovered as a personal trainer and motivational speaker. His story is sure to tug on the heartstrings of many and I predict that he will be the fan favorite this season.
5. Last but not least, we are going to revisit the Oscars and talk fashion…sort of.
Lupita Nyong'o wore a beautiful, $150,000 Calvin Klein gown made of 6,000 pearls that night. The gown was stolen from her London West Hollywood hotel room on Wednesday and an investigation was launched.
However, after two days, the thief returned the dress to the hotel and anonymously called it in saying that the pearls were not real so he had no use for it; he couldn't sell 6,000 fake pearls in the black market.
If you steal a dress, but return it…do you still get in trouble? Who knows. But thus ends one of the stranger theft stories I've heard. Although we should be happy that the star got her dress back, Calvin Klein might not be so grateful to the thief for calling attention to the fact that the dress was not as high quality as he would like us to believe.