The Rev. Arthur Unachukwu, the Chaplain and Director of the SMU Catholic Campus Ministry, received a call this year from a former student who had already graduated and moved away.
"The student said, 'I have this boyfriend. And if you like him, then I will keep dating him,' as if I was her father," Unachukwu said.
Conversations like these make Unachukwu not just a Catholic priest to the SMU community, but also a father figure to many of the individual students to whom he ministers.
"I become a father to these students," Unachukwu said.
Catholics are the largest religious group on the SMU campus. The university reported in 2013 that 26 percent of students who identified a religious preference are Catholic. Sixteen percent are Methodist, 40 percent represent other Protestant denominations and 18 percent are from other religions.
Unachukwu leads masses throughout the week at Perkins Chapel and the Neuhoff Catholic Community Student Center. He also provides the Catholic sacraments to students who desire them. His office is inside the Catholic Center at the corner of University Boulevard and Airline Road. The bulk of his time, however, is spent meeting informally with students. Sophomore engineering management major Marisa Rosa can recall countless times when Unachukwu has stopped his work during the day to invest in the lives of the students in the Catholic Center.
"He will come downstairs where all the students are and he'll say, 'Hello, how are you doing? What's your life like? How can I pray for you?'" Rosa said.
He reached out to sophomore engineering management major Marisa Rosa, who came to SMU with uncertainty about how her faith would transition to college life.
"As a freshman, I didn't know what my faith was going to look like coming from high school to college," Rosa said. "He really helped direct me and lead me to where I needed to be."
The Rev. Dr. Stephen Rankin, the chaplain to the university, has worked alongside Unachukwu as the Office of the Chaplain oversees all campus ministries. Rankin has seen Unachukwu's passion for the mission that he's set for SMU.
"He is deeply committed to the Christian faith and to his mission as a priest," Rankin said.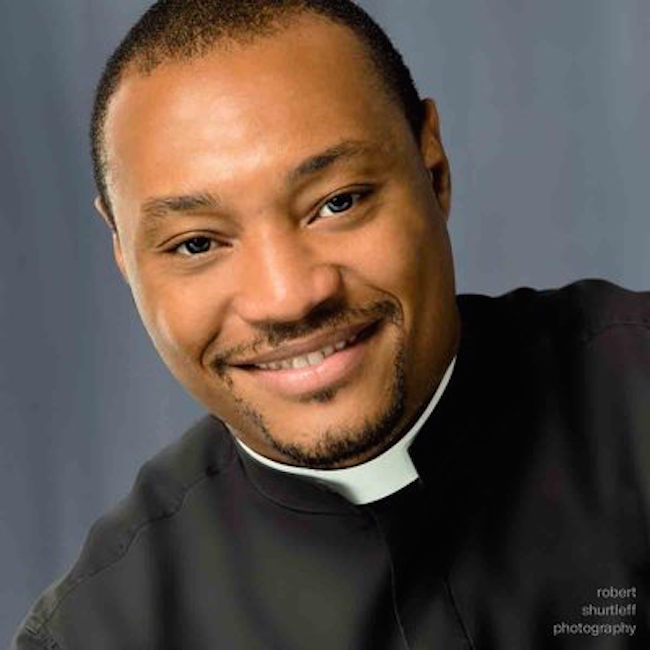 Unachukwu came to SMU before the fall semester of 2013 after being the parochial vicar at St. Michael the Archangel Catholic Church in McKinney, Texas, but his journey to the Hilltop started much farther away.
He was born in Nigeria and had a dream of coming to the U.S. for his college education. He heard great things from friends and priests about Franciscan University in Ohio. There he found his calling to the priesthood.
"When I was there I found the desire to serve and to give back," he said.
Unachukwu then went to Holy Trinity Seminary in Irving, Texas, and St. Mary's Seminary in Houston, where he graduated in 2011. He returned to Dallas where his mother's family lives, and became ordained in the Roman Catholic Diocese of Dallas. His first assignment from the bishop was at St. Michael the Archangel Catholic Church, where he worked primarily with the youth. But 18 months later the bishop reassigned him to SMU, where a new set of challenges awaited him.
"At first I didn't know what to expect, but I can tell you this is probably one of the most joyful things I've done in my life," Unachukwu said.
Associate Chaplain to the University Judy Henneberger noticed right away that Unachukwu came to SMU with a mission.
"Every priest comes with his own unique view," Henneberger said. "When father Arthur came, that missionary zeal is one of the gifts he brought to this place."
Unachukwu explained that this mission for the SMU community includes bringing hospitality, forming servant leaders and helping students know Jesus.
To him, hospitality means that the Catholic ministry will welcome anyone with open arms.
"When somebody comes through this door, they are a person and you are the one to embrace them and receive them just as Christ would," Unachukwu said. Following this idea and being an example for others are characteristics that Unachukwu sees in servant leaders.
"Those who will lead in the community, will lead by their example and not so much by their might," Unachukwu said.
But Unachukwu emphasized that these first two aspects of his mission cannot be done without students knowing Jesus.
"You really can't make a community welcoming and loving, and you can't make servant leaders on their own," Unachukwu said. "You have to have a principle and foundation, and that is Jesus Christ."
Unachukwu believes that Catholics representing the largest religious group at SMU is "a great accolade," but it does not mean that number of students are involved in the ministry.
Unachukwu feels a responsibility specifically to these students who are not active in the Catholic ministry. He said that responsibility is "by reaching out to them and taking what we have here to them on campus so that they will be a part of this mission as well."
He doesn't limit his outreach to just Catholics. Unachukwu loves talking to people, no matter their background.
"Catholic or not, Christian, atheist or whatever, I think that he is so willing to listen to anything that you have to say," Rosa said.
Unachukwu wants to provide a place for all students to feel compassion and seek knowledge of Christianity.
"We welcome everybody who needs love and anyone who wants to know Jesus Christ," Unachukwu said. "The door is open. Come on in."