Whether it's the bugs, the heat or the camping experience in general, there's no doubt that many students weren't fans of their experience attending Mustang Corral before the start to their freshman year at SMU.
Students from all schools and disciplines have heard from older mentors to avoid Corral, which takes place in August each year, at all costs.
After two hours of being at Mustang Corral her freshman year, senior Caitlin Galloway asked herself, "Do you think if I broke my arm they would let me go home?"
Even student orientation leaders understand their classmates' mixed emotions about Mustang Corral.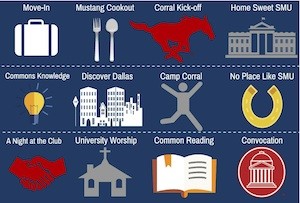 "People have always thought of Corral as being that one great experience that they never want to have again," said Clay Moore, past Corral and AARO leader and a 2015 orientation mentor.
But this August, a whole new Mustang Corral is coming to the Hilltop.
Incoming first-year students in 2015 can look forward to a much more enjoyable Mustang Corral experience, according to director of Student Transitions & Orientation, Lindsey Koch.
"We really want to capitalize on the idea that 'It all starts at Corral,'" Koch said. "I've heard a lot of groups of students say, 'We all hate Corral together, but it's part of the fun.' But when you talk to people individually, they say, 'I know a lot of people hated corral, but I loved it!"
With students' complaints in mind, Koch and her orientation team have a brand new Mustang Corral to bring to first-years this fall from Aug. 19 to Aug. 23.
The program will begin officially at move-in on Wednesday and end after convocation on Sunday evening. Instead of having three campsites simultaneously, all incoming first-year students will be at one campsite. They will be taken to Mt. Lebanon Retreat Center, about 30 minutes from SMU's campus.
"Having one camp will really help the incoming class of Mustangs to meet people from all facets of campus and build a stronger bond with one-another than in years' past," said a sophomore and 2015 Corral leader Mattie Casey.
Students will also have the opportunity to participate in Discover Dallas, a new program that will allow students to go on various excursions in the city of Dallas. Students will stay grouped with their residential commons throughout the five-day experience with the exception of the interest-based Discover Dallas excursions.
"These excursions will be an excellent way for students to interact with faculty outside of the classroom as faculty model civic engagement," Koch said.
Some of these Discover Dallas sites include excursions to Cowboy Stadium, The 6th Floor Museum, Klyde Warren Park, and more.
"I think people will be very receptive to this new programming, because it makes the whole entire program more dynamic and educational, while still keeping traditions such as Candlelight and Every Mustang Will Be Valued alive," said Moore.
Mustang Corral will begin on Wednesday, August 19 with Move-In and the Mustang Cookout, a dinner for students and their families. After that will be the pep rally-style Corral Kickoff in Moody Coliseum. On Thursday, students will then embark on their journey to the camp.
"I anticipate there will be many more positive reactions to this year's Corral because it will involve more diverse aspects that will appeal to many different people, more than ever before," said past Corral director Mary Paxton Gibson.
Saturday morning of Corral will begin with a mandatory assembly to learn about sexual violence prevention and how to have healthy relationships in college.
Following the assembly on Saturday will be the all-class photo, campus exploration to locate classes and other important campus buildings, and finally, A Night at the Club in the evening.
Sunday will include All-University Worship, Common Reading, and Convocation, which includes Rotunda Passage.
All this sounds good to junior Parker Gray, who was advised to skip out on Corral from older friends and colleagues who had already completed their freshman year by the time he got to SMU.
"Corral was so weird," said Gray. "I told everyone I had a twin so they would stop asking me if I was the guy on stage."
While some planning is not yet finalized, the orientation team has high hopes for a successful Mustang Corral this year.
"Corral is like a rite of passage," said Casey. "I personally met some of my closest friends at Corral and I can't imagine going to SMU without the Corral experience."