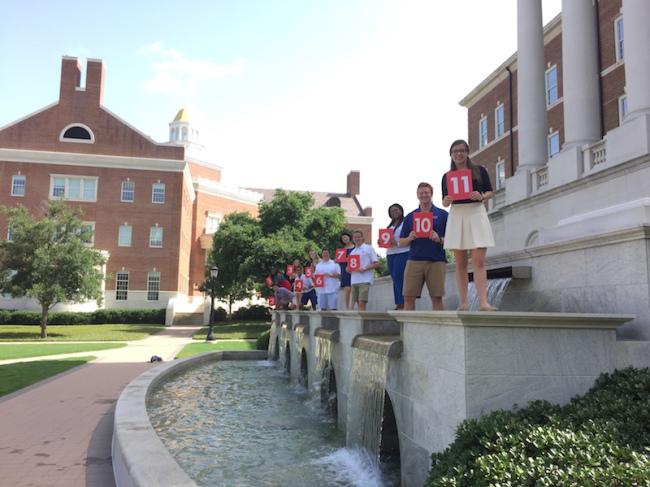 Monday at 8 a.m. they hit the ground running with practice, training and orientation sessions. The work continues throughout the day and into the evening until Friday night where they get a break from their busy schedules.
The 11 AARO leaders are required to spend their time at work together, but they willingly choose to spend their nights and weekends together too.
To them, working at AARO, the summer orientation program for first-years and transfer students, isn't simply a summer job; it is a home, a family, something they deeply value and are passionate about.
In less than one month, they went from strangers to best friends.
"This is the best family that anyone could put together in 19 days of training," junior Reece Graham said. "How well we know each other is pretty miraculous and I love it."
Fellow leader and sophomore David Shirzad believes their group is the strongest orientation team SMU has ever had.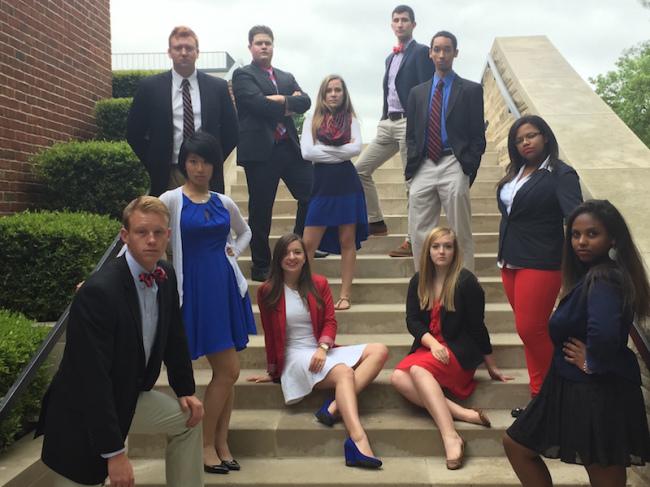 Leaders from last year's AARO said they were shocked at how close this summer's group already is.
"They told us, 'We're so jealous because you guys already are so close' because theirs was so pocketed," junior Evan Giacomini said.
Giacomini credits Lindsey Koch, Director of New Student Orientation and Student Support, for fostering their group dynamic and for emphasizing the importance of trust and friendship among the AARO leaders.
Koch and SMU valued the team's closeness so much that they sent them on a weekend retreat to the Park Cities Hilton to play board games and bond as a group.
"We are really working to really get to know each other deeply on a different level," sophomore Allie Rutherford said. "I know these people better than I know some of my friends I've hung out with for years."
The group is full of diverse personalities, but what the 11 AARO leaders have in common is their desire to help first-years and make them feel comfortable at SMU.
"My SMU [experience] was a lot about finding out who I am as a person, but I think a lot of that is college," senior Keya Tollossa said. "You get to figure out who you are and what you want to do without being told what to do."
The group is a well-rounded representation of SMU, with its leaders involved in various facets of campus such as Mustang11, the RA program, Honor Council, the conduct board and the tour guide program, just to name a few.
"We're here because we want to be," Rutherford said. "We want to be here for the first-years. We want to be representatives for this campus and show our love for the school."
What many incoming students do not know is that the behind-the-scenes work for AARO begins weeks in advance, as the orientation team meets, practices skits and speeches, participates in team activities and takes a course called Orientation Leadership Institute (OLI) together.
During this training time, the leaders updated the program's skits to make them more relevant. The group used each other's skills and strengths to make the skits and the overall AARO experience better.
"Reece is really involved in theater, so for our skits he sat out and watched them and helped us," she said. "We all have strengths that are balancing each other out and we are working to create the perfect dynamic."
The group also collaborated with the Mustang Corral leaders and Residential Commons Directors to integrate them into the summer orientation.
"Each AARO leader is assigned to a Commons, which is why we have 11 this year," Giacomini said. "We are now in charge of an entire commons at Corral, which is different than how it's been in the past."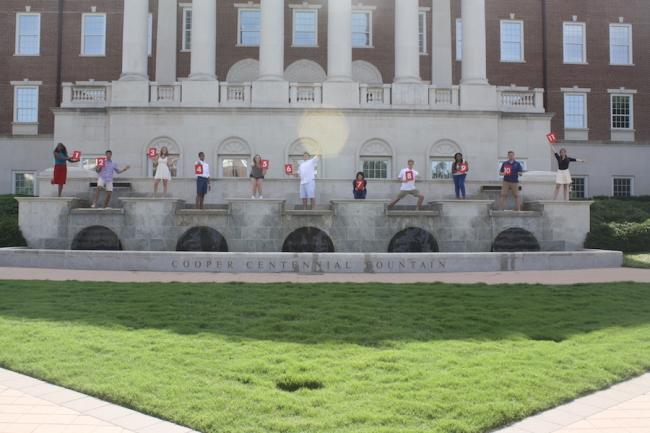 The AARO leaders also met with two to three organizations on campus each day, ranging from the SMU Bookstore to the SMU Police Department. Together, they discussed common misconceptions, student opinions and marketing strategies.
"A lot of these offices have given us the opportunity to give them input on ways they can improve," Shirzad said.
For example, the AARO leaders' meeting with the bookstore led to a discussion of possibly decreasing textbook prices and creating new T-shirt designs.
"All of these meetings that we've had with these offices have shown me that I don't know as much as I thought I did about what's going on at SMU," Graham said. "I don't think our student body can appreciate this because they don't get the transparency that we get to see."
To these leaders, the non-stop training and orientation sessions are worth it as they learn more about SMU and each other.
"It's important work, it's busy, but we're all passionate about it," Graham said. "I love working with this group and coming to work every day."
For these 11 students, SMU is more than just a college campus, it is a home and a family.