9:10 p.m. – Donald Trump walked on stage, and opened his remarks with: "You notice what's missing tonight? Teleprompters." Then, he proceeded to talk for about an hour with no script. He only looked down at his notes to quote specific statistics on the U.S. trade deficit.
Katrina Pierson, a Texas congressional candidate spokesperson, opened the event. Trump was introduced by Scottie Nell Hughes, news director for TPNN.com.
Trump discussed the same points he has illustrated since the beginning of his campaign. He supports new immigration laws, stopping illegal immigration and repealing Obamacare. He also brought up some relatively new points: he plans to help women's health care and take care of U.S. veterans. Later in his speech, he announced he would release a tax plan in about three weeks.
"And we're going to take care of our vets because our vets are treated like third class citizens." #TrumpInDallas

— Lauren C Aguirre (@laurencaguirre) September 15, 2015
However, these points were a small part of the event. He didn't mention any specific policy issues until about 20 minutes into his speech. 
19-minutes into Donald Trump's speech he has not mentioned any policy positions. #TrumpInDallas Crowd does not seem to care. — Jason Whitely (@JasonWhitely) September 14, 2015
SMU Political Science Professor Matthew Wilson said Trump is using his rallies and events to control Republican rhetoric.
"As the front-runner, he's controlling the discourse of the GOP primary," Wilson said. "Texas is up for grabs in this primary. Trump is visiting to shore up support."
The majority of the event was Trump joking and sharing stories with the audience. About five minutes into his speech, he turned around to face the audience seated behind him.
"The people in the back have the best view," Trump said. "They can see my hair is real."
He also spent at least 10 minutes discussing the process of removing scaffolding on the Capitol Building for the inauguration ceremony in 2017. 
@laurencaguirre That would have been cool if he hadn't spent half the time talking about scaffolding on Capitol Hill. — Thorkil Værge (@ThorkilVaerge) September 15, 2015
Expectedly, he also put down his opponents in the GOP primary and on the Democratic side. He detailed how Secretary of State John Kerry performed poorly in negotiations with Iran, and also mentioned that former Secretary of State Hillary Clinton did not do a good job in the position either.
"Would you rather have Hillary or Trump negotiate?" Trump asked the audience.
"Trump!" The crowd yelled back.
Anytime Trump mentioned immigration policy, like his plan to build a wall on the U.S.-Mexico border, the crowd stood up and cheered.
"All you have to do is go to Israel and say 'how's your wall working?'," Trump said. "Walls work."
He also stated his opposition to the U.S. crude oil export ban. " We can be the number one energy producer in the world. But we have archaic laws," Trump said.
Later, Trump claimed that his support is "surging with women."
"I love women. I cherish women," he said. "I'm going to take such good care of women's health, you won't even believe it."
But, he also stated he plans to repeal and replace the Affordable Care Act, commonly known as "Obamacare." Under the current law, birth control is completely covered on any insurance plan. There's no out-of-pocket cost.
@laurencaguirre I really hope he's not planning to take away my free birth control……. — Elizabeth Bates (@the_master15) September 15, 2015
Leslie Heltzen, who attended the event to explore her options in the Republican primary, said she liked that Trump mentioned women's health.
"It was good that he named things he was going to do," Heltzen said. "I'm glad he mentioned he would help women's issues."
Michael Galloway traveled to Dallas from Galveston just to attend Trump's rally.
"I wasn't a fan of him before he announced, but whenever he gave his speech, I agreed with a lot of what he said," Galloway said. "Illegal immigration is kind of a big deal around here. I like how he's talking about the hedge fund guys not paying their fare share of taxes."
"Are there any hedge fund guys in this room? If there are, you should probably leave now." – @realDonaldTrump #TrumpInDallas — Lauren C Aguirre (@laurencaguirre) September 15, 2015
But not everyone was pleased that Trump visited Dallas, namely two Latino activist groups. Both the Latino Votes Project's Un Día Sin Trump and the League of United Latin American Citizens (LULAC) staged protests outside the event.
Just let me know when he leaves. #trumpindallas — j e n (@thejenlo) September 14, 2015
"Dump the Trump," a LULAC-organized event held a march of about 400 protestors that stalled traffic in the downtown area. The protest was complete with Trump look-alike pinatas.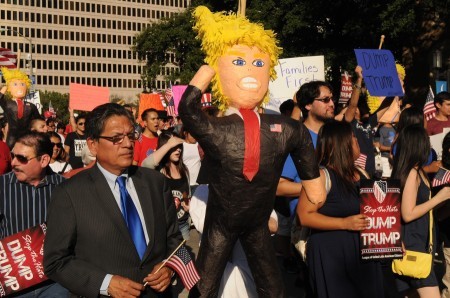 Trump did not address the protesters during his event, but Wilson believes that Trump isn't too worried about these groups.
"He probably welcomes it," Wilson said. "He enjoys the spectacle. I don't think it bothers him."
5:10 p.m. – More and more spectators arrive at American Airlines Center. Word in the press box is Donald Trump has landed. He is expected to appear on stage around 6:30 p.m.
3:25 p.m. – Donald Trump is holding a campaign rally at 6 p.m. in the American Airlines Center. The event is currently sold out. The Center seats 18,500.
While tickets were free, some are being sold online for as much as $75 a piece.
SMU Political Science Professor James Wilson says Trump is in Dallas for the performance.
"He likes to be the center of attention," Wilson said. "It'll be a big spectacle."
Several groups plan to protest tonight's events, including the Latino group Un Día Sin Trump and the League of United Latin American Citizens.
SMU students had their own questions for the candidate. Watch the video below:
Check this post throughout the night for live updates from the rally.