Visit our live stream with updates from SMU's Centennial celebrations throughout the day.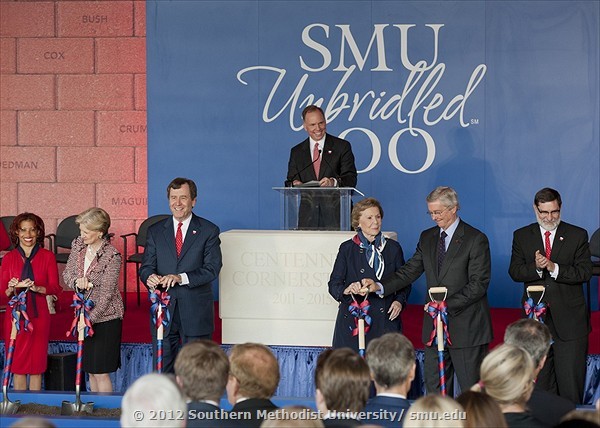 SMU made history this week as its "Unbridled: The Second Century Campaign" reached its $1 billion goal, SMU officials announced Thursday.
The campaign completion comes nearly three months ahead of its end date of Dec. 31, 2015.
The $1 billion will be used to fund scholarships, academic positions and programs, facilities and other enhancements to campus life.
The official campaign announcement was made Sept. 24 at McFarlin Auditorium during SMU's Centennial Celebration and Homecoming week.
"This is a doubly historic day for us," said SMU President R. Gerald Turner in an SMU press release. "As we celebrate the 100th anniversary of SMU's opening, we are pleased to announce unprecedented new support for our future."
With the completion of its $1 billion campaign, SMU joins an elite group of 35 private universities that have done the same nationwide. These institutions include schools like Columbia University, the University of Notre Dame and Vanderbilt.
"By raising $1 billion to support academic excellence, SMU joins distinguished company within the higher education community," said Gerald J. Ford, SMU trustee and convening co-chair of the campaign, in a press release. "This stature underscores the reality of our growth in quality and reputation."
The $1 billion in donations has supported 582 new student scholarships in seven schools of the university; 49 new endowed faculty positions; 66 academic programs and initiatives; and 18 substantially funded capital projects, including new facilities for academic programs, student housing and athletics.
"The campaign's many successes reflect great confidence in SMU's progress under the leadership of President Turner," said Michael M. Boone, chair of the SMU Board of Trustees and a campaign co-chair, in an SMU press release. "This investment in our people and programs also will strengthen Dallas as our home city. And it will elevate the contributions of both Dallas and SMU to our nation and our global society."
The Second Century Campaign was launched in 2008 with a goal of $750 million. In 2013, campus leaders increased the goal of the campaign to $1 billion and extended the campaign's completion date to 2015. The campaign was led by six SMU trustees co-chairs and served by more than 400 volunteers during its seven-year life.
"Absolutely essential to our success has been the leadership of our co-chairs and the entire Board of Trustees," said Brad E. Cheves, vice president for development and external affairs in an SMU press release. "As they have met with campaign volunteers throughout this campaign, they galvanized a new level of enthusiasm and optimism."
The trustees helped SMU make university history for its donor support.
According to SMU, more than 62,000 individuals donated to the campaign, 23,000 of these being from the Dallas-Fort Worth area. One-hundred-seventy-one of these gifts were amounts of $1 million or more. Undergraduate giving reached 26 percent, alumni giving reached 56.9 percent and staff giving reached 68 percent.
The university received 12 publicly announced gifts of over $10 million. The largest single gift to the campus was a $45 million donation made in March 2015 by the Meadows Foundation to support the Meadows Museum and the Meadows School of the Arts.
The university has already created several new academic centers with its funding and campaign resources are visibly seen in SMU's construction of academic, administrative and residential buildings.
The completion of the Second Century Campaign comes at a historic time for SMU, as alumni return to campus and members of community reflect on the university's first century of history. Now, SMU is looking toward the future.
"Our founders were forward-looking leaders, and they'd be pleased to see that today's supporters are generously investing in our next century of achievement," Turner said.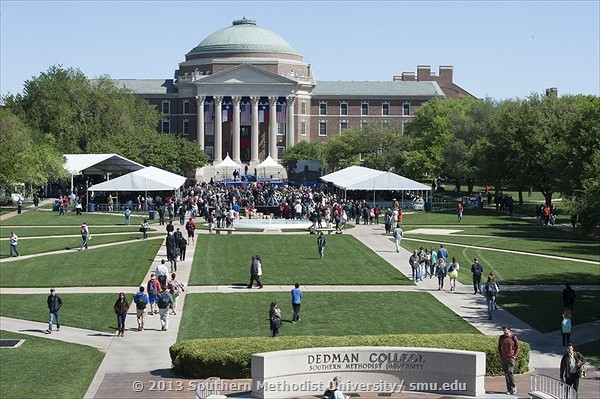 Below information provided by SMU News and Communication

SMU Unbridled: The Second Century Campaign 10 Largest Donors
The Meadows Foundation, Incorporated: Over $80 million, including $33 million and $45 million commitments to Meadows School of the Arts and Meadows Museum
Nancy Ann Hunter Hunt '65 and Ray L. Hunt '65: Over $50 million, including commitments for campus expansion, Hunt Leadership Scholars Program, The Nancy Ann and Ray Hunt Residency-in-Teaching Master of Education and Judge Elmo B. Hunter Legal Center for Victims of Crimes Against Women
Annette Caldwell Simmons '57 and Harold C. Simmons: Over $45 million, including the naming of the Annette Caldwell Simmons School of Education and Human Development, as well as facilities, academic positions and graduate fellowships in the Simmons School
David B. Miller '72, '73 and Carolyn L. Miller and David B. Miller Family Foundation: Over $30 million, including commitments to Miller Event Center at Moody Coliseum; centers, academic positions and scholarships in the Cox School of Business; Carolyn and David Miller Campus Center at SMU-in-Taos; athletics initiatives; and University scholarships
Bobby B. Lyle '67: Over $20 million, including the naming of the Bobby B. Lyle School of Engineering, several academic positions and scholarships in the Lyle School and Edwin L. Cox School of Business and support for engineering facilities
Roy M. Huffington '38: Over $20 million, including Huffington Bicentennial Funds for student and faculty support and Huffington Department of Earth Sciences in Dedman College of Humanities and Sciences
Carl Sewell '66 and Peggy Higgins Sewell '72: Over $20 million, supporting President's Scholarships for engineering and business majors, school and general university scholarships and athletics initiatives
The Moody Foundation: Over $20 million in support of Moody Coliseum renovation and expansion
Gerald J. Ford '66, '69 and Kelli O. Ford and The Gerald J. Ford Family Foundation: Over $20 million in support of Gerald J. Ford Research Center and athletics initiatives
Gary T. Crum '69 and Sylvie P. Crum: Over $16 million, including Crum Commons, Crum Basketball Center, athletics initiatives and scholarships in the Edwin L. Cox School of Business
SMU Unbridled: The Second Century Campaign Publicly Announced Gifts of $10M+
$45 million: The Meadows Foundation, Inc., Dallas, 2015, for Meadows School of the Arts and Meadows Museum
$35 million: Nancy Ann and Ray L. Hunt, Dallas, 2006, for campus expansion, scholarships and academic initiatives
$33 million: The Meadows Foundation, Inc., Dallas, 2006, for Meadows School of the Arts and Meadows Museum
$25 million: Annette and Harold Simmons, Dallas, 2013, for Harold Clark Simmons Hall, Patsy and Ray Caldwell Centennial Chair, Annette and Harold Simmons Centennial Chair, and Glenn Simmons Professorship
$20 million: The Moody Foundation, Galveston, 2011, for Moody Coliseum renovation and expansion
$20 million: Annette and Harold Simmons, Dallas, 2008, for the naming of Annette Caldwell Simmons School of Education and Human Development, Annette Caldwell Simmons Hall, Leon Simmons Endowed Deanship, and Fairess Simmons Graduate Fellowship Fund
$15 million: Kelli O. Ford and Gerald J. Ford and Gerald J. Ford Family Foundation, Dallas, 2013, for Gerald J. Ford Research Center
$12.1 million: Suzie and Yandell "Tog" Rogers, Houston, 2008, for Dedman School of Law Scholarships
$10.1 million: W.W. Caruth Foundation at Communities Foundation of Texas, Dallas, 2007, for W.W. Caruth, Jr. Institute for Engineering Education Endowment Fund and Caruth Hall
$10 million: Roy Huffington, Houston, 2006, for Huffington Bicentennial Scholarship Endowment Fund and Huffington Bicentennial Faculty Endowment Fund
$10 million: Roy Huffington, Houston, 2008, for Huffington Department of Earth Sciences in Dedman College of Humanities and Sciences
$10 million: Carolyn and David B. Miller, Dallas, 2011, for Moody Coliseum renovation and expansion (Miller Event Center)
Examples of Academic Programs, Centers and Initiatives Established with Campaign Funding
SMU's Second Century Campaign is providing new funding for 66 academic programs and centers. Among them are:
Cox School of Business
EnCap Investments & LCM Group Alternative Asset Management Center
Kitt Investing and Trading Center
William J. O'Neil Center for Global Markets and Freedom
Dedman College of Humanities and Sciences
Embrey Human Rights Program
Jewish Studies Program
Texas-Mexico Research Program in the John Goodwin Tower Center for Political Studies
Bobby B. Lyle School of Engineering
Darwin Deason Institute for Cyber Security
Hart Center for Engineering Leadership
Hunter and Stephanie Hunt Institute for Engineering and Humanity
Meadows School of the Arts
Journalism Digital Studio
National Center for Arts Research
Temerlin Advertising Institute support
Annette Caldwell Simmons School of Education and Human Development
Budd Center for Involving Communities in Education
Center for Teaching Excellence
Institute for Evidence-Based Education
Perkins School of Theology
Center for Preaching Excellence
Global Theological Education Program
Pastoral Care and Counseling Program
Dedman School of Law
Judge Elmo B. Hunter Legal Center for Victims of Crimes Against Women
Tsai Center for Law, Science and Innovation
VanSickle Family Law Clinic