By Lily Anderson
As of Sept. 11, Fondren Library is no longer open 24/5 as it has been in the past, as stated on the Central University Libraries' website.
Fondren Library, which originally opened in 1940, is currently undergoing a $17 million renovation. This has caused Fondren's hours to change to 7:30 a.m. to 1 a.m. Monday through Thursday.
"I was going to go to the library to study but I looked at the clock and noticed it was 11:30," SMU student Kara Fellows said. "It's not worth it to go to Fondren when I know it closes at 1 a.m. I went to Café Brazil to study instead because it's open 24 hours."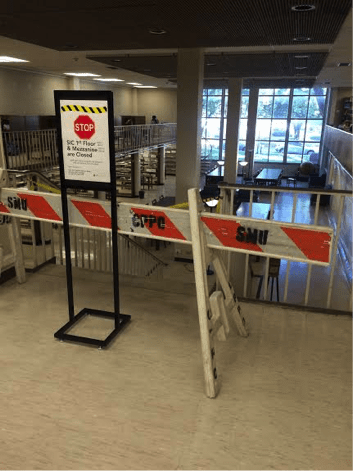 SMU is hoping for a more inviting study environment as a result of the renovations, according to the Central University Libraries' website.
"The result will create a more modern, comfortable and stimulating environment with spaces that will engage patrons and provide gathering areas with scholarly pursuit," the Central University Libraries' website states.
During the renovation period, each floor in the library will be closed for some period of time. The main stairwell in Fondren will also be completely closed during the fall semester.
"Parts of the library are blocked off, making it hard to navigate, and there are hammering and other construction noises sometimes," said Elisa Welder, Assistant Circulation Manager of Fondren Library. "But, we are very fortunate that the construction workers recognize that this is a work place. They try to be considerate. There have been days when the renovations have been more distracting than others, but it's not too bad. The construction workers are usually out of here at 3 p.m. so that's helpful."
SMU is hoping to finish renovations by the end of July 2016, according to the Central University Libraries' website. When the renovations are complete, Fondren Library will have a new Centennial Reading Room, a redesigned Learning Commons, a Collaborative Computing Area, a new Starbucks Café and a refurbished fourth floor.
As stated on the Central University Libraries' website, this space is designed for studying, doing homework, collaborating, and conversing. Digital art and wall-mounted computer monitors will be on display. There also will be a Starbucks Café here.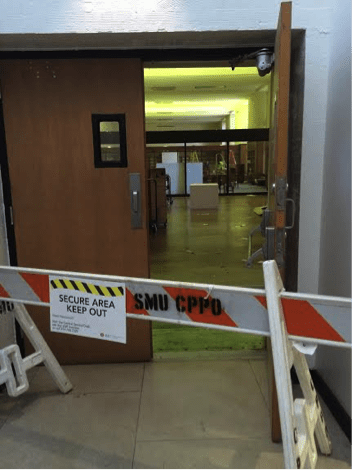 As stated on the Central Universities Libraries' website, the Fondren Library Foyer will be an elegant yet inviting destination for students, faculty, and staff. The Foyer will feature user-friendly discovery tools and a new library assistance area.
SMU has six on campus libraries, but none of them are open 24/5 now that Fondren is under construction.
The Hammon Arts Library is open 8 a.m. to midnight, Bridwell Library is open 8 a.m. to 11 p.m., the Business Library is open 7:45 a.m. to 11 p.m., the DeGolyer Library is also currently closed due to renovation and the Underwood Library is open 7:30 a.m. to midnight, according to the Central University Libraries' website.
SMU students think that these library hours are not optimal for academic success.
"It's insanely inconvenient that there is no library open 24 hours," SMU student Melis Gunay said. "It has affected my grades because sometimes I need to pull all-nighters, and now I have to do it in my apartment. I'm always tempted to go to bed early when I study late at home and I am more easily distracted."
In response, the Fondren staff encourages the students to remember that the renovations are only temporary and will benefit them in the long run.
"I definitely know that the new library hours are a frustration for students. I do sympathize for them," Welder said. "However, we are doing our best to provide better accommodations. Students just need to remember that it is temporary. It's because we have active construction zones in the library. It's a safety measure for students. When renovations are complete, we will re-evaluate the library hours."
Over the past two years, the Fondren Library staff has tracked the number of students who remained in the library late into the night. They discovered that library usage dropped significantly between 11 p.m. and 3 a.m., according to the Central University Libraries' website.
"The data we compiled shows that there is not really a need for Fondren to be open 24/5 all year. However, Fondren will be open 24/5 during finals each semester," said Sylvia George-Williams, the Science and Engineering Fondren Librarian.
The Fondren Library renovations have gotten mixed reviews from the people on SMU's campus. For the most part, the Fondren library staff and SMU faculty are thrilled about the new editions.
"I am so excited," Welder said. "It will be great. There will be new resources and spaces for people. There will be a reorganization of the shelving, more natural light, and better study places. A lot is going to change, but for the better."
The SMU students, however, are less than pleased about the renovations.
"The renovations are extremely annoying and frustrating," Gunay said. "The library closes at 1 a.m., which sucks, and there are half as many places to study. Last night I was at a table on the fourth floor and my friend was going to join me but there were no open seats around me."
Students say that one way SMU can gain more support of the Fondren renovations is to properly educate students of the future benefits they will be receiving.
"I know absolutely nothing about the renovations, like actually nothing," Gunay said.