SMU's Women's Interest Network (WIN), overseen by the Women & LGBT Center, sponsors programs that stimulate conversation about women's interests, such as equity.
Every fall, WIN hosts the Take Back the Night (TBTN) march to raise awareness of sexual violence on college campuses and to provide an empowering space for survivors.
One in four women are sexually assaulted during their time at college, according to the Director of the Women & LGBT Center, Karen Click. She added that WIN hosts TBTN to fight against this statistic. She said that women learn to fear the night because darkness and isolation may lead to a higher risk of crimes like kidnapping and rape.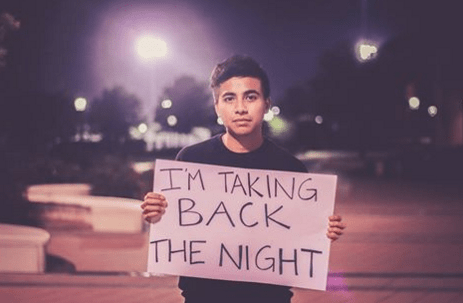 "You never know what's going to happen," sophomore Maddy Rueda said. "But to have a supportive community that's not pushing rape culture under the rug is very important."
On Nov. 9, participants met in The Varsity of the Hughes-Trigg Student Center at 7:15 p.m. TBTN co-chairs Jessica Jancose and Peter Ngo began the event by introducing various resources for sexual assault. Guests included Val Erwin, the program advisor at the Women & LGBT Center; Samantha Thomas, a Title IX coordinator from Access and Equity; Joanne Vogel, the assistant vice president and dean of Student Life at SMU; and a representative from the Dallas Area Rape Crisis Center (DARCC).
"If we don't talk about these issues they become silent," Vogel said.
After practicing chants and passing out posters, participants started their march down Airline Road passing Fraternity Row and heading toward the Southeast Quad.
"Claim our bodies, claim our rights," student leaders called.
"Take a stand, take back the night!" the crowd replied.
The parade paused in front of the Mustang Band Hall for a candlelight service honoring survivors of sexual assault or domestic violence. Then, it continued marching down the boulevard back toward Hughes-Trigg. Survivors shared their stories inside.
"Empowering spaces for victims does so much to help during the healing process," WIN president Adé Guobadia said. "Take Back the Night is necessary so that victims understand that they are not alone."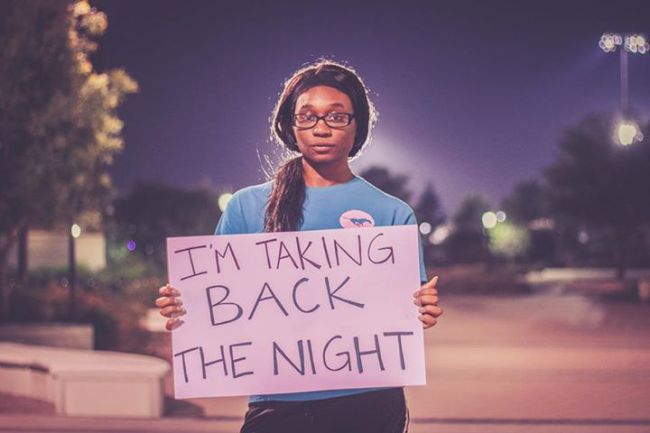 In accordance with the event, WIN created a social media campaign with the hashtag #ImTakingBackTheNight. It is for students to explain why sexual violence awareness is important to them on SMU's campus.
"Harm to one is harm to all" – Dr. Vogel, Dean of Student Life at Take Back the Night @SMUWIN #smu #imtakingbackthenight

— SMU Spectrum (@smu_spectrum) November 10, 2015
Alpha Chi Omega supports SMU's Women's Interest Network and their movement #imtakingbackthenight #loveshouldnthurt pic.twitter.com/mLTlFJYF6c

— SMU Alpha Chi Omega (@smu_axo) November 3, 2015