KISS FM's Jingle Ball 2015 kicked off its first show Tuesday night at the American Airlines Center. The star studded line-up included 5 Seconds of Summer, DNCE, Zedd, Charlie Puth, Ellie Goulding, Tove Lo, Shawn Mendes, One Direction, Calvin Harris and Demi Lovato.
The screams from teenage girls could be heard outside the arena and media outlets from Los Angeles to New York came to see the first, and guessed to be the best, performance of the Jingle Ball tour.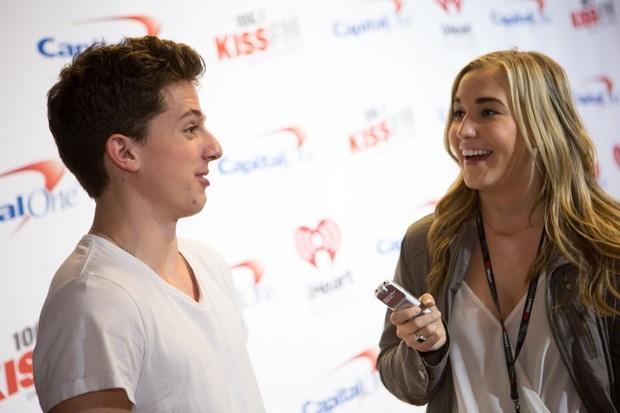 The Campus Weekly got the exclusive opportunity with fellow major news outlets to ask some of the stars a few questions on the red carpet. We discussed everything from everyone's favorite holiday beverage, eggnog, to what students should do while studying abroad.
5 Seconds of Summer, the newest boy band to take the world by storm, joked around on the red carpet before they opened the concert. All the Aussie natives greeted The Campus Weekly with a hug and weighed in on where SMU students have to go if they study aboard in Australia. When we mentioned that they were from Australia we got a very funny response.
"Apparently."
"That's what they tell us."
"It's all a big marketing thing," said members of the band.
They gave us the inside scoop when we asked where students studying abroad should go while they are in the land down under. Marquee Lounge in Melbourne, The Island in Sydney and Frankie's Pizza By The Slice were all at the top of their list, along with another bar that they all struggled to remember the name of.
"What's that bar in Melbourne called? Ante Bella? Auntie Bella's? Something Lady Antebellum? Lady Antebellum opened a bar in Australia," joked the members of the band.
Tove Lo was the next performer to hit the red carpet before going onstage. The Swedish beauty will soon be headed back to her homeland to spend the holidays with her family. What is the number one thing that she is looking forward to most this holiday season? Time spent with her family and cousins.
"It will start off quiet and then we will all just get blind drunk," said Lo with a laugh.
Shawn Mendes surprised the crowd when he performed "I Know What You Did Last Summer" with rumored girlfriend Camila Cabello from Fifth Harmony during his performance at Jingle Ball. Mendes is headed home this Christmas to watch Netflix and play Xbox, but on the red carpet he said was still excited about his performance at the Macy's Thanksgiving Parade a week ago. The Canadian native said that he was 'oblivious' to how big of a deal the parade is. Mendes didn't expect there to be thousands of people flanking every street in New York City waiting to see the floats go by.
"I'm pretty sure that there were 10,000 people, I'm not over exaggerating," Mendes said. "America goes hard, that was really cool, it was really amazing."
The boys of One Direction gave the performance of the night. They mingled with fans and concert planners for the hours before the show started and gave the best performance of the night.
After they left the stage, a lot of the crowd left too, despite the fact that Calvin Harris and Demi Lovato hadn't hit the stage yet. Lovato told the crowd that performing at Jingle Ball had been her dream since she was a fan watching Christina Aguilera perform.
Lovato closed the show to an exhilarated crowd, but her performance backstage was nothing like her act on stage. The Colleyville-native refused to be interviewed after she realized that large media outlets were not on the red carpet and scowled at the photographers. Lovato seemed inconvenienced and almost snubbed a tween girl who asked to take a photo with her before her team stormed out of the media room. It didn't help that Ellie Goulding came in moments after her. Goulding graciously interacted and joked around with the photographers and spent extra time on the red carpet telling us about her holiday plans.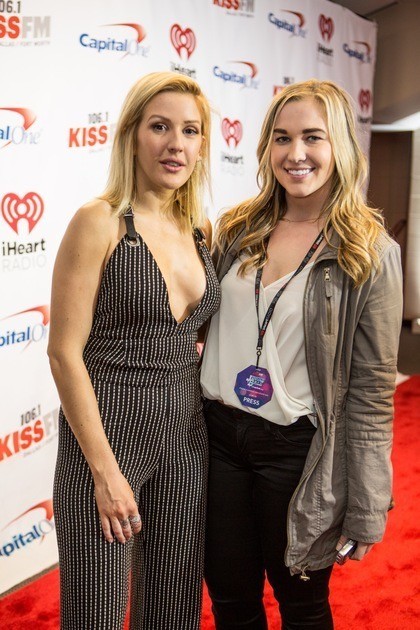 Ellie Goulding has had an insane year, and 2016 will be even more hectic. She'll be touring North America, Europe, South America and Australia. Before the music festivals and tours, she's going to get away for a while and just relax somewhere remote and solitary.
"I'm going to go away for a few days, by myself, and kind of reflect," said Goulding.
During the holidays, she will be spending as much time with her family as she can until she hits the road again.
"I love performing, so its going to be so much fun," said Goulding.
Charlie Puth made his first-ever arena performance and sang crowd favorites including "Marvin Gaye." He was one of the most excited performers to walk the red carpet. He bounced over to talk to us and discussed his plans for the future, but one thing is for sure, Puth is looking forward to the much deserved holiday break.
"I've been to 27 countries in a month and a half. I'm on a plane every day of my life. I just want to go home and put on Nat King Cole and just sit by the fire," said Puth.
Puth already has a New Years Resolution in mind, and it might surprise you. Puth wants to work on his social skills.
"When I'm in crowds I'm not social," explained Puth. "My resolution is to be more engaging to large crowds."
Backstage at Jingle Ball was nothing less then madness. The rotating stage made the set changes appear effortless to the crowd, but security, performers, media and event staff all intermingled in the hallways and locker rooms under the AAC. Going to the bathroom or stepping into the hall meant bumping into singers like Louis Tomlinson or Liam Payne.
Calvin Harris, Zedd, One Direction and special guest performer Camila Cabello were not giving interviews, so we didn't get a chance to ask them about their holiday plans or whether they've been naughty or nice.