Thursday afternoon the SMU Office of Information Technology issued its 2015 Progress Report, a yearly report produced in the first quarter of each calendar year.
The document reported in six different categories: supporting learning, research, initiatives, collaboration and business, on the advancements that OIT has taken as well as proposed stated actions for the upcoming year for each of these categories.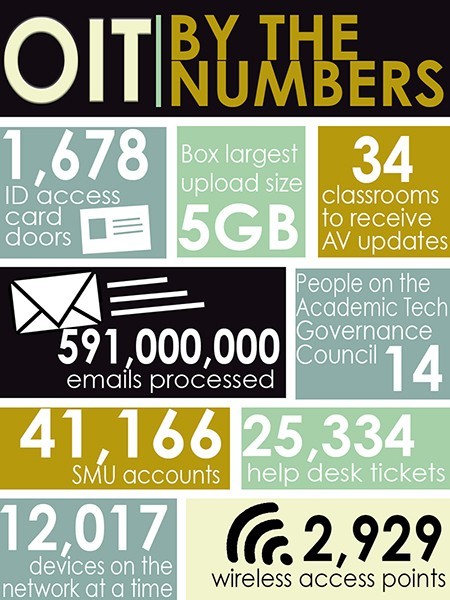 Over the past year, OIT has faced several software and infrastructure updates as well as internal changes due to the recent Operational Excellence for the Second Century Campaign (OE2C).
"The biggest thing for us internally was just being able to adjust to those [changes] and react and restructure and refocus to make sure that we are meeting the needs of the faculty and students," said Rachel Mulry, OIT director of customer service.
As far as academic changes, the office has seen the implementation of several different softwares in the SMU community. In shifts depending on academic school, OIT has introduced Canvas Learning Management System in replacement of the university's former Blackboard service. By June of 2016, all schools will be transitioned to use Canvas.
"I like Canvas because I think it's organized better, and I like the way when you look at our grades it calculates it," said SMU second year Amelia Eskridge. "It's just a lot more ascetic."
Another new service includes LyndaCampus, which offers thousands of online tutorials.
In addition to new online services, OIT also updated Dallas Hall with new AV equipment and 34 classrooms are scheduled to be upgraded in the upcoming academic year.
Part of a campus with many ongoing research projects, OIT worked to improve the faculty research experience on campus as well. OIT has been working on the new University Data Center, which allows efficient research with large quantities of data. SMU also opened doors for global research through the eduroam network that researchers can use wherever available, including locations in Europe and South America.
Key advancements in other areas include the release of the SMU Mobile application and the creation of a new Academic Technology Council for IT Governance, composed of faculty members from each school and other staff members. This past year OIT also increased the number of wireless access points by 300, increasing the total amount of wireless access points to 2,929 on campus.
The department reported the upkeep of several day-to-day services as well. This past year, OIT processed 591,000,000 million emails for phished messages while only 4 percent of these messages were free of security threats. The department also manages 1,678 access card readers on campus and hosts 41,166 SMU accounts.
The department also acts as a face for technological support. Throughout the year, the IT Community Support handled 25,334 Help Desk Ticket Incidents.
For 2016, OIT has several goals in these areas as well. OIT plans to work with Parking & ID Card Services to create a parking garage toll tag reader to create a more efficient parking experience. The department also plans to continue developing Box, which offers students cloud storage. OIT announced the addition of this service just a few weeks ago on Jan. 14.
OIT aids the SMU community by connecting technology with academic success. The office states its "mission is to support and enhance the academic and administrative activities of Southern Methodist University."
The current OIT Leadership Team consists of Joe Gargiulo as chief information officer, Jason Warner as director of academic technology, Rachel Mulry as director of customer service, Curt Herridge as director of applications, George Finney as chief security officer, David Nguyen as director of infrastructure and Teena Newman as director of project management.