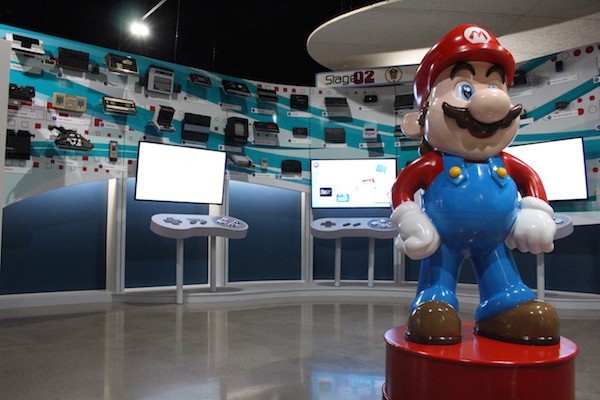 With interactive gaming re-creations, head-to-head competitions, artifacts and a giant game of "Pong," the National Videogame Museum (NVM) is every gamer's dream.
Making a Museum
The museum, located inside the Frisco Discovery Center, opened its doors to the public April 2. It is the first museum in the United States to be solely dedicated to the history of the video game industry.
The concept of NVM was in the minds of founders John Hardie, Sean Kelly and Joe Santulli for years. The trio had been collecting video game artifacts and memorabilia throughout the last three decades.
Hardie, Kelly and Santulli first collaborated in 1999 at a gaming expo in Las Vegas when they brought their collections together and called it a museum. This annual event continued until 2002 when they started attending industry events, like the Electronic Entertainment Expo (E3) and the Penny Arcade Expo (PAX), as well.
In 2011, the team realized their traveling museum needed a permanent home.
"We got to the point where we're getting a little bit older, our stuff is getting a little worn out," Santulli said. "Plus people were asking us questions like, 'When do we get to see this on a regular basis? Why do we have to wait until once a year or go to industry events?'"
Very shortly after, the trio met Randy Pitchford, CEO of Gearbox Software, who offered to collaborate on the effort.
"Our initial home we thought would be Silicon Valley," Santulli said. "But we needed a sponsor and a city that was ready to help up pay for the place."
And Frisco was that place, offering the space and a $1 million in funding for the museum.
"Frisco was in a position to make it happen and they did," Kelly said. "It fit perfectly for this part of the city. They had the space already and they weren't really doing anything with it. Everything kind of fell together."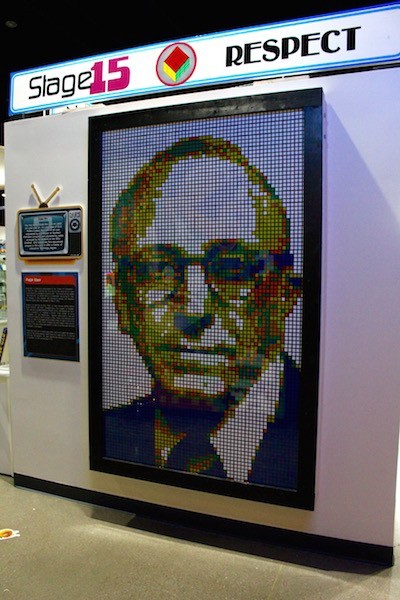 Making a Mural
The next step came in designing and filling the space; this is where SMU Guildhall came into play to build a mural of Ralph Baer out of more than 600 Rubik Cubes.
Gary Brubaker, director of Guildhall, said the relationship with NVM began when Pitchford introduced them.
"It was clear they had one of the most significant and sizable collections," Brubaker said. "The fit was natural as academia and museums improve each other's mission."
Squirrel Eiserloh, game programmer/designer and Guildhall lecturer, said the Rubik's Baer mosaic was originally the brainchild of the NVM's founders.
"The problem was layered and interesting," Eiserloh said.
Eiserloh worked to design a program that would use only the six colors found on the Rubik Cubes that could be reconfigured periodically to show different images.
"He, not surprisingly, had a number of anti-aliasing tricks from computer graphics to create a realistic picture from a very limited palette," Brubaker said.
Eiserloh said they wrote a highly-adjustable custom program that takes a source photo and coverts it to a mosaic of Rubik's Cube colors. The pattern was then printed across several pieces of paper.
"We then had a small army of volunteers – kids, graduate students, and game industry professionals – help solve cubes for an entire afternoon," Eiserloh said. "It was quite amazing to watch come together."
Students from @smuguildhall built a mural at our museum with more than 600 Rubiks Cubes! #nvmusa pic.twitter.com/vgwaZf9xNS

— National Videogame Museum (@nvmusa) March 23, 2016
Students from Guildhall volunteered to work on the project by organizing the cubes on the paper before they were mounted into the mural. They were excited to not only work on the project, but also to be surrounded by the history of video games.
"Some students helped with the construction of the frame and mount as well," Eiserloh said. "All were pleased and proud at the finished product."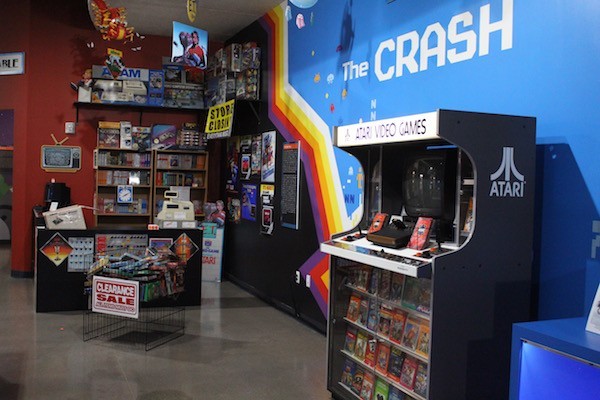 Admiring the Final Product
The final product of NVM features more than 100,000 video game consoles, games and artifacts from past and present.
Exhibits include the world's largest game of Pong; Pixel Dreams, which is a 1980s-inspire arcade; Head-to-Head Hall full of gaming stations where individuals can compete; a replica of Pitchford's Gearbox office; a Timeline of Consoles; and a hall of rarest artifacts.
As a nod to the '80s, the museum features an '80s-themed bedroom and living room adorned with popular games and memorabilia of the time.
However, choosing the 20 exhibits to display out of the trio's 50,000-square-feet worth of items was not an easy task.
"Exhibit-wise, we had a list of 56 exhibits and we only had room for 18 or so," Hardie said.
Hardie said the team narrowed down items based on what they had to fit exhibits and what they thought was important for visitors to see.
"So we have an area called Flexibits, that's really just display cases of cool stuff that is stuff you should see anyways," he said.
The museum also features a classroom where they plan on hosting summer workshops and STEM-focused classes.
"Several professors at Guildhall offered to help set up the curriculum," Kelly said.
In the future, the team plans to expand the museum. The "1,000-square-foot plan" includes an archive center, a theater, publication displays and a game archive center and library where people can check out games to play.
The museum is open Tuesday to Sunday and admission in $12 for adults and $10 for children 10 and under, military, educators and seniors.