Get a taste of the film's pre-production process below. View the mobile friendly version here.
To an average college student, $30,000 represents almost a year's worth of tuition. But for the SMU summer film production program, it is a small but workable budget that goes toward production expenses for the student-run feature film, Elsewhere, TX.
This budget is more than McHenry Taylor, the director and writer of the film Elsewhere, TX, has ever had to work with when it comes to making films. His last film was five minutes long and he used $500 out of his own pocket to make it.
"It was harder than I expected, which sounds naive," Taylor said about the fundraising process. The crew used Kickstarter, a funding platform for miscellaneous projects, and their goal was to raise $20,000. Through the site, the film's supporters could pledge any amount of money toward the project, and the project would receive the funding if the goal was reached all or nothing. From Feb. 10 to March 31, the fundraiser was live.
Each backer on Kickstarter is given a reward or a gift depending on how much they pledge to a project. The gifts for Elsewhere's backers range from a mix of songs and a personalized film postcard for pledging $25 or more, to a blue-ray disc copy of the film after its completion. Pledging just $10 would supply each backer with the personalized postcard, and Taylor believed students and peers would be on board with making this small donation. But the number of small donations was, in fact, small.
"I guess I was a little surprised and disappointed at first at how few small donations we got," Taylor said.
Yet Taylor and the crew's disappointment was relieved by the support they received from families associated with the film. According to the Kickstarter page, 11 people pledged over $150 to the film's goal, and despite initial surprise from the lack of small contributions, they reached $20,000. Taylor saw this as a double-sided success because they ended up saving money and paper, too.
"It is better that [the pledged donations] came in big chunks because we don't have to print as many postcards," Taylor said jokingly.
Along with the money raised from the fundraiser, Taylor and co-producer Natalie Khraish received $2,000 each from SMU's Engaged Learning program, and $5,000 from SMU, which gave $1 for every $2 raised up to $5,000. It all adds up to about $30,000, which by Hollywood's standards, is still categorized as an ultra low budget film. But it is enough to get the job done.
Families assisted in more ways than just providing the funds necessary to get the film rolling. Trevor Thrall, the other co-producer for Elsewhere, found her father and her hometown to be a big help to the location scouting cause. Thrall's father helped and continues to help the crew find multiple locations to film scenes for the post-apocalyptic western out in Nacogdoches, Texas, about a three-hour drive southeast of Dallas. From old abandoned movie drive-ins to vast green fields, the crew has found plenty to work with.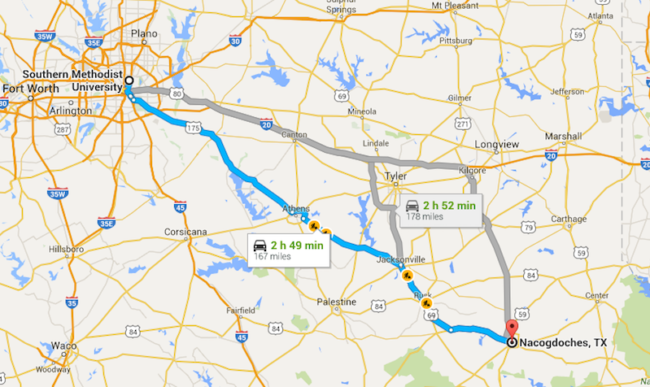 In this small town with a population of 33,000, everyone knows everyone, and many are willing to give their time to a good cause.
"People are really nice, and they want to help you," Thrall said. Many times her father will just call up people he knows in the neighborhood, and the next minute Taylor and Thrall and a few other members of the crew are sitting in her father's truck, on the way to a potential filming location.
Elsewhere, TX is roughly set to begin filming over a two-week period in late May. For more information on the film, the funding and the students making it happen, visit the Kickstarter page here.