"I didn't declare my major until the second semester of my junior year. I took a lot of classes that didn't require a declared major so that I could explore all of my options," said William Chubb, a senior real estate finance major.
With graduation right around the corner, Chubb looked back on his time at SMU.
"I wouldn't change a thing about my SMU experience, and with graduation coming up, my hard work is paying off," Chubb said.
Students across the country work for years to get their degrees and all wonder the same thing: Will my degree be worth it?
According to the Princeton Review, only 67 percent of SMU students graduate in 4 years. SMU is ranked thirteenth in best career services, sixth in top internship opportunities and eighteenth in alumni networking. To answer this question for SMU students, the Daily Campus looked at graduates from the past few decades.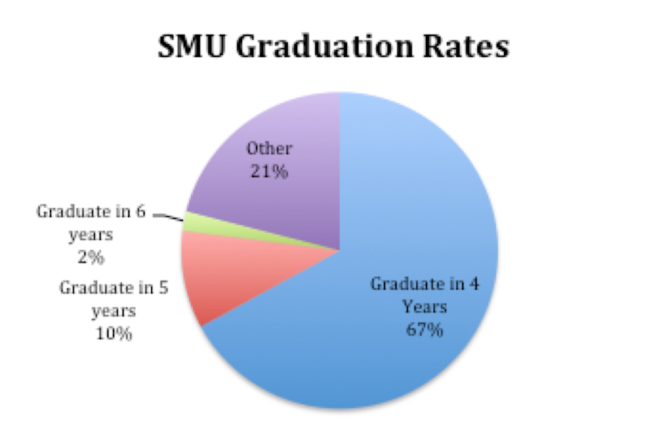 1980s
Dave Foster graduated from SMU in 1980 with a degree in journalism and advertising. Foster entered SMU at the age of 16, where he learned how to work with people he liked, assemble a team and be entrepreneurial.
"I have been blessed to have been an entrepreneur that built a company from the ground up," Foster said. "I feel the foundation I received at SMU has allowed me to accomplish these things much more readily than if I had not attended a university as respected and connected as SMU."
Today, Foster is the president and CEO of AvreaFoster, a Dallas-based advertising firm that he founded in 1992 with Darren Avrea.
2000s
Jordan and Casey Thompson both attended SMU in the early 2000s. Jordan graduated in 2003 with a degree in finance, and Casey graduated in 2005 with a degree in corporate communications and public affairs.
"Any school's career center and how they position you for employment is very important," Jordan said.
According to the Hegi Career Center, 63 percent of seniors have completed at least one internship nationally and are three to four times more likely to get a job if they know someone in the company. Keeping connections and networking are huge aspects of the SMU community.
"No matter where I've gone, people recognize SMU to provide students a high-quality education," Casey said. "My career path was certainly pointed in the right direction because of the support and guidance from both professors and the department…it is a point of pride for me to tell employers, potential employers, or professional contacts that I graduated from SMU."
Jordan is now the Specialty Lending Group vice president at Goldman Sachs and Casey is a communications specialist at Make-A-Wish America.
2010s
Krystal Schlegel graduated from SMU majoring in advertising and minoring in journalism and fashion media in 2012. Schlegel works as a "digital influencer" who manages her own fashion and lifestyle website. She attended SMU after three of her older siblings had gone through and loved it. She attributes her success to her family's school.
"If it weren't for SMU, I probably wouldn't be working for myself and have the business built that I do today," she said.
Chris Shea graduated in 2013 after majoring in finance and minoring in history. He described his time at SMU as the best four years of his life and got his first job through on-campus interviews.
"SMU prepared me academically and professionally to be successful in the real world," Shea said. "I was able to leverage the SMU network to gain internship and full-time employment opportunities and then apply my coursework and career counseling to hit the ground running in new roles."
Nick Jehlik also graduated in 2013 after majoring in marketing and minoring in economics.
"The value and recognition of Cox will pay dividends for the rest of my life," Jehlik said. "This value comes in many forms, including my initial job placement out of college through Hegi, and also in the recognized value that is placed on my degree as I furthered my career at a different company."
Shea and Jehlik are both perfect examples of the usefulness of the Hegi Career Center and the SMU network because they both got their first jobs through on-campus interviews, with the help of the career center's connections.
All of the graduates seem to come to the same conclusion. Being mustangs shaped them into the successful people that they are today and they couldn't have gotten there without receiving their SMU education.
As for William Chubb, he also found his degree to be worthwhile as he will be starting work at ISN after graduation in sales and customer relations.