By David Sedman, Olivia Nguyen and Jacquelyn Elias
UPDATE: Sept. 2, 2016 at 6:58 p.m.
Approximately three weeks after Goff's fire on Aug. 12 Olivella's reopened doors. The renovated building installed new floors and repaired minor flood damages as it welcomed customers in at 6 p.m.
Surrounding businesses like J. Wilson Fuqua & Associates architectural firm and McCartney's Spirit have yet to reopen while the former location of Goff's has yet to have any restoration.
CORRECTION: Sept. 1, 2016 at 12:30 p.m.
Olivella's reported that the grand opening of their University Park location will be Sept. 2 at 5 p.m. The Olivella food truck will be stationed outside of the store tonight from 3-8:30 p.m.
On Aug. 24, McCartney's University Spirit also stated that they will be reopening in around four to five weeks time.
UPDATE: Sept. 1, 2016 at 9:31 a.m.
Olivella's, one of the businesses that had collateral damage from the Goff's Hamburgers grease fire on Aug. 12, has fixed its roof, glasses and other minor damages and is ready to open.
A SparkFarm press release confirmed that Olivella's will open their doors for dinner tonight at 5 p.m. In addition, the Olivella's pizza truck will be giving away free pizza, soda and surprises to the first 100 customers today from 3-5 p.m. as a "thank you to University Park and SMU for their unwavering support."
UPDATE: 2:19 p.m. on Aug. 13
After 9 p.m on Friday night, bulldozers began to destruct the building, and firefighters continued to extinguish flames. Workers continued throughout the night, and only a few walls of the building currently still stand.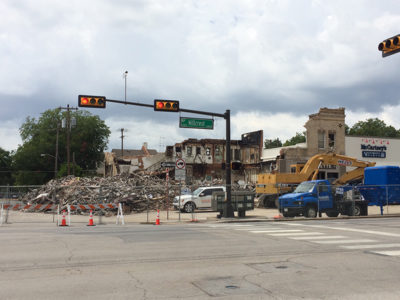 Hillcrest Ave. is now open for regular traffic; however, McFarlin Blvd. is still blocked half of a block west of Hillcrest to allow room for rubble.
Immediate buildings next to the damage remained closed such as La Bichette, TaylorMark, McCartney's University Spirit, Pizza Hut and Jimmy John's, and a protective fence remains around the affected areas.
ORIGINAL: Aug. 12, 2016 at 2:12 p.m.
Fire broke out Friday afternoon at a local burger mecca familiar to the SMU community. The cause of the fire appeared to originate in a grease trap that billowed dark smoke leading to a multi-alarm fire at the Goff's Hamburger restaurant across the street from the SMU campus at the intersection of Hillcrest Ave. and McFarlin Blvd.
https://www.youtube.com/watch?v=Y7-MSxgO65g&feature=youtu.be
The 65-year-old independent restaurant moved to its current location in 2004 from its original location at Lovers Lane near the tollway.
Smoke swept through the SMU campus as firefighters from University Park tried to douse the flames, and at around 2 p.m., flames were visible from the south window of the building. Businesses were evacuated along the shopping center as the firefighters tried to contain the fire to the corner business.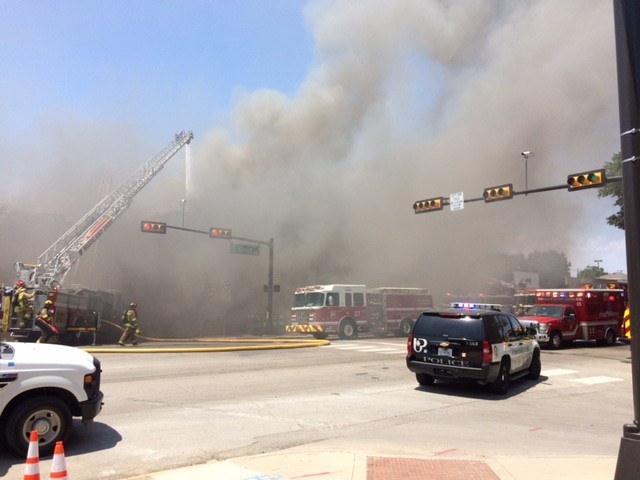 According to an SMU Aware email, police and fire-rescue units are on-site to address the situation. Pedestrians and vehicular traffic are being instructed to avoid Hillcrest Ave. between Mockingbird Lane and Lovers Lane.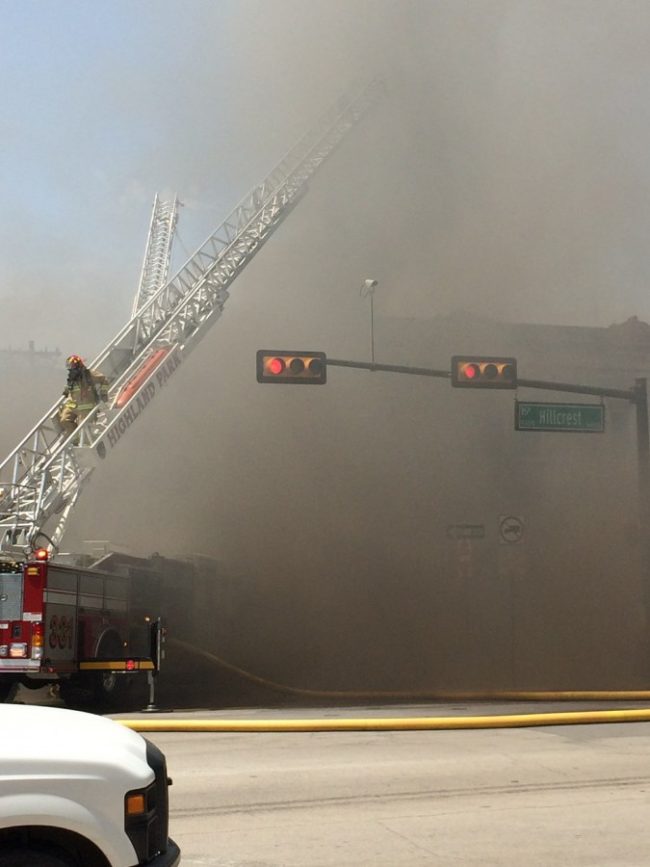 The Daily Campus will provide updates as soon as they are available.