Updated on Feb. 2 at 12:02 p.m.
President of the SMU Faculty Senate, Dr. Jeanne Stevenson released a statement on behalf of the Faculty Senate regarding Trump's executive order.
"The Faculty Senate of SMU condemns the Executive Order of January 27, 2017 as antithetical to the values of Southern Methodist University for unreasonably restricting entry to the United States based on national origin and religion; and be it further that, unless legally compelled to do otherwise, SMU should respect the privacy of its faculty, staff, and students by not sharing their immigration status." -Faculty Senate Resolution on President Trump's Executive Order on Immigration
Updated on Jan. 29 at 3:30 p.m. 
The Daily Campus was live at DFW airport to report on the situation. Watch below.
At around 3 p.m., the U.S. Customs and Border Protection stated that all detainees have been released; however, written confirmation has not yet been given.
.@CustomsBorder reports all detainees have been released and will be reunited with their families at an offsite location.

— DFW Airport (@DFWAirport) January 29, 2017
Original on Jan. 29 at 1:59 p.m.
At around 2 p.m. on Sunday afternoon, DFW Airport stated that U.S. Customs and Border Protection will release the detainees, after some were held for over 24 hours.
.@CustomsBorder reports detainees are being released and reunited with their families at an offsite location.

— DFW Airport (@DFWAirport) January 29, 2017
President Trump signed an executive order early Friday evening, restricting immigrants from entering the U.S. from seven Muslim countries. This order left dozens of immigrants across the country barred from entry, including the Syrian parents of SMU student Osama AlOlabi.
AlOlabi remained at DFW airport throughout the night to await news of his parents. Sunday morning, AlOlabi's brother received a text from his father stating that his family may be released soon before they were officially released a few hours later.
Late Saturday evening, AlOlabi and others affected received temporary relief as the U.S. District Judge Ann Donelly in Brooklyn barred the immediate deportation of immigrants who arrived in America, at the request of the American Civil Liberties Union.
SMU President Turner sent an e-mail to the SMU community on Jan. 29 stating that "SMU will look for ways to support any of its international students whose families may have been affected by this order."
As of Saturday evening, nine people were still detained in DFW. ACLU and other lawyers still work to grant stay for the newly arrived travelers.
In the immigration lawyers' war room at #DfwAirport. Arguing, debating countless points of law before filing in Dallas federal court. pic.twitter.com/NHUOcHkVDL

— Robert Wilonsky (@RobertWilonsky) January 29, 2017
At DFW airport, crowds of over a 1000 gathered to protest the new order, including several SMU community members like junior Angie Reisch and Noah Simblist, SMU Chair of the Division of Art.
Our airport police and entire staff would like to thank all protestors for exercising your rights in a peaceful manner. pic.twitter.com/ltyg1VaQOV

— DFW Airport (@DFWAirport) January 29, 2017
Simblist described the environment as "very positive and peaceful" with an "intergenerational" group of many different religions and identities.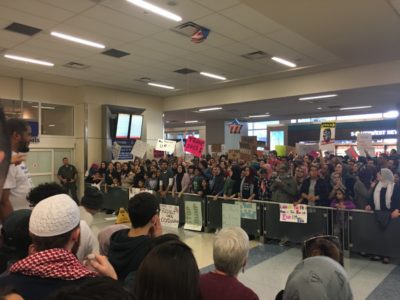 Simblist has focused his own artistic works on the Middle East. "I have spent a great deal of time thinking about the traumas that refugees experience and the enduring effects of so called emergency measures," Simblist wrote in an e-mail. "I went to DFW. knowing that this political moment is part of a larger historical trajectory, but one that we must read with equal urgency."
Simblist wrote that the new order could affect future SMU students. "We also will be looking at applications for incoming students from some of the countries on this list, and I want to make sure that everyone is treated with equity and respect," Simblist wrote.
The U.S. Department of Homeland Security released a statement this morning in light of the recent suits that lawyers across the country are pursuing to block the new order.
Department Of Homeland Security Response To Recent Litigation → https://t.co/1gb0jl65MQ pic.twitter.com/rEkzmylFCL

— Homeland Security (@DHSgov) January 29, 2017
The Daily Campus will continue to update this story as new information is made available.