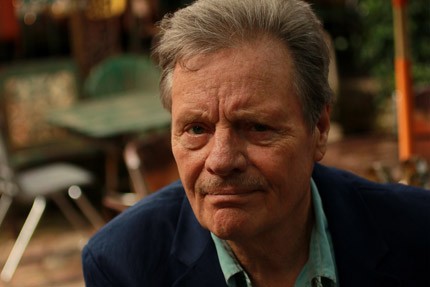 Multi-Grammy-winning blues artist Delbert McClinton will come to the Granada Theater Saturday, Feb. 18 to promote his new album "Prick of the Litter." His career has spanned decades and his music has played in the homes of many. The Daily Campus was lucky enough to talk with McClinton about his career and new record.

The Daily Campus: What was it like working as an up-and-coming blues artist in the '60s?

Delbert McClinton: What was it like? Well the best part about it was that all those guys were still alive, and I learned from them.
DC: I bet. That's what I thought was so interesting–that you started in such a time that was integral to blues.
DM: Well it was but you have to live a while past something like that before you can really realize what a fortunate time it was to be in the business of trying to replicate or add to the blues genre. Well I got to work with those guys and Jimmy Reed, Sonny Boy Williamson, Freddie King, Big Joe Turner and several more. Me and the band back in the '60s. So it was, I know I was in the right place at the right time then, but it's even more profound now because they're all gone. You asked me what it was like–that's what it was like. That was the thrill, the fact that those guys were there. And I could watch them, and I could learn from them.
DC: What were some of the best things you learned from them?
DM: Oh God, that's a pretty broad question!
DC: Yeah I guess so!
DM: I learned to never leave my wallet in the dressing room while I'm on stage. You learned first hand, a close-up view of what black people, well, how they were treated. Um, for example I can remember when we played with Jimmy Reed and those guys, they had to stay in the so-called black hotels.
DC: Wow.
DM: And we'd pick them up there and take 'em back and, there wasn't ever a place in the world you could go and eat so it was an awkward thing. And I always thought that was bizarre, ever since I was a little kid and saw a Sears & Roebuck store, two fountains: one for white and one for color. I remember asking my parents, what is that? And got some uneducated, ignorant answer. So you know, being active with those guys who were heroes of mine. It was very educational.
DC: How did you get started?
DM: I couldn't help it. And that was true, I was singing all my life, ever since I was a little boy I was walking around singing all the popular songs on the radio. And when I got to be about 15 or 16, well, 16, I put a band together. Or, we called it a band. It was terrible, nobody could play. But we had a lot of fun and you gotta start somewhere, so.
DC: So it was just inevitable?
DM: Oh yeah. Yeah. It's you know, this is not something I had to work for, this is something I've been working because of. You understand that?
DC: Yeah, that's a great way to put it.
DM: It's gotta come out.
DC: Did you ever imagine that you would be winning three Grammys?
DM: You know I never thought about that. I'd been chasing the dream my whole life and fortunately been able to do that and I think get better at it. So I'm a very fortunate guy. I don't have to ask anybody permission to do anything. And I like that.
DC: You have such a long career and with it a wide swath of albums. Are there any new or different sounds that fans expect to hear on "Prick of the Litter"?
DM: Yeah, I think everybody's gonna notice a big change on "Prick of the Litter." It's not the usual fare for me. You get the other side of the music that I like and it's the softer side.
DC: You've cited that Nat King Cole and Johnny Mercer were some of your inspirations for the album. What elements of their music did you want to bring?
DM: Well, Johnny Mercer wrote the songs of my life. All of them, just about. You go look at a list of the songs he's written and they're everything I grew up listening to. Everything. And besides that and country music that's all there was as far as I knew until my mother's youngest sister who is a teenager when I was seven, eight years old. She had all these what they used to call "race records" which were black music. Before rock 'n' roll, and I discovered that at her house. And a whole new genre of music and then living in Texas late at night you get the 100,000 or million-watt stations out of Mexico, Wolfman Jack and all of that stuff and, you know it would just, uh, it was amazing. Still is to me, you know music is magic.
DC: What's your favorite song off the album?
DM: It depends on the mood I'm in. I love 'em all. Yeah.
DC: Was there a point in your career as a blues musician that you felt that you had truly "made it"?
DM: I don't think there's any such thing as making it. I think having the passion and the endurance, that's making it. And that, you never totally fulfill that.
DC: So would you say that you're always just working towards improving, then, making music?
DM: Absolutely. There's a song going on in my head all the time. Always has been. I can put horn parts to the hum of a city.
DC: That amazing. Would you have any advice for someone who just wants to start out?
DM: Oh, not really. I think if you give advice, you leave yourself open to be a collaborator and I just, you know, you either do it or you don't. And that depends on how much of it you got inside and people who know that will know that, and those that think they have it and don't will sooner or later find out and change their major.
DC: How has the tour been so far? I know you did a cruise.
DM: Honey, I've been on tour for 55 years! So you know, I came back from the cruise, which is great. It's always great fun. And I leave in the morning to go to Kentucky and I come back here to Nashville for Saturday night's show and next week I go to Florida and, you know, it's just, go go go.
DC: So do you have any stories or moments from any of your tours that you like to remember?
DM: I've got a lot of them I remember! But, you know, I've had great fun on the road. I got to play with so many people who were my heroes or people that I have such great respect for. And I got to collaborate with so many people that it's such an endless sweet life I've got. And it's good until it's not. You know? And then when it's not it's not good at all.
DC: 2017 is shaping up to be an exciting year for you from the tour to the biography. What's it like to have that, someone writing a book about you and your life?
DM: I don't know I haven't read it yet.
DC: Do they collaborate with you at all?
DM: Of course, yeah. You know it's interesting and I look forward to reading it. But, you know, what do you say about something like that? I really don't know how I'm gonna feel about it. I get to read a whole lot of things that other people say about me which you know you kinda wanna do that by yourself because it's kinda awkward. I don't know, I don't know how to answer how I feel about that. I am of course flattered that anyone would want to write a book about me, that's very flattering. And my input in it was that I didn't want it to be full of jive, full of bullsh*t. So we had fun doing it and Diana Hendricks, the woman that's written it, has become a close friend. So, you know, we'll see what happens. It'll be just another one out there with the rest of them. And personally I can't stand to read books about surviving rock stars.
DC: Really, why's that?
DM: I just can't, you know? I can see what's coming on every page.

DC: Like you know what's already going to happen?
DM: Sure, of course I do. Except for some of them that have very extreme horror stories, and who wants to read about that?
DC: Good point. So, do you have any plans for the future?
DM: Well if it don't get any better than this and stays that way I'll be fine.