While spring break often marks a time of relaxation and rest from the busy semester, for some SMU students, faculty and community members it was a lesson in humility. A small group embarked on the annual civil rights trip through the American South.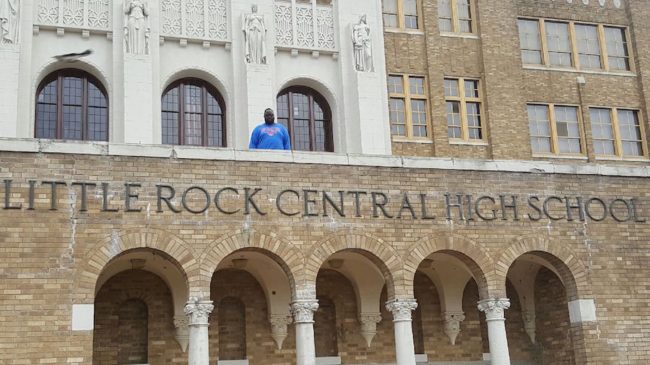 The pilgrimage is a collaborative effort between the SMU Embrey Human Rights Program and the Office of the Chaplin and Religious Life. Participants travel to numerous civil rights landmarks including the birthplace of Martin Luther King. SMU junior James Samuel found himself engaging in a symbolic opportunity as he was asked to open the front door.
"Opening this door is symbolic of opening humanity," Samuel said.
The 2017 trip comes at a time when the SMU community is grieving the loss of Political Science Professor and founding member of the John Tower Center for Political Studies Dennis Simon. However, students and faculty alike also celebrated the incredible insight he provided as he led the annual Civil Rights Pilgrimage.
The group traveled to Little Rock Central High School in Arkansas, where a historic and memorable act of courage took place when nine black students enrolled and tested the landmark Supreme Court decision deeming segregation in public schools unconstitutional.
"Standing on the steps of Little Rock Central High School gave me a profound appreciation of being able to obtain my education at Southern Methodist University," Samuels said.
The eight-day journey allowed the individuals a chance to peek into the past and understand the oppressive patterns that existed and continue to exist in the current political climate.
"The only way to combat these oppressive patterns is to learn the history of this country and stop trying to be so comfortable," said SMU senior Ashley Park. "We will only be fully human when we can identify with the pain of others and say everyone's pain matters."
Although this journey confronts the pain, suffering and hardships of the civil rights movement, it represents pivotal moments in U.S. history which must never be forgotten.