SMU's Mustangs for Life set up its annual pro-life display "Memorial of Innocents" on Dallas Hall lawn March 27, sparking outrage among some of the SMU student body.
The demonstration consisted of 2,500 wooden crosses, which represents the number of abortions performed every day in the United States. The organization hosts this display in hopes of starting conversation and civil discourse between students.
Each year students in opposition react by taking the crosses out of the ground, which is considered an act of vandalism, according to Mustangs for Life Vice President Marisa Rosa.
"We are all entitled to our own beliefs and opinions, and we have the right to exercise those beliefs," Rosa said. "However we ask for these students to respond by engaging in conversations rather than by vandalizing the display and making threats."
SMU junior Claire Krizman was one of the students who removed crosses from the lawn on her way to and from class, hoping to send the message that the crosses are offensive and provoke shame.
"When I saw those crosses again this year, I was filled with sadness and anger," Krizman said. "I felt totally helpless and I suppose it was a personal act of resistance." Krizman then took to Facebook encouraging others to follow her lead.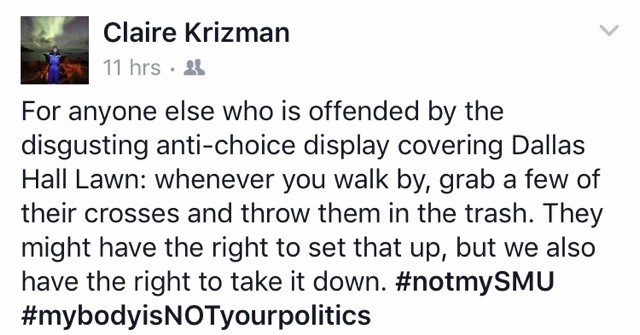 Around 6:30 p.m., Krizman received a call from SMU Police Officer Boston Ross, who told her she could face jail time for removing the crosses, as it was an act of vandalism. Ross explained that Mustangs for Life obtained a permit for the display, which gave them the legal right to demonstrate on the lawn.
Lt. Brian Kelly of the SMU Police Department verified the story and said Ross called Krizman to inform her that her actions were illegal, and if they continued she could face legal punishments.
"At first in my mind, the lawn was just as much mine as it was theirs, but once he explained it to me it made sense," Krizman said. "Had I known, I wouldn't have took the crosses and thrown them away."
Krizman said she vehemently thought that she was invoking her first amendment rights by taking them down and did not mean to break any SMU rules.
After the phone call with Ross, Krizman updated her Facebook status to let students know that they shouldn't remove the crosses and that she had plans for a counter-demonstration.
There was a separate incident March 28 where 500 of the crosses were destroyed, according to Kelly and the SMU Crime Log. In this instance the SMU Police Department did give citations.
"I want students to know that destroying the display isn't free speech, but actually shutting down the free speech rights of others," said SMU College Republicans, President Drew Wicker.
Both Rosa and Wicker are in support of counter-demonstrations as long as they are non-violent and respectful.
Krizman stressed that she never saw anyone trying to engage in conversation with those who passed by, one of the reasons she doesn't find the display educational or helpful for SMU students.
"I'm trying to keep my movement not political and more about the way we talk about politics," Krizman said. "Everybody has personal experiences that make them who they are, and you should be able to go to a campus where you will not be shamed for those experiences."
To jump start her movement, Krizman started a GoFundMe campaign to raise money for Planned Parenthood, which raised $2,670 in its first day.
Kelly wants to remind students that any threats at SMU are taken seriously and damaging any property will not be tolerated. He also said that SMU PD does not take a side regarding the issue, but is on campus to protect everybody's rights and property.
The Memorial of Innocents will conclude on Wednesday followed by Carly Fiorina's "Pro-Life and Presidential" speech hosted by SMU's Young Americans for Freedom in Crum Auditorium at 7:00 p.m.