by Sydney Clark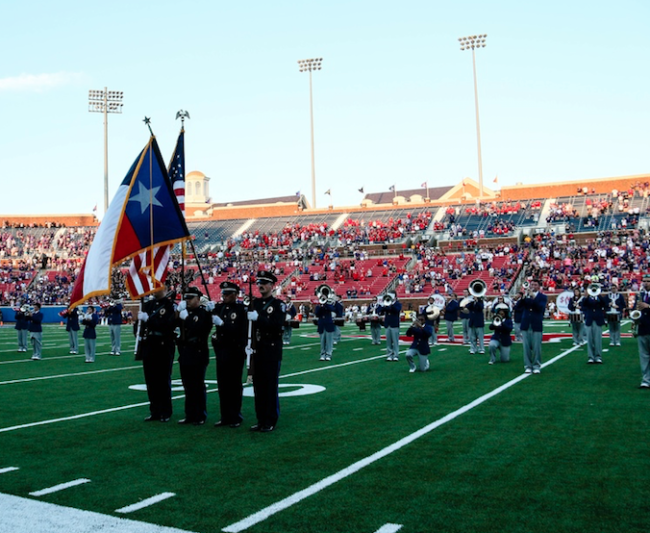 This past Saturday, Sept. 23, was the SMU vs. Arkansas State football game. It was also Family Weekend. That day I was focused on entertaining my mother and sister, taking them to a newfound restaurant, seeing a movie or going to the mall—all efforts to get a bit more quality time with them since I stayed on campus during the summer. That morning, I received this text from a friend:
"Heyyyyyyyyyyyyyyy
Soooooo today is the day
The anniversary of the kneeling 🌚"
I was launched into that day one year ago. The tension was palpable, especially because of the lid that the Black@SMU movement was trying to keep on the demonstration to minimize distractions and the detriment that would befall us afterward. Standing in the tunnel before our pre-game performance was more than nerve-wracking. We knew we were going to cause controversy. We knew we would receive backlash from our peers and alumni. We knew, though it was only mentioned to us a day or two prior, that the national anthem that day would be dedicated to a fallen SMU officer who had died the previous summer.
However, we also knew that our brothers and sisters across the world were dying every day from the abuse of power in police brutality. For us, it was now or never. It didn't matter that the day we chose happened to be one in which fallen officers were honored. It wouldn't ever matter what day we did the demonstration. No matter when, where or how we acted, people would see it as 'wrong.' Our message would always be perceived as 'backward' because of the long history this country has with black bodies. No matter what form our protest took, whether belligerently rioting out of desperation and frustration or quietly and reverently bending a knee to honor those of us who had fallen, our 'audacity' to defy would have always been wrong.
So, as we stood there in the tunnel before kneeling in front of a stadium with a capacity of 32,000 people on one of the most popular game days in Texas college football, we felt a range of emotions. We felt fear: for ourselves, for each other. We felt anxiety. We felt anger. But most of all, we felt a duty to speak up, or rather kneel down, for those whose choice to do so had been stolen. Even considering all these factors and what we knew beforehand, we couldn't have been prepared for what would follow.
The backlash from Mustang Band alumni rolled in each day:
"Those kids need to be expelled!"
"Take their scholarships!"
"They need to be pushed down a dark flight of steep stairs."
Our directors felt that we needed to express all of our pent-up aggression as an entity in a band "town hall." It was laughable; the people I had spent so much time with in rehearsals and marching practices and grown closer to for two years seemed very shocked at my "sudden change" as if they didn't realize that I was actually a black person, especially not one who was conscious of the social climate. Sitting in the band hall and listening to everyone else voice their concerns about our actions was exhausting:
"Why did y'all have to do it that day?"
"Does this issue even affect you directly?"
"My father is a veteran and a cop, and…"
Endlessly explaining that there are black officers and veterans everywhere who also feel the necessity of this movement and having a white, self-proclaimed 'Slavic' man yell at me, "My people have suffered more than yours!" was simply too much. I was immediately aware of what I had been blind to before this incident. I'm still not sure whether I purposefully blocked these notions or was just immune to them. Being told that someone yelled "nigger" toward the back of the bus while we were sleeping; being isolated from the other members because of our newfound "militancy"; being prohibited from continuing the protests due to our "lack of sponsorship" (because we were going to find someone at SMU to sponsor this sort of protest, right?) – I just broke.
I have not played or stood for the national anthem since these events, even when I was still a band member. During basketball season, I sat during the anthem. Eventually, I would leave with my closest friend to retreat in the bathroom during its rendition. We couldn't even stand being in the midst of its playing. Hearing that anthem for me is now a constant reminder of how the "family" I gained my first two years of undergraduate life was crushed simply because I chose to speak up for what I believed in.
Now, whenever I pass someone in band on campus, most of them don't look at me. And even when they do, I still feel a sting knowing that a large percentage of them did not support me through the roughest year of my life. They allowed me to be alienated by the rest of our "band brothers and sisters." Looking at them, hearing the signature buzz of trumpets at the Peruna's start, and hearing the strains of our most sacred songs leaves me so desolate. I loved these people. Even as I write this now, I can hear the four-part harmony of "Varsity" echoing in the band hall.
I still think of band fondly in some ways. As I said, I spent my first two years of college happily as a member. Though some did not understand, promote or believe in our vision in kneeling, a few wholeheartedly supported us at this most vulnerable time. My love goes out to them and to the new members who promote this culture of understanding and unconditional love.
Even after being out of band for only a few months, I can tell the climate is changing. Each time I see the parade on game day, I notice another brown face. I notice more kids in positions and programs promoting compassion. To those members, I encourage you to support your fellow band brothers and sisters. Stand with them against all odds. They will look to you for the support they need, and if you do not provide, you will have lost a family member. May you always remember that these are the formative times of your lives. If you do not practice compassion and stand up for what you believe in, what will you think of yourself after you were given the chance to do so and failed?
All that being said, I leave you with these words:
There's a campus in a town on a little plot of ground,
where the green grass grows all around, all around.
The roof's not worn, nor badly torn,
Nor tumbled to the ground.
Just a real cool place and it's built way back about
Twenty-five feet from the Hillcrest track.
It lingers on my mind most all the time,
Keeps calling me back to my little grass shack.
I'd be just as sassy as a mustang lassie;
If I were a king it wouldn't mean a thing.
With the boots so tall and the writing on the wall,
And it wouldn't mean a thing (Not a doggone thing!)
There's a chick waiting there with a T-Bird spare,
Just blowing her top for me to get there.
Looking all around and a 'rockin' with sound,
'cause I gotta get back to my Mustang town!
Hopefully this Shantytown has enough space for all of us in the future, including those who have been excluded before.
Hubba.