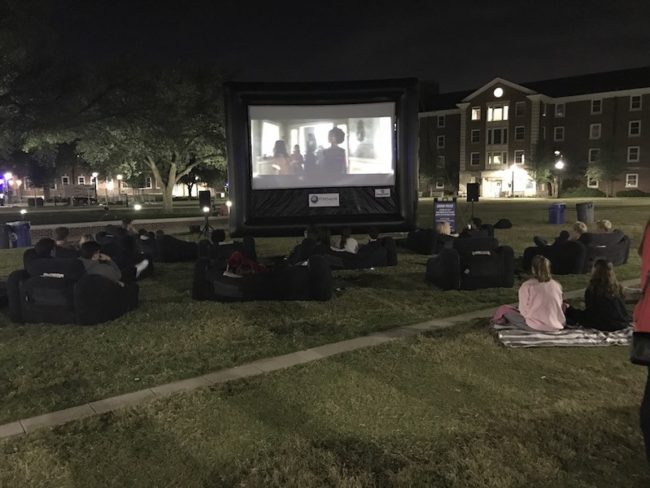 SMU's Program Council brought out the big screen for a spooky Halloween themed movie screening at Hollywood on the Hilltop Thursday night.
More than 100 students gathered on the Dr. Bob Smith lawn with blankets and pillows to watch the newly released thriller "Annabelle: Creation."
Programming chair Ian Axberg chose the movie because he wanted to stick with an October theme.
"We could have gone with a family-friendly fun Halloween movie, but decided I wanted to do horror because it's a late night screening in October," Axberg said.
Program Council has a contract that allows the organization to screen movies that are not yet available on DVD. Axberg said students have the privilege of seeing a movie that is currently playing in theaters right on campus.
"It's cool because you can't find these movies on Netflix or DVD yet," he said. "It's like going to the movie theater outside."
Program Council turned the lawn into a theater by providing students with movie theater style beanbag chairs and ready-to-eat popcorn.
Students also enjoyed festive Halloween candies and catering from Dallas Grilled Cheese Company.
SMU freshman Crystal Wang was excited for the food, but had other reasons for attending the screening.
"I was interested in the food, but I also came here because of the Southwest Airlines drawing," she said.
Students entered to win one of three $500 Southwest Airlines gift cards by attending four of the seven Hollywood on the Hilltop events.
Program Council has three more Hollywood on the
Hilltop events scheduled for this semester. Students can visit Program
Council's website
for more information on screenings and other events.