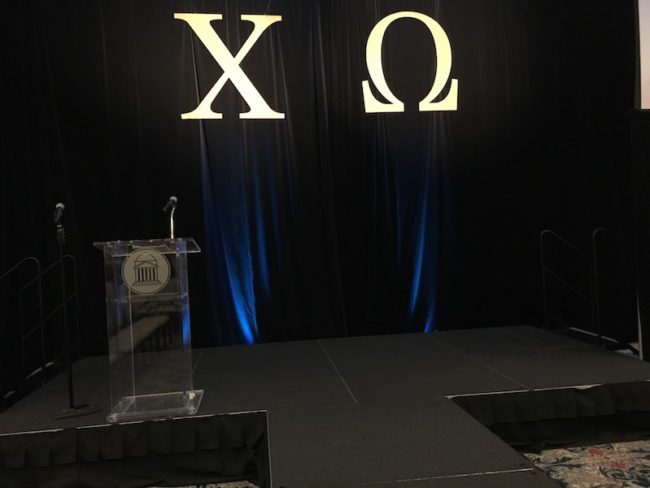 *Editor's Note: 11:50 a.m. Nov. 29 – This story has been edited throughout.
SMU Chi Omegas modeled clothes from local Dallas stores to support the North Texas Make-A-Wish Foundation and help kids battling illnesses. Make-A-Wish strengthens and empowers children who are battling life-threatening conditions by granting them a wish.
Meredith McBee is a junior Chi Omega suffered from knee cancer as a child now serves on the sorority's Work it for Wishes committee.
"When I was 13 I was granted a wish to go to the Macy's Thanksgiving Day Parade," she said. "I remember how happy that made me feel. Work it for Wishes is a way I can give back to an organization that has given so much to me."
The sorority hosted its annual fashion show, "Work it for Wishes," on Wednesday night in the Martha Proctor Mack Ballroom.
About 300 SMU students attended the event to meet members of Chi Omega and support Make-A-Wish.
"My family is very involved in childhood cancer and Make-A-Wish," said Jackie Biel, a freshmen political science and human rights double major. "I wanted to come and support that through SMU."
The active members of Chi Omega modeled clothes from Adeline, The Biz, Cotton Island, Planet Blue and Trina Turk. General admission tickets were $10 and VIP tickets were $50. From the ticket sales and additional donations, the sorority raised $6,522 for the North Texas Make-A-Wish foundation.
The fashion show is an important philanthropy event for the members of Chi Omega.
"It's my favorite event because we get to show off our personalities on the runway, all while benefitting an organization we love," McBee said.
Special guest Kaitlyn Moore is also a wish kid. The 20-year-old talked about her experience with Make-A-Wish to the fashion show attendees. Five years ago Moore was diagnosed with chronic kidney disease. In 2013, she received a transplant. A year later she was granted her wish to go to Hawaii.
"I really wanted to thank everybody," Moore said to the crowd. "You guys have no idea how amazing the things that y'all do for Make-A-Wish is. It's absolutely impeccable. It's amazing."
Chi Omega first paired with Make-A-Wish for their national philanthropy in 2002. Since then, the sorority has raised over $17 million dollars and volunteered over one million hours. In the past two years, SMU Chi Omega has raised over $200,000 dollars for the non-profit.
"This is our heart and soul of Chi O," said Katelyn Elyse, president of the sorority.