SMU students took to the dance floor Saturday to fundraise and help support Dallas and Plano Children's Hospital in the Hughes Trigg Student Center.
The Children's Miracle Network Marathon, which happens once a year, is a 12 hour dance fundraiser where participants pledge to stand for 12 hours while enjoying snacks, playing games, watching magic shows and learning dances.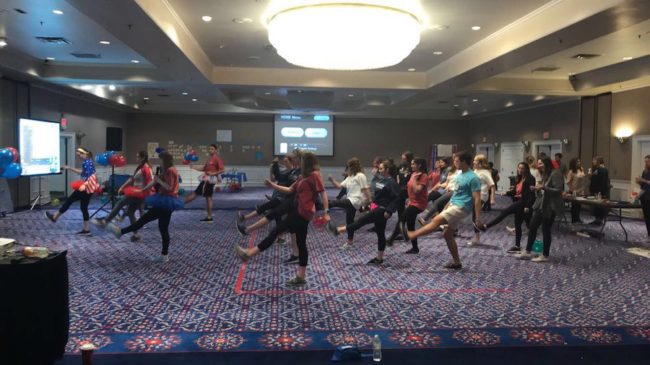 The event recognizes several "miracle" families and kids during the fundraiser. SMU alumnus Tony Shelton and his son Ace, who was diagnosed with pneumonia at age 7, attended and were honored during the marathon.
"This is amazing," Shelton said. "It's beautiful to see how new it is and how much money is being raised for the hospital which directly helps my son."
Ace Shelton was diagnosed on Christmas Day in 2014 with pneumonia after his parents noticed he was uninterested in his Christmas presents, which was out of character for Ace.
Shelton emotionally told the story of his son's sickness and his experiences with Children's Hospital. Ace was taken to the ICU of Children's Legacy after an X-ray showed that his right lung was collapsed.
"I don't think this would have been possible without Children's Hospital's knowledge and care," Mr. Shelton said. "Every staff member that came by prayed with us."
182 students came out to the event Saturday.
Students learned a big dance number throughout the 12-hour event and played Just Dance video games or took part in a comedic magic show.
SMU'S Children's Miracle Network Dance Marathon President Kimberly Rose, a senior journalism major, said this is just the second year of Dance Marathon at SMU.
"We raise money year-round but this is the big event where we have fun and celebrate different kids," she said. "Standing for 12 hours is hard, but what these kids face is harder."
The group raised $51,352.02 total.
SMU is a newcomer to the Children's Hospitals Dance Marathon, so the stand time was set at 12 hours. Other schools that host the event have done 24 to 36 hours of standing and dancing to raise awareness and promote support of local Children's Health Hospitals.