Walk by the Intramural field near Moody Parking Garage or into the Dedman Center for Lifetime Sports just about any time of the year and you will likely hear cheers coming from the stands, the squeaks of shoes on a court, or the thud of someone catching a football. Those are the joyful sounds of students playing intramural sports.
The coordination of the games is the product of one person's hard work and dedication. Bonnie Hainline, Assistant Director of Intramurals and Sport Clubs, works daily to coordinate all the intramural sports and club teams. Intramural sports include flag football, soccer, basketball and sand volleyball.
"Bonnie may not know it, but she has been one of the most influential people in making my college experience as great as it is because she executes her job so well," said Erica Umphreyville, Spirit and Competitions Coordinator for Armstrong Commons.
Hainline, who manages 13 sports club teams each semester, is a firm believer that the social impact of a sport is far greater than the game itself. This belief is one of the reasons she is passionate about doing her best to create this impact on campus.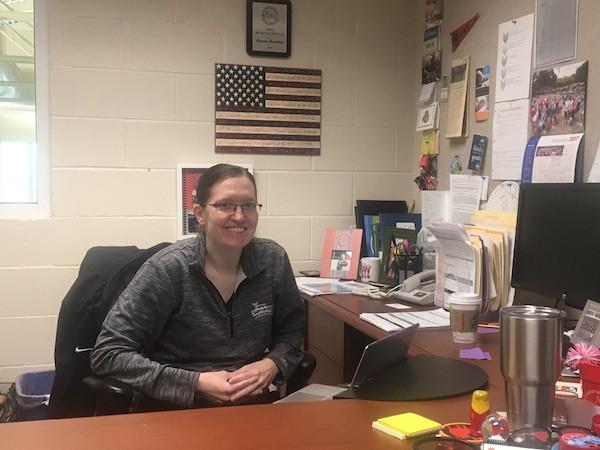 "Intramurals is a great way to develop community through sport," Hainline said. "You don't even have to play it. Strangers in the crowd bond over something you both take pride in."
The intramural program offers 22 different sport leagues and events each year. This adds up to over 500 teams and over 2,200 students participating in intramurals in a school year. The 2,200 students count unique individuals, but most students play multiple sports, which makes the participant count well over 5,000.
Hainline interacts with her team of student supervisors daily, conducts meetings, makes sure games run smoothly and works closely with the intramurals team captains. As an undergraduate student at The University of Texas at Austin, Hainline said she made some of her best friends through intramural sports. Now she's paying it forward.
"As an incoming first-year, I didn't know anyone and I found it hard to get involved in something I loved until I started playing intramurals with my commons," Umphreyville said.
This feature is part of The Daily Campus' "Unsung Heroes" series, which profiles those who keep our campus running.