Halfway through her first year at SMU, biology major Gianna Rizzo learned her dad was diagnosed with a brain tumor. It was a tough time exacerbated by the resulting financial bind. Paying for college was already difficult for her family, and her father's diagnosis put another strain on their expenses.
"My father was out of work for a very long time after he got sick," Rizzo, now a junior, said. "He's gotten back, but he's about to go into radiation and be out of work again."
Today, Rizzo is even more concerned with how much money she is spending to attend SMU. After looking at her bill, she thinks she may have found a place to save money: the nearly $3,000 she pays for student fees for many campus services.
Rizzo doesn't attend many athletic events. Why is she paying for them?
"I barely go to athletic events," Rizzo said. "I think it might be better if you could buy an athletic package instead of being charged for all events."
Rizzo also thinks the university may not need to have as many flowers, because watering them is very expensive.
"The sprinklers are always going," Rizzo said. "We could simply water the grass less."
Senior Student Accounts advisor Amber Howell said students have come to the Bursar's Office with similar concerns, but there is a reason why fees are so high.
"Of course students will ask what they're paying an extra $3,000 for," Howell said. "It's just expensive to run a university like SMU."
Every year, students indirectly pay for miscellaneous campus services with the general student fee. While most students know much they pay in general student fees, not all of them know how the fees are used. When students request to know the specific services that fall under the fee, the Office of the Bursar provides them with a generalized list of on-campus services, including Mustang Express, campus lighting, tickets to intercollegiate athletic events and grounds maintenance. Students cannot receive a numeric breakdown of how money is dispersed.
"We don't ever have like a breakdown of it monetarily," Howell said. "Students don't know that there's a certain amount going to specific services."
This year, the maximum general student fee amount is $2,952. The fee is based on credit hours, so students with more than 12 credit hours pay the same amount. 6,500 full-time students at SMU pay that price, so SMU collects about $19.2 million annually in fees from its students.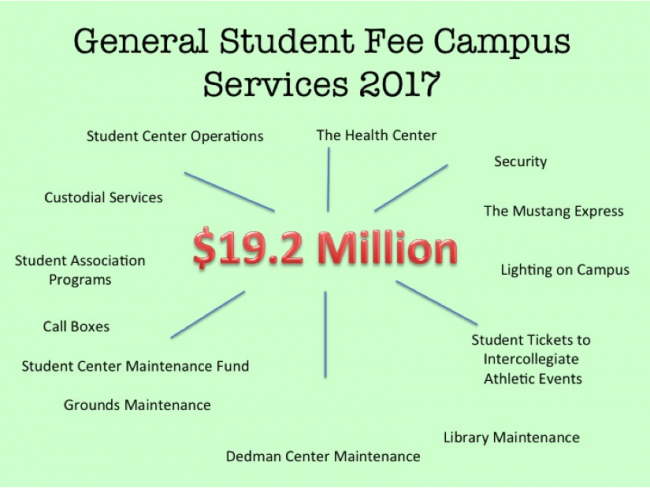 Mechanical engineering major Rachele Scaparotti Nagler was affected by the recent Daniel House mold situation and was shocked at the amount of money SMU collects in general student fees.
Daniel House residents were displaced at the beginning of the school year due to a mold outbreak.
"When the school gets that much extra money from us, it makes you wonder how things like Daniel House can happen," Nagler said.
Howell said she doesn't how relevant numerical information would be to students anyway, because they would only be given the costs of those services. She brought up landscaping as an example.
"If we say we're putting x amount of money toward landscaping and you're like, 'Oh, that's insane' — well, it's expensive to make it the beautiful campus that we have," Howell said. "It's all relative."
SMU sophomore Josselyne Orbegoso feels differently and thinks knowing exactly where student funds are allocated monetarily is important.
Like the college tuition, the general student fee increases every year and has shown no evidence of slowing down.
The fee will likely be well over $3,000 for the 2018-2019 school year.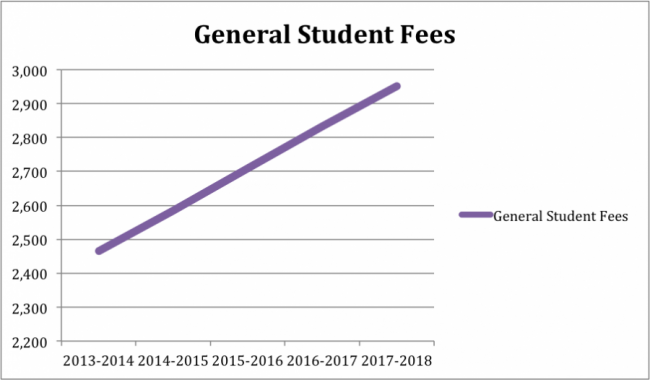 Not all students find the expenses necessary for their personal college experience.
SMU junior Sabreena Robinson thinks she could be saving money on fees, especially since she has moved off-campus and doesn't use on-campus services like Mustang Express and Dedman Center.
"Since moving off-campus, I've realized that I don't have as much use for on-campus services anymore," Robinson said. "I definitely think we shouldn't pay for things we don't use."
SMU's annual cost of attendance for students staying on-campus is around $70,000. Students pay a general student fee regardless of living status.