The outdoor performance space of The Wild Detectives café was filled with people chatting enthusiastically and waving complimentary white paper fans Thursday evening, as they waited for the start of "Origin" a presentation put on by Design Society, an affiliate of The Dallas Architecture Forum. The Design Society partnered with PechaKucha, an international presentation network that uses "20×20," a presentation format where 20 images are each shown for 20 seconds, and the images advance automatically while presenters talk along to the images.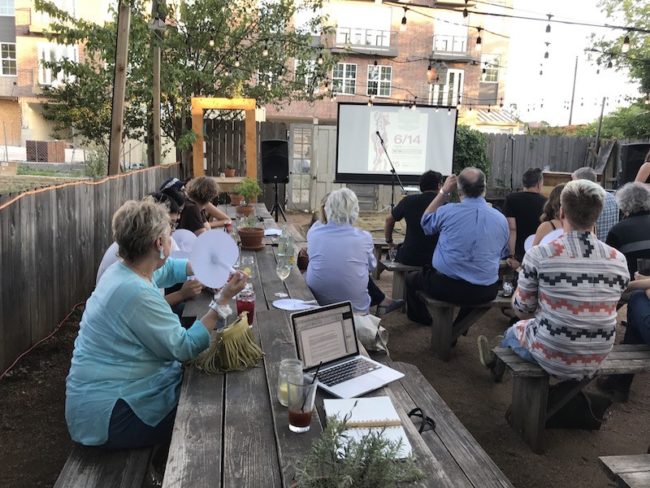 PechaKucha Night is a form of presentation that is now in over 1,000 cities. It began in Tokyo in 2003 by Astrid Klein and Mark Dytham of Klein Dytham architecture as a way for young designers to network and share their work in a public setting. Every PechaKucha Night city is hosted by a local organizer, which ensures that each PechaKucha Night is relevant to that city.
This PechaKucha was the inaugural event for the Design Society, a group that "provides a platform for empowering interdisciplinary discourse in the design community" according to their Facebook page. The Design Society decided to choose the theme of "origin," since this event marked the beginning of public events for the group. Design Society members meticulously curated a group of artists from a variety of backgrounds, including studio artists, designers, architects and musicians, to speak on the idea of origins in whatever capacity that topic meant to them. The presenters were allowed to ask questions, but a Design Society representative noted that not one presenter asked a question before the event. They all just went for it.
https://www.instagram.com/p/BkBI0ofh0ao/?hl=en&taken-by=design_society.dfw
One of the first presenters was Evelyn Henshaw, a project manager at STASH Design, a sustainable, commercial design firm in Dallas that is dedicated to utilizing salvaged objects to create spaces for businesses. Henshaw interpreted the event theme as "the origin of learning from our ancestors, people before us." Henshaw revealed that she gained many of her carpentry and construction skills from her father and grandfather and showed signs of creativity and innovation as a child, constructing a skateboard ramp from cabinetry and a chicken coop from an old play set.
https://www.instagram.com/p/BjsNz-IBgR_/?hl=en&taken-by=design_society.dfw
Henshaw later translated her ability to create new constructions from recycled materials to her professional life, both in working with STASH Design and in helping to build churches and buildings from recycled materials for communities in need in Peru and Uganda. Whether she is experimenting at home, working for STASH, or volunteering abroad, Henshaw noted that for her, the action of taking something old and repurposing it into a new useful object or building allows her to stay inspired and "keep her creative juices flowing," while also staying connected to her origins by using the skills she gained from her father and grandfather.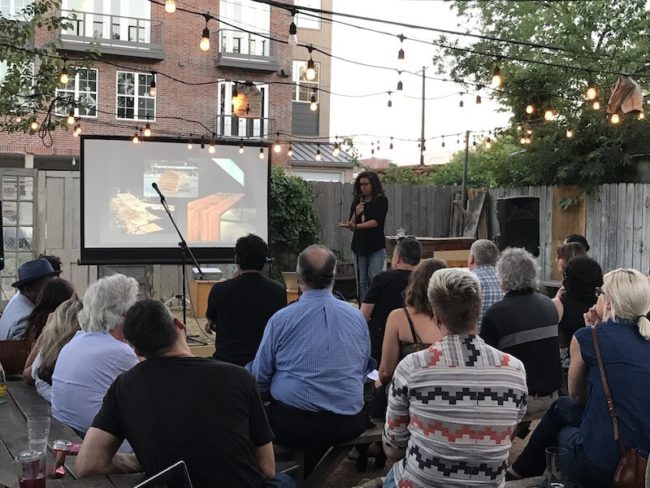 Another presenter, Lisa Huffaker, has trained as a singer, musician, poet and visual artist and integrated all of these mediums into her presentation. As a visual artist, Huffaker's work has been featured in D Magazine and the Dallas Morning News, and she has appeared as a visiting artist for the Dallas Museum of Art. Her poetry has been published in multiple journals, including Southwest Review and Poet Lore. Huffaker also sings with The Dallas Opera and teaches creative writing in museums, youth shelters and libraries.
https://www.instagram.com/p/Bj5P8GvhFun/?hl=en&taken-by=design_society.dfw
Speaking with Huffaker before the event, she hinted at the unconventional nature of her presentation. "They encouraged us to be as creative as possible with our presentations and that's what I set out to do," Huffaker said.
Huffaker noted how the idea of design can bridge the gap across multiple art disciplines, and she was enthusiastic about presenting under the topic of design, because it allowed her to utilize her various talents in her presentation on our origins. "The idea of design is important in many disciplines and art forms, including studio art, architecture and poetry," Huffaker said.
Huffaker demonstrated this ability to mix media to create design with her abstract presentation. Instead of simply describing photos that relate to her career, as the other presenters chose to do, Huffaker instead created 20 original illustrations. As these compositions changed on the screen, Huffaker recited lines of poetry reflecting on the origins of the universe and one's life journey. After each line, Huffaker played a series of notes on her flute, allowing the audience to contemplate her words before hearing the next line of her poetry.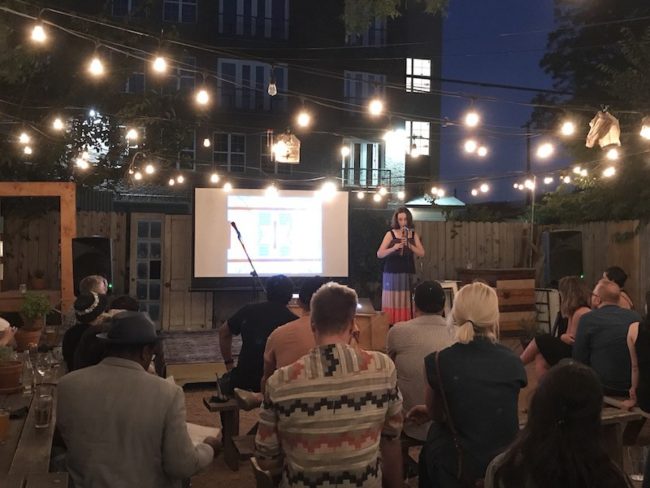 Some of Huffaker's striking lines include, "All I know is I'm in the middle of something which is nothing," and "What will it have meant this walk across the stage, this little feat of having lived a life."
Audience member Tim Cloward attended the event to support wife Lisa Huffaker, but he was also interested in seeing the PechaKucha form of presentation for the first time. Cloward noted how an event like this showcases "how different organizations could come together to express a common idea of beauty." Cloward also remarked on the fact that "these presenters have to be very disciplined to get their ideas across in such a short amount of time," but that the short presentations also "allow for a variety of interesting presenters."
By the evening's conclusion, viewers were indeed introduced to a variety of interpretations on origins in design, from a young aspiring designer learning carpentry from her grandfather, to architects discussing the process of translating a line drawing to reality, to a poet sharing lines on their interpretations on the origins of life itself.