The Bishop Arts District danced through Labor Day Weekend thanks to the performers of the Dance Council of North Texas' annual Dallas Dances, a showcase that displays the array of dance troupes in the DFW metroplex. The performance, from Sept. 1 to Sept. 2, included performers that ranged from professional Dallas dance companies such as Dallas Black Dance Theatre and Texas Ballet Theater, to BFA college dance students from Southern Methodist University, to high school students from the prestigious Booker T. High School for the Performing and Visual Arts.
https://www.instagram.com/p/BnPbLhLh7i2/?taken-by=dancecouncilntx
SMU Meadows School of the Arts was represented in both shows by current students, faculty and alumni.
Saturday night's show featured the SMU Meadows Dance Ensemble dancing the piece "Thoughts & Prayers." The haunting yet groovy piece, choreographed by 2018 Meadows graduate Kendell Miller-Roberts, is dedicated to survivors and victims of gun violence in America. Roberts used a large American flag suspended from the ceiling, a speech by Robert F. Kennedy and multiple rhythmic canons and movements to depict an emotional and poignant dedication.
https://www.instagram.com/p/BnJ9kXChIEe/?taken-by=dancecouncilntx
Takia Hopson, a senior double major in dance performance and journalism at SMU, noted the timeliness of the theme that Miller-Roberts depicts in her piece.
"The subject at hand, gun violence, is so relevant today," Hopson said. "In the beginning I stop and stare at the flag for an uncomfortable amount of time, at least for the audience. On the day of the performance I couldn't help but think of the recent outcome of the Jordan Edwards case at the moment."
Khris Beeson, a current junior dance major in Meadows, also performed in Roberts' piece.
"There is a sense of community and camaraderie here that is unlike any other dance program that I know of… Performing at Moody [Performance Hall] was an incredible experience," Beeson said.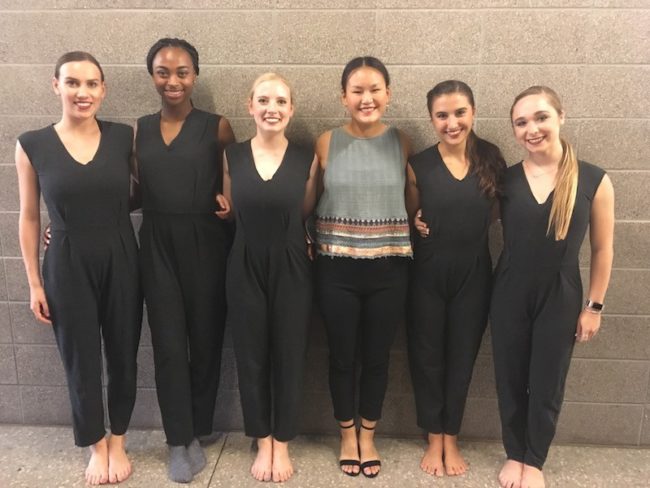 Beeson also represented Meadows on Sunday, performing "What We Do With Time" by Brandi Coleman Dance.
Brandi Coleman, a current resident jazz professor at SMU, is the associate artistic director of the Emmy Award-winning Jump Rhythm® Jazz Project (JRJP). Her technique focuses on transforming the dancer to fully embody the rhythm of the movement using percussive singing and emotional and gestural intention. Coleman's piece in the Dallas Dances concert utilized current SMU dancers, SMU alumni and a JRJP company member.
In addition to SMU Meadows Ensemble and Brandi Coleman Dance, over 25 companies presented work on the Moody Performance Hall stage.
Notable companies included Dallas Black Dance Theatre's quirky and powerful "How to Kill a Ghost" and Texas Ballet Theater's elegant and technical "Black Swan pas de deux."
The show not only showcased professional powerhouses, but also brought to light the talent of the next generation. The high school students of Booker T. Washington HSPVA Repertory I showcased maturity and grace beyond their years, along with teen tap company RIFF Dallas earning thunderous applause following a rhythmically rousing large tap group number.
"I loved getting to spend time with other dancers in the Dallas community… and left feeling extremely inspired," said Beeson. "[Dallas Dances] confirmed for me that dancing and performing is what I want to do."