Vibrant streamers and the sound of Rufus du Sol's "Sundream" greets visitors as they enter the gallery with blacklight-lit floor-to-ceiling neon murals.
Psychedelic Robot is an immersive art experience located at Crescent Court. The pop-up art gallery opened Sept. 20 and will be open until Sept. 29. The special exhibit is put on by the Bivins Gallery, in partnership with Westwood Wealth Management, The Crescent and Team One.
There are two options for tickets. The "Patron Pass" is $35 allowing one hour in the gallery. The "Collector Pass" is also available for $200 which grants full day entry and access to the evening VIP lounge.
Christopher Wyatt, one of the Bivins Gallery owners, explains the purpose behind Psychedelic Robot.
"The gallery is designed to democratize the art space, the art world, and bring it to the masses so people are not intimidated by art and can enjoy it," Wyatt said. "They can immerse themselves in it and interact with it, and that's basically what Psychedelic Robot is all about."
With over a dozen artists featured from all over the world, the two-story gallery flows from scene to scene, with unique mesmerizing artwork that creates a sense of euphoria. Mixed media and pop art are covered in a variety of mediums including photography, statues, murals, paintings and neon lights.
This 12,000-square-foot space is not your typical gallery. There are not many rules to be followed. In fact, people are encouraged to engage with the artwork and fully immerse themselves in it.
The second floor of the gallery features a DJ booth and bar, which creates a livelier scene for the evening crowd.
One of the featured artists, Travis McCann, also known as @not.travis recreated his Dragon Street studio in the Design District to his exhibit in Psychedelic Robot.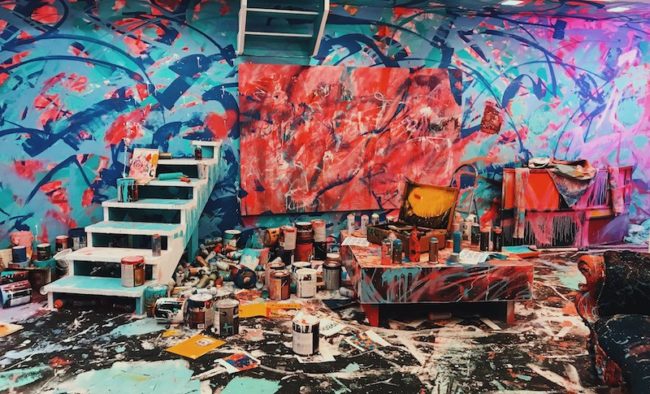 "I wanted to give everybody that behind the scenes type of look and paint what's real," McCann said. "It's just like in the moment, paint gets everywhere. If it's in the studio it's getting painted and I just wanted to show everybody that."
McCann's exhibit is brought to life by a tarp covered in paint, spray paint bottles, brushes and opened paint spread throughout the room. His exhibit also features graffitied walls, murals and a mirrored room with neon lights.
Art enthusiast and SMU student Thomas Slattery found the gallery truly remarkable.
"Psychedelic Robot was amazing because it felt like more than just an exhibition of the artist's work, it's an experience," Slattery said. "As you walk through the gallery it feels like the whole space, from furniture to lighting and music, was all part of the artist's design and intention."
Everything featured in Psychedelic Robot is for sale: all the artwork upstairs, all the installations, and all the murals. Limited editions of some of the artwork are also for sale such as prints and t-shirts at a lower cost.
"It's cool because people can come in and they're not intimated," Wyatt said. "They're not getting sold, they can become part of the artwork, and if they identify with it, they can pick up a limited edition of the original artwork upstairs."
Part of the proceeds from Psychedelic Robot will be donated to the Klyde Warren Park Association.
"They're very happy to have us," Wyatt said. "We give to Klyde Warren Park, so we're giving back to Dallas too."
Although Psychedelic Robot is set to close on September 29th, the gallery may extend its end date.
"We are getting a lot of demand, so we will probably roll it out for another thirty days," Wyatt said. "Depending on the level of demand, we could roll it out until the end of the year if it's really high. Dallas is fertile ground for this type of thing right now, and we are excited to be a part of it."