As crowds gathered near downtown Dallas on the first weekend of the state fair, they were met with a group of activists and community organizers rallying at Fair Park station on Sunday afternoon to demand Dallas County bail system reform.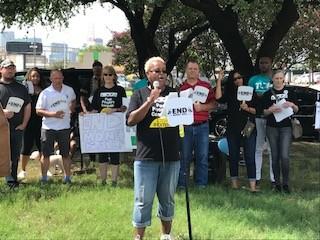 The rally was led by a coalition of organizations, including the American Civil Liberties Union of Texas, Texas Organizing Project, Community Bail Fund North Texas, Texas Poor People's Campaign, Texas Freedom Network, and Texas Rising.
This comes weeks after a federal judge ordered a preliminary injunction in a civil rights suit filed against Dallas County. It is the latest in a slew of cases that accuse counties all over the state of discriminatory bail practices.
The lawsuit was filed in January by organizations including the ACLU, Texas Fair Defense Project, the Civil Rights Corp as well as others. It alleged Dallas County's bail practices were unconstitutional for relying heavily on a money bond system that allowed the wealthy to buy their freedom and condemned those who could not afford bail to spend days, sometimes months, in jail before they were even convicted.
A video was recently released depicting the "assembly line justice" of Dallas County's private arraignments where magistrate judges determined the conditions for release. In these arraignments, typically lasting fewer than 30 seconds, judges habitually set secured bonds that require upfront payment to avoid pretrial detention. They also determined bail amount according to a previously fixed "schedule" that did not take affordability into account.
On Sept. 20, U.S. District Judge David Godbey ordered a preliminary injunction against Dallas County and provided 30 days to reform these discriminatory bail practices by taking affordability into account when setting a bond amount.
"That order doesn't go far enough," Joe Estelle, from the Texas Organizing Project, said.
"Money bail is the modern equivalent of debtors' prison, a destructive and unfair thing of the past that must end," Estelle said.
Keeping large numbers of people locked up for low-level, non-violent misdemeanors because they cannot afford bail is a significant contributor to mass incarceration in the U.S. Money bail opponents say it can be instead replaced with risk assessment initiatives that will allow those who don't pose a threat to society to be distinguished from those charged with violent felonies.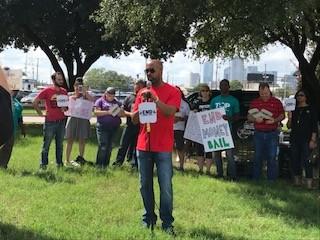 "The system is outdated, and it needs to be updated," said Dr. Freddy Haynes, senior pastor of Friendship-West Baptist Church.
"There is something evil about a system where you can be rich and guilty, and yet set free, and you can be poor and innocent and languish in prison," Haynes said.
In this year, half of all those arrested for misdemeanor offenses have been required to pay an average $600 dollar money bond to avoid pretrial detention. Of the almost 5,000 people in Dallas County Jail, 70 percent are estimated to be there because they cannot afford bail.
"Is it fair that the wealthiest country in the world, that pledges liberty and justice for all, has the highest incarceration rate?" Minister Christian Watkins asked.
"Is it fair that most of the people in jail are economically impoverished black, brown, and Native American people? Is it fair that poverty has been criminalized?"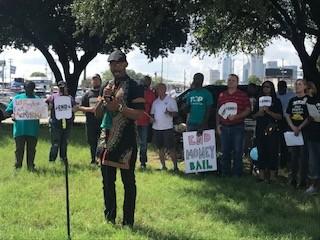 There is no question that that lower-income communities carry the weight of these practices, but people of color are disproportionately affected largely due to inequitable practices by law enforcement.
"We know that there is disparity in arrests," said John Creuzot, the Democratic district attorney candidate running for election in November.
Creuzot acknowledged poor people of color are especially vulnerable to arrests for low-level, non-violent crimes.
He pointed out that some policies to alleviate mass incarceration already exist in Dallas County, like the existing cite and release policy for marijuana, but are not implemented equally in all communities by law enforcement.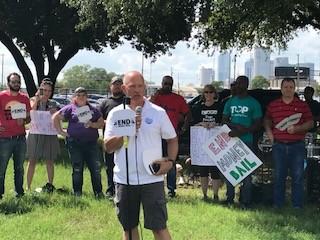 If elected as District Attorney, Creuzot hopes to implement risk assessment tools that would take into account an individual's likelihood to afford bail, show up to trial, commit new offenses or act as a threat to society.
His opponent, Republican candidate and current District Attorney Faith Johnson, was invited to the rally but did not attend.