Hundreds of guests posed to get their best Instagram photo at the artsy new pop-up museum at the Sweet Tooth Hotel on Thursday, Nov. 1 at Victory Plaza in Dallas.
The 1955 exhibit is Sweet Tooth Hotel's second art installation of the year. Ever since their first candy-themed installation in May of 2018, Sweet Tooth has dominated people's social media feeds in the Dallas area.
Founder of Sweet Tooth, Jenecy Keeton, started her art journey after realizing the potential of the pop-up craze, but she had a difficult time getting an out-of-state pop-up to come to Dallas.
"I told my husband we should just do this ourselves. We have a lot of friends that are artists and we also collect a lot of Dallas art," Keeton said.
Keeton jumped on the idea of bringing her passion for a Dallas art pop-up to life.
"My husband luckily supports all of my crazy ideas, so we put it together, got a space and popped it up," Keeton said.
Sweet Tooth visitors raved about the different rooms, lights and art designs displayed on the walls, the ceilings and the ground.
"I love the lights; the neon lights and just the colorful ways of everything," visitor Ava Allen said. "They did a really good job on the paintings, and just the rooms in-general are all different."
The four interactive rooms were created by a collaboration of several local Dallas artists, including, Built By Bender, Drigo, Hatziel Flores, Jeremy Biggers, Jojo Chuang, Rob Wilson, Shamsy Roomiani and Nicole Davis.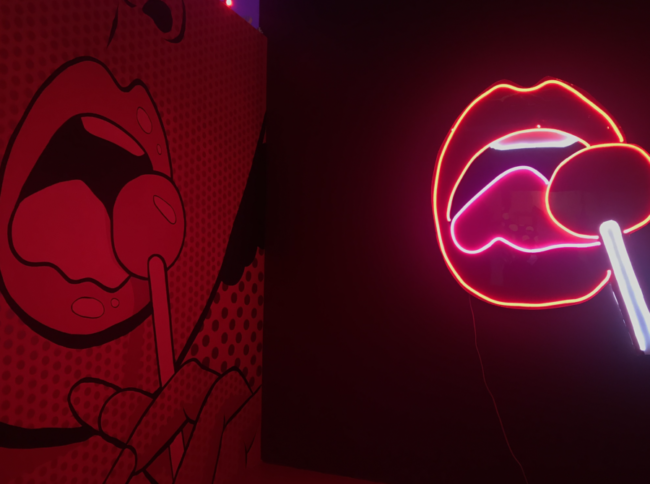 "We just knew that they were the people that we should contact. They hadn't done anything like this before but we knew they've been wanting to do it," Keeton said.
Keeton explained how each artist collaborated together to create one whole collection while also keeping it individualized to their own artistic styles.
"For this collection, each artist had a color," Keeton said. "Hatziel had teal, another had red, and so these are all supposed to be separated colors of the rainbow."
One of Sweet Tooth's staff members said she has been hearing guests complain about the 1955 installation not being as interactive as the last instillation earlier this year.
"I've heard some guests say it's not as interactive as the last one with picking up and stuff, so it tests the guest's creativity and how cool they can pose and what kind of angles they can get a picture in," tour guide and blogger Lexi Wesley said.
Looking ahead, Sweet Tooth is already one step ahead and has plans to wow their fans even more.
"It's top secret at this point. I don't know what it is yet," manager Angie Molinar said.
Wesley thinks the next theme will be even more interactive with an emphasis on music.
"If you listen to the updates, it hints at music, so I think like super interactive and touching and tapping, so we'll see," Wesley said.
The 1955 Sweet Tooth exhibit's mission is to bring people of all ages and all areas of Texas together to enjoy an uplifting, positive, and creative environment.
"The other thing I love about it is that there's just a lot of things happening in the world right now, and this is supposed to be a place full of joy," Keeton said. "A place where everyone belongs and everyone can just forget about their day for an hour or so."