A nature and animal-loving crowd attended the Tails on the Trail event at the George W. Bush Presidential Center to bring in the fall season on Saturday morning.
The gathering took place at the Native Texas Park, a 15-acre urban park on the southwest side of the Bush Center. The park speaks to how important environmental conservation and restoration is to President George W. Bush and Mrs. Laura Bush.
"One of the things that Mr. and Mrs. Bush wanted was there to be an enrichment time – a time to share and be a good neighbor for everyone who visits," volunteer and tour guide, Lois Diggs, said. "This is a place that people can come year-round and just enjoy."
Attendees brought their four-legged furry friends and enjoyed a guided tour of the trail, learning information about native fall plants ranging from Blackland Prairie, grasses that used to dominate the Dallas region, to seasonal wildflowers.
One of the dogs in attendance was President and Mrs. Bush's dog, Freddy. Freddy, a 3-year-old rescue who was adopted on Election Day, is a mixed breed including chow, bichon, border collie, pit bull, and a few other unidentifiable breeds.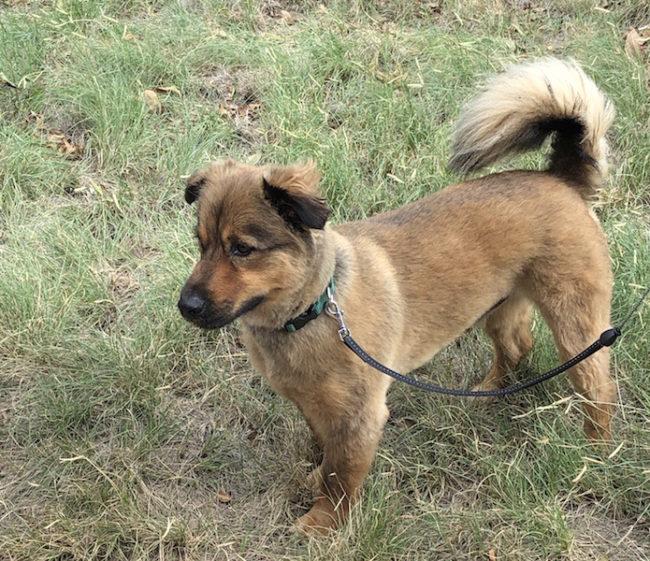 "They got him from the Jan Rees-Jones SPCA," said Andrew Kaufmann, deputy director of external affairs at the Bush Center. "They love rescues, so it was really important to them to get a rescue."
As dogs sniffed and barked at each other in curiosity and excitement, the crowd also grew curious as to what conservation really meant to the Dallas community. A key factor of the Bush landscape is sustainability, which involves increasing biodiversity and native habitat through an organic maintenance program. Guests also learned about the wealth of preserved nature at the Bush Center that is available to the public 365 days a year, from sunrise to sunset.
A similar event called Pups in the Park took place in April, but the Bush Center wanted to broaden the event to include different kinds of animals native to Texas.
"This is our very first Tails on the Trail," co-host of Tails on the Trail Danielle Bevacqua said. "We are very excited about it! We wanted to expand it to all of the animals that we could find on the native Texas trail."
The Dallas Zoo shared facts about other native animals, such as the ocelot, and other wild cats and snakes. To promote conservation, visitors could pledge to use reusable water bottles, and participate in "10 on Tuesday," which in encourages people to pick up 10 pieces of trash every Tuesday.
The Trinity River Audubon Center provided information on how native plants attract native birds and bugs. The importance of native plants goes as far as reducing the need for fertilizers and lawn mowers, which improves the air and water quality in our Dallas community.
"We are all about conservation and how we can protect land masses and help birds thrive and survive in the area," Micah Leonard, Public Programs Manager of the Audubon, said. "We are here to promote the outdoors, be connected with the environment, and be on the trails. We need to get out in nature and not be surrounded by traffic."
Dallas Animal Services and Adoption Center had a tent with 5 dogs up for adoption.
Guests were encouraged to explore the George W. Bush Presidential Library, Museum, and trail. One visitor and her rescue dog, Monroe, experienced the trail for the first time.
"It's quite beautiful," attendee Vicki Hassell said. "I'm looking forward to going through the museum."
As guests exited the trail, dog owners could enter a drawing to win a Pampered Pooch Package, which would allow their dog to enjoy a gift certificate for a 3-night stay of luxury boarding at the Barking Hound Village.