SMU Theater's first production of the semester, "The Diary of Anne Frank," was nothing short of amazing from the set design to the way the actors vividly and engagingly brought Anne's words to life.
"The play was phenomenally executed," co-President of SMU Hillel, Eliana Abraham, said. "It had a good mix of humor and, when necessary, being dramatic. They also respectfully portrayed the Holocaust and everything that happened to the Frank family… and made you feel like you were kind of a fly on the wall in the 'secret annex.'"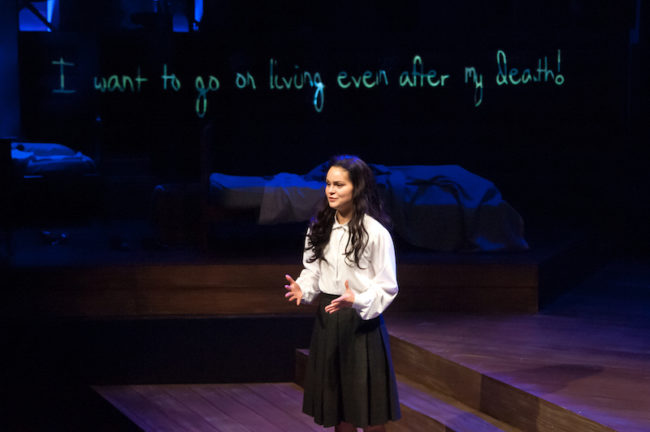 Directed by Professor Benard Cummings, Anne Frank will be the first installment in a season focused on plays written by women and people of color.
"At the planning stage for the 2019-2020 season, we were asked to choose plays by people of color and/or women," Cummings said. "We have a very multicultural student body in the Department of Theatre, but I was wholly lacking in actors to do, say, Joe Turner Has Come and Gone by August Wilson. So, I recalled the new adaptation of 'The Diary of Anne Frank' by Wendy Kesselman."
The topic had always been of special interest to Cummings.
"I am what I you may call a World War ll buff, so to speak," Cummings said. "And I have a keen interest in the rise of fascism in Germany before the beginning of the war, and, thereby, all the carnage suffered because of that war. I am fascinated by the subject matter of the Holocaust/Shoah."
An emphasis on research and learning went into putting the play together accordingly, especially concerning Jewish culture and tradition.
"I had meetings in NYC with Alexandra Gellner and Maureen O'Neill of the Anne Frank Center for Mutual Respect," Cummings said. "They provided us with invaluable research materials, including recordings of a Rabbi singing the songs and reciting the prayer [in the play] for me and the cast."
An additional part of that research had occurred during Cummings' previous travels to Amsterdam.
"He [Cummings] received a grant to travel to Amsterdam," Professor and Theatre Chair Gretchen Smith said, "where he was able to conduct research on the era."
Cummings expands on what his research consisted of.
"I traveled to Bergen-Belsen Concentration Camp as a means of paying 'homage,' if you will, to not only Anne and Margot but to all the victims murdered in that place," Cummings said. "I also took many photos to document my travel there. And I then traveled to Amsterdam for a tour of the Anne Frank house."
Such an attention to detail led to a production that left the audience moved.
"The ending was probably the most memorable in which each character appears on stage and then exits as the story of his or her death is announced by Otto Frank," Director of SMU Hillel, Rabbi Heidi Coretz, said. "As he says good-bye to each person, your heart breaks wide open. In just a few minutes time, you go from the group joyfully enjoying strawberries that they hadn't eaten throughout their time in hiding, to them being found out and taken away, to the aftermath of their deaths."
After the "phenomenal" success of Anne Frank, be sure to check out future shows for what will surely be a phenomenal season for SMU Theater.
Says Coretz, "This is an outstanding production and I hope many on the SMU campus will take advantage of the opportunity to see this play and learn from this story of hope and goodness during hateful and horrific times."