It's as easy as 1,2,3… SMU students are being
introduced to an
alternative method of transportation… electric
scooters.
They are becoming one of the main ways SMU students are getting around.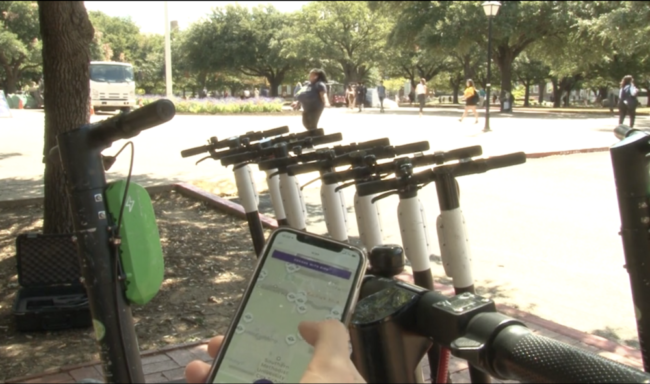 " I think they're fun, everyone likes them, they're nice to use between classes," Charlotte Ruffing, SMU student said.
They were allowed on the SMU campus last year but were briefly
banned by university officials.
This year… They're back – on a trial basis… After students protested…
But these scooters are only allowed on campus… Not on the streets of
university park.
"I think they've gotten a little out of hand… like there's a lot everywhere and I think that's what's starting to cause a problem with traffic jams and build up and all that stuff," Ruffing said.
Several accidents have been reported by students and some.. are now scared to ride them.
"Yeah, it's dangerous for sure…but if you're riding them properly you shouldn't have a problem," Benjamin Sanchez, Lime Operations Specialist, Benjamin Sanchez said.
After having an accident on the scooters, Ruffing is now more cautious about them.
"I hit a pothole and I sorta fell over the handlebars and landed on my face," she said.
Although a helmet is not required, companies that designed the scooters encourage riders to use them. Bird officials say the company will send each rider a free helmet if
they're willing to pay for shipping.
Student Senate is aware of the problem but still, stand divided on the issue.
"So I brought it up to senate last week and we like took a vote on. We just kinda like raised our hands-on weather people thought scooters were a good idea or a bad idea and 29 senators thought it was a good idea to have them on campus and 11 that thought they were a bad idea" said Molly Patrick, VP of Student Body.
The scooters are safe for now and SMU students can still enjoy having the option of not having to walk everywhere on campus.